Backcountry Ski Packing List
What's in your ski pack? It's a question I hear a lot. There's no sense in carrying more up the hill than you need to, but there are some key items you should always have with you in the backcountry. We've put together a backcountry ski packing list for a basic day of ski touring.
In our world, the non-negotiable items for winter ski touring include a shovel, probe, beacon, skins, headlamp and puffy coat. But beyond these items, there's a fair bit of latitude as to what is necessary for touring.
I went through my pack for a typical day tour and my gear list is relatively short and utilitarian.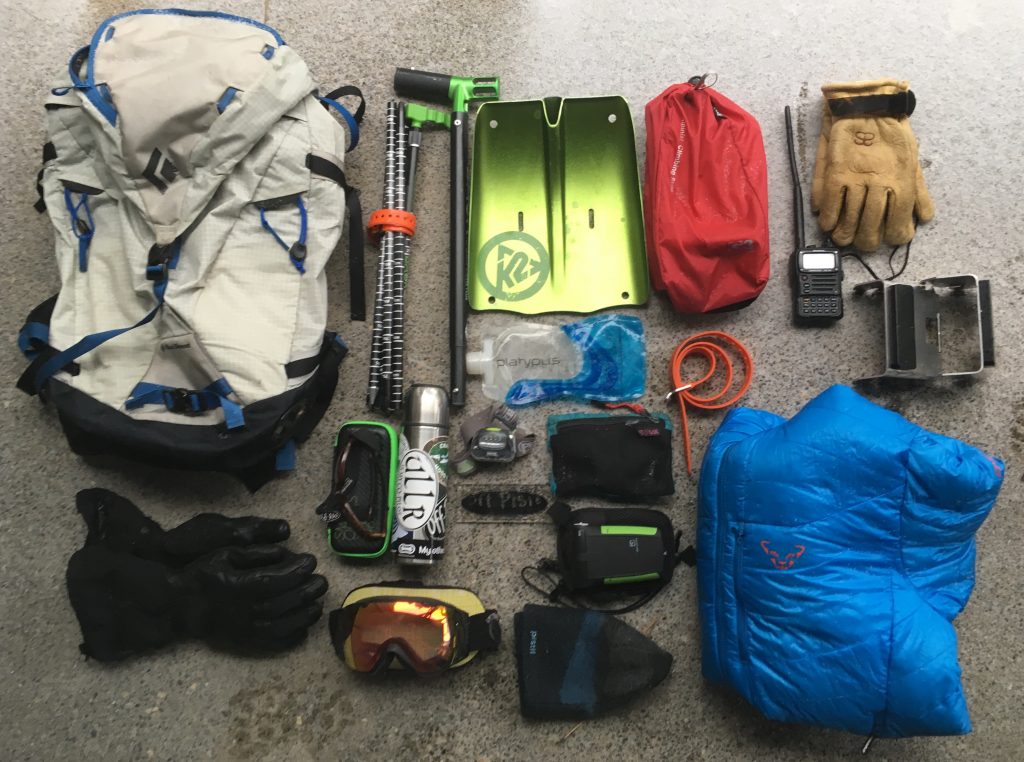 The contents in the photo are from a recent day in the hills where I am familiar with and confident about the terrain and includes a few items that I consider optional depending on the tour – ski crampons, and VHF Radio. I use and inspect my gear regularly, so I do not carry much of a repair kit – just a multi-tool, a few binding screws, some skin wax and a lighter. My first aid kit is also on the thin side and consists of cloth athletic tape. Given a significant injury to arm or leg, I rely on things like voile straps, rutschcord, shovel, probe, poles, warm clothing and my radio or phone to manage the problem.
Backcountry ski packing list:
Skis, Boots, Poles . . .
Secondary Backcountry Ski Packing List – conditions or tour dependent gear