Osprey Soelden 32 Backcountry Ski Pack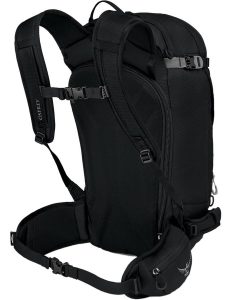 Skins. Shovel. Probe. Layers. Goggles. Food. Water. Check. Packing for a ski tour isn't rocket science, but dialing in your ski pack for easy access to the gear you want — when you want it — takes practice and a pack with thoughtful organization. The Osprey Soelden 32 backcountry ski pack balances a quick-access main body with just enough smaller storage pockets to keep the little stuff organized and easy to find. 
It's a panel loader pack, which means the main body is accessible from the back panel versus a large top opening. In fact, the only way into the main body is from the back panel, which works great because there are just enough other pockets to keep the routine small stuff easy to find. There's also a dedicated avalanche safety tools compartment that's accessible from the front plus three smaller organizer pockets accessible from various points. Altogether, there's 32 liters of storage — a volume sweet spot for winter day trips without tempting you with too much unnecessary space. 
Organized Storage
The bulky stuff like warm layers, a thermos, spare gloves and skins are easily stored in the main body of the Osprey Soleden 32. The main body also includes two sleeves, one for a radio (with remote mic) and one for a thermos or water bottle. The sleeves add zero bulk, but keep key items easy to find. The dedicated avalanche tools pocket organizes your shovel, probe and saw. The pocket is big enough to handle full-size avalanche rescue shovels. In fact, it's roomy enough to hold a minimal repair kit and your skins if you prefer to keep them seperate from your dry gear.  
Three additional storage pockets – a modest zip pouch on the inside of the back panel, a large zip compartment on the top and a small hipbelt pocket offer the space to keep high-use stuff easy to access. The best of these smaller storage zones is the zip compartment on the top of the pack. It's large enough to hold a mix of stuff like goggles, snacks, a camera and a ball cap. It's the top lid equivalent in a panel loader pack, and Osprey did right by making it roomy. A small zip pocket in the avy tools compartment for a fieldbook or snowpit kit would be a nice addition to the pack. The Osprey Soelden 32 has all the usual ski and board carry options, plus dedicated ice tool straps and a stow-away helmet carry harness. 
Wide Open Back Panel Access
If you've never used a back panel access pack, It's time to try one. The idea is that you get wide access to the main body and can avoid setting the back panel down in the snow. Back panels are notorious for picking up snow when you set a pack down during a break. Back panel access lets you lay the pack on its front side, keeping the back panel free of snow and your back dry.
Functional Design. Bomber Build
Osprey packs are well known for quality construction and attention to detail. The Soelden 32 uses bomber zippers, quality materials and, simply put, is built to last. The shoulder straps and harness feel great under load. But the best part of the pack is that it's not complicated. I often judge gear, especially packs, by the credo that something is well-designed when there's nothing left to be removed. Osprey does a nice job of keeping the Soelden clean and functional. It's far from minimalist, but it really has everything you need for ski touring and nothing you don't.
Check availability and buy direct from Osprey Packs: Osprey Soelden 32 Snow Pack $160
Read our other backcountry ski pack reviews
Patagonia Descensionist
Hyperlite Ice Pack
Black Diamond Cirque
Mystery Ranch Patrol
Support offpistemag.com when you purchase through our links