Patagonia Descensionist 32L Ski Pack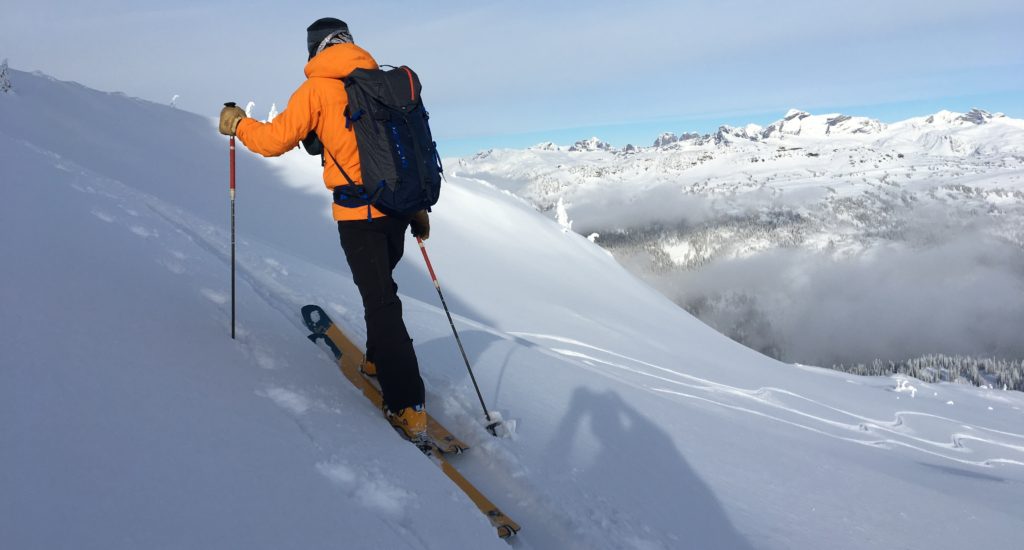 A good ski pack keeps a low profile. It needs to store avalanche safety gear and essential day trip supplies. But its presence should be subtle and fade away as we skin our way up or turn our way down the hill. The ideal ski pack size varies for everyone, but generally speaking, 30-40 liters is considered the norm for most day-touring needs. The newest pack to make its way on to our backs is the Patagonia Descensionist 32L Ski Pack.
The Descensionist
The Patagonia Descensionist ski pack is a mostly traditional top-loading daypack with a decidedly straightforward design and a couple of features that set it apart from the crowd.
In the big picture, it has one large main compartment, an easily accessible avalanche rescue tools pocket, a modest-sized lid pocket and a small hip belt pocket. Noteworthy features include side-access to the main compartment, a simple top lid fastener and a unique spindrift collar that seals up the pack with the pull of a cord.
The avalanche rescue tools pocket easily accommodates a shovel, probe and saw. Once filled with avalanche rescue essentials, there's a small amount of room for a small repair kit or similar.
At just over 2 lbs, the Descensionist is reasonably light, but not ultra-light. The pack is a solid example of a simple design that has everything you need and nothing you don't.
What we like about the pack
In addition to the overall uncluttered design, the pack's side-access zipper offers easy access to the pack's main body. From grabbing food or a thermos to pulling out a shell for the descent, the side zip helps simplify transitions.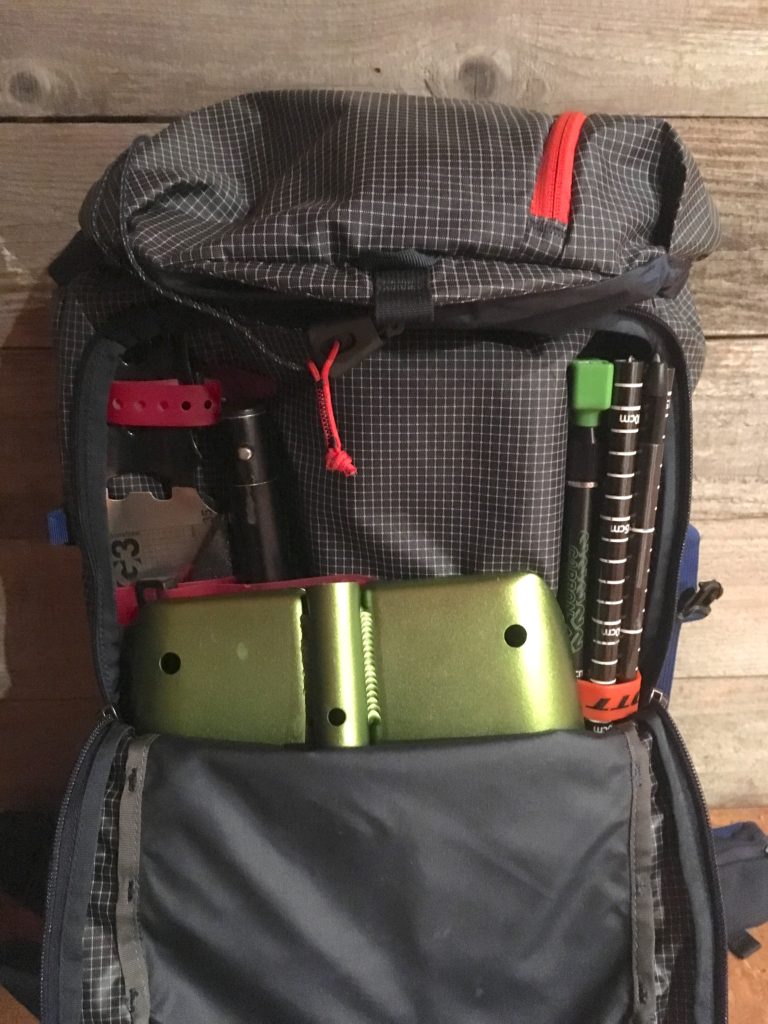 The avalanche tools pocket is well sized with wide access. From shovel and probe to saw and snow study kit, it keeps gear organized and at the ready.
I can always find things I'd change on a pack, and the main detail on the Descensionist that needs work is the top lid pocket. Once stuffed with goggles and a few miscellaneous snacks, there is hardly room for a toque or a radio. An extra zip storage pocket would be a welcome addition – be it under the lid or in the avalanche tools pocket – to help reduce clutter in the top pocket and keep small items easy to find.
Conclusion
The Patagonia Descensionist 32L is a pack for skiers who prioritize simplicity and no-frills functionality. It has everything you need in a backcountry ski pack and nothing that you do not. It's ideally sized for day tours with enough extra volume to handle added camera gear or specialty gear for a technical day.
Several small details set it apart from similar packs: reasonably light weight, side access, a generous avy tools pocket and a top lid with a unique cinch spindrift collar design.
For those looking for more volume, the Descensionist is also available in a 40-liter size. The extra volume of the 40L bumps the pack into the guide-worthy and light overnight capacity realm. The 40L offers the same clean, no-frills design as the 32-liter model.
The Descensonist is the kind of pack that could easily serve double duty in the off-season. The clean, thoughtful design has all the features you need for light-duty mountaineering – ice axe loops and ski or board carry – plus an uncluttered style that's ready to serve any mountain adventure.
Patagonia Descensionist 32L – $180
Check for deals on the Patagonia Descensionist 32L Ski Pack at backcountry.com
or buy the Descensionist directly from Patagonia