Hyperlite Mountain Gear Ice Pack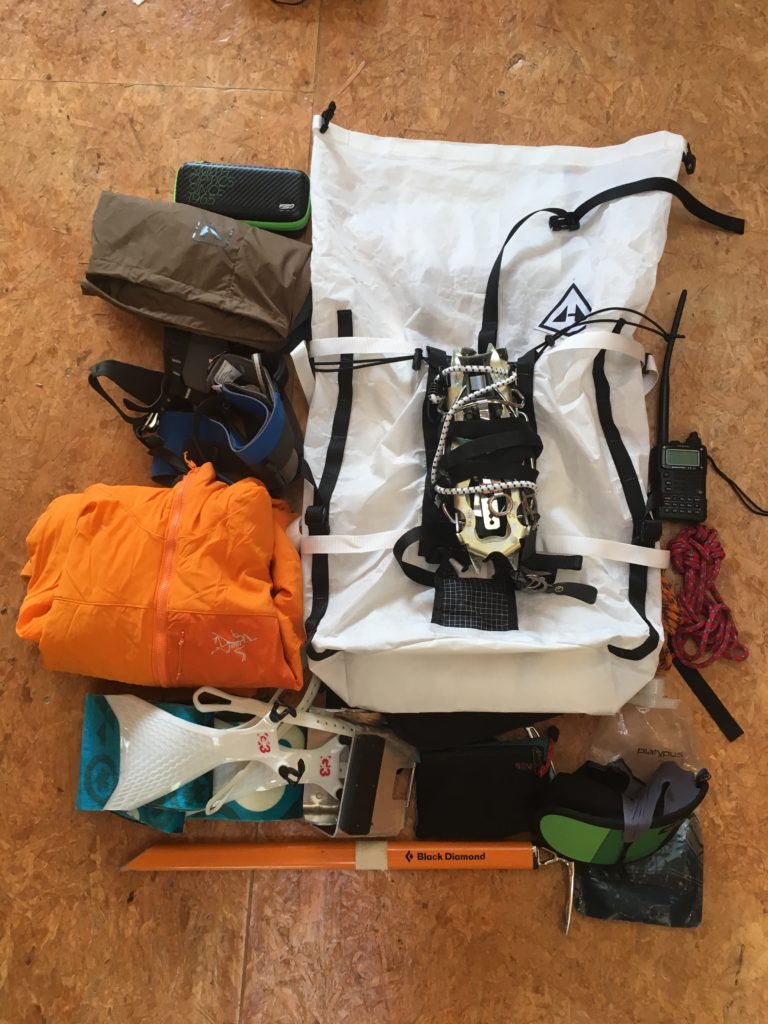 Summer is in full swing here in Hood River, and that means packing as many adventures into the week (or day) as possible. I have been testing the Hyperlite Mountain Gear 2400 Ice Pack for the past couple of months and have attempted to put it through the full gamut of mountain adventures from day hikes and alpine overnights to steelhead fishing and summer corn skiing on the north side of Mt. Hood. In almost every regard, the Hyperlite Ice Pack has proven to be a near perfect companion on these outings.
Hyperlite Ice Pack Design and Features
First off, the Hyperlite Ice Pack is a traditional top loader pack and offers a generous 40-liters (2400 cubic inches) of carrying capacity. As the Hyperlite brand name implies, this pack is light. So light, that on first grab I was convinced there was no way it could do a proper job. It weighs in at about 1.9 lbs. (860g) – the weight varies by size and the pack is available in s/m/l and tall versions. Hyperlite specs the pack to be designed for loads up to a healthy 40 lbs., and after carrying a variety of loads up to 35 lbs. (skis, boots and overnight gear), I'd say they are spot on. The padded and removable waist belt is a key part of the pack's comfort given heavier loads.
Keepin' it Simple
The pack design is simple and features one big main compartment – a do-it-all design that I have always liked. The addition of a small zippered pocket inside the main compartment really helps to avoid those post-trip pack dumps looking for your keys and wallet. As with many light packs lacking a robust padding system, you need to be particular about how you load the Ice Pack to avoid hard objects poking you through the bag. My Crazy Creek chair provided extra cushion and support when I slid it in the bag first before packing the rest of my gear inside.
Water-tight
The roll top closure has kept my gear completely dry through rain showers, canoe splashes and periods of time in the snow. The fabric is, in fact, waterproof. The only reason the pack is not fully waterproof is because of the difficulty in sealing every seam in a pack. The roll top also allows for a level of compression during packing of bulking sleeping bags and puffy jackets.
So the Hyperlite Ice Pack is light, it's comfortable and it's nearly waterproof. And all of this is made possible by the amazing fabric from which the Ice Pack and other Hyperlite packs are made. Formerly called Cuben fiber, the fabric is more formally known as Dyneema Composite Fiber, and this is the real magic of Hyperlite packs. Not being a chemistry major, I don't really understand all the details related to its creation on the website, but I can translate the technical lingo real-world lingo – light, waterproof and durable as hell!
Durability
In a month of using the Hyperlite Ice Pack, there are no scuffmarks, stains or even signs of wear. This pack is designed to be a long-term companion. The Ice Pack has tool loops for ice axes, a bungee system for crampon attachment and double compression straps on each side of the pack. The more hiking/backpacking oriented bags from Hyperlite have the mesh pockets popular with thru-hikers for storage and drying functions. My 60-centimeter axe or a pair of 50 cm climbing tools both fit very cleanly on the bag, as did my 4-piece fly rod and wading boots using the crampon bungee. Although there is a "ski" option available that adds Dynema side panels and a dedicated ski carry system, I found the included compression straps to be adequate for a traditional A-frame style ski carry.
Criticism
If there were one thing I would change about the Hyperlite Ice Pack, it would be the back panel material. Being the same material as the pack it was crinkly and hot compared to the mesh padding found on other packs (even light ones). Now, I am aware that the packs name is "Ice" and that it is intended to be a winter climbing pack where temps are cold, I just know I am going to want to use this pack year round given its bomber all-around design.
Conclusion
The Hyperlite Ice Pack is really versatile. Not being a ski specific bag, it lacks dedicated pockets for a shovel and probe, but I could get used to that for the weight savings gained. It's also a pack that attracts attention! The striking clean white color was a conversation piece for sure as many people stopped to ask me about the bag. At $310 it's certainly not the least expensive pack out there, but this is definitely the "buy once, cry once" scenario. This is a great pack that will replace three packs you already have but don't like near as much. And it is certain to provide a long life of trouble-free service. The USA made Hyperlite Ice Pack has a great story to tell and comes from a family of amazing lightweight gear.
Shop for the Hyperlite Ice Pack direct from Hyperlite Mountain Gear