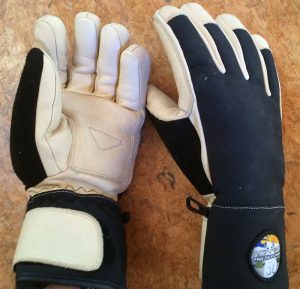 Free the Powder
Short Cuff Glove $79
www.freethepowder.com
I love leather ski gloves; some might even say I have a leather glove fetish. Kind of like socks, gloves are easy to collect and justify one more pair without really rattling the budget too much. Of course, gloves can be really expensive. I remember telling my mother about my first pair of $100 expedition mittens. She thought the cost as was excessive but, when I broke it down for her in the terms of $10 per finger, she quit hassling me.
What's funny is that even though I have used my fair share of $100-plus ski gloves, I have more recently moved to wearing insulated leather work-gloves almost exclusively for my ski needs. They are inexpensive and I have multiple pairs. If one gets wet, I just pull out my second set and travel on. The expensive ski mitts at the bottom of my pack only surface on the last run of a really cold day, or more often than not, just stay in the pack for the ride. I have developed a relationship with my leather touring gloves, watched them change color and stain, felt them contour to my hands with use, watched them thin at that weak point in the thumb, and cursed them for not being warm enough, dry enough or long enough in the cuff. But most of all, I have come to expect my pole to feel a certain way in my hand, to be able to rip skins without taking my gloves off and to be able to open my thermos for a spot of tea without hassling with my gloves. The downsides to basic leather work gloves are cold fingers and a shorter lifespan than I would like. They are, after all, work gloves not ski gloves.
Last winter I began testing the Free the Powder leather ski gloves. It's a startup company that makes an affordable leather ski glove that addresses the beauty of leather work gloves and also their weaknesses. Free The Powder gloves are stout but supple leather ski gloves with a good contour and excellent out-of-the box fit that only gets better with time. The thumb design addresses my nemesis of easily worn out thumbs. The dexterity is great and anatomical patterning fits my hand well. The soft shell material on the back adds breathability and stretch to enhance fit. They are well sewn without being bulky, and the short cuff Velcro closure is clean and low profile. The insulation is soft and flexible and has proven to be just right. Not so much to be sweaty on the climb, but definitely warmer than most work gloves. They are priced from $79 and available directly from Free the Powder Gloves. Most comparable gloves start around $90. – MB