What are the Best Ski Goggles?
What makes one ski goggle better than another? It's a combination of factors including lens shape, optical quality, venting, tint, fit — the list goes on. How do you decide which goggles are best for you? Without getting too bogged down in the tech, we recommend narrowing down the lens shape that suits your budget (and style) and considering your primary use. Do you wear goggles only during storm days? Are they for resort use too? Do you spend long days wearing goggles? What helmet do you wear?
We put together a little Ski Goggle 101 to help guide you to the right pair of goggles. Plus, we offer a look at the goggles we use.
Lens Shape
Lens shape helps define your goggle options. The shape influences your viewing area as well as optical clarity, glare, overall fit and even anti-fog characteristics. Ski goggles basically fit into one of three lens shape categories: cylindrical, spherical or toric.
Cylindrical Lens Goggles
A cylindrical lens curves horizontally but is flat vertically. This means it's curved to wrap across your face, but has a flat vertical face. The most basic goggles use cylindrical lenses. But so do some very nice ones. High-end frameless cylindrical ski goggles offer an excellent and wide field of view. They also tend to offer more horizontal curvature than a spherical shape, which creates a low-profile, form-fitting feel. 
Spherical Lens Goggles
A spherical lens curves equally in the horizontal and vertical plane creating a bubble-like profile. The result is a lens with sharper peripheral vision, reduced glare and less optical distortion than a cylindrical lens. It also creates more volume behind the lens, which helps with anti-fog.
Toric Lens Goggles
A toric lens is a hybrid of sorts. It has a true spherical curve from left to right but slightly less vertical curvature than a spherical. The result is less of a bubble-like profile and a lens that more closely follows the shape of the face. It's considered to offer the best optics without compromising on the field of view. 
Goggle Optics
You get what you pay for with optics. All of the big ski goggle brands have proprietary lens techs that offers a high quality experience. Whether it's Smith ChromaPop, Dragon Lumalens or Anon Perceive, you get high contrast, color enhancing optics that make a difference with increased terrain definition. Most brands also offer budget goggle versions that don't include their top lens techs, so pay attention when choosing. Also, choose your lens tint wisely. You'll see VLT (visible light transmission) ratings for the different tint options. 
Quick-Change Lenses
A lot of goggle innovation in the last few years has focussed on quick-change lens systems. Is a quick-change lens important? As someone who typically wears goggles only on storm days, it's not a big deal. If you wear goggles in all weather and want the ability to dial in your tint for the conditions, qick-change lenses are a factor. Another solution is simply to choose goggles with photochromic lenses that adapt to changing light.
Fit
It's also important to consider fit. You probably have a sense of whether your face is large, medium or small. Generally, each goggle model has a different fit. Look for a fit rating — large, medium or small — and choose the goggles that complement your face size. Getting the right fit makes everything from field of view to anti-fog work better. Although we have not tried them, Smith offers a custom 3-D fit goggle option that features 3D-printed frames to match your face for the best possible fit. Also consider your helmet. While most goggles will work with any helmet, choosing a helmet and goggle from the same brand will yield the best possible fit combination.
What's in Our Packs
Here are a few goggles that have earned a place in our packs. Purchasing through our links helps support offpistemag.com
Dragon RVX OTG – $230
A large cylindrical lens and frameless design give the Dragon RVX OTG goggles wide appeal and a widescreen view of your line. We're also impressed with the image clarity of their Lumalens tech and the simplicity of changing lenses on the RVX. Dragon's Swiftlock 2.0 Lens Changing System lets you swap out lenses with the quick flick of a hidden lever. It takes two hands to make happen, but a lens change is easily done without removing the goggles. A spare lens comes standard. Check availability online
Smith I/O Mag – $270-300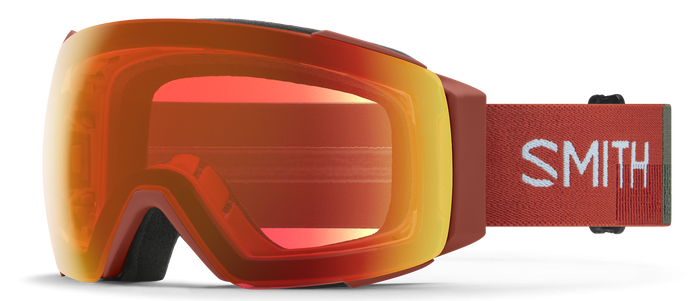 Smith basically invented the sealed thermal lens ski goggle back in the late 1960s. Goggle tech has come a long way since then, and Smith still leads the way. While not quite their top-of-the-line model, the Smith I/O Mag features most of their latest tech. The spherical lens with ChromaPop sets you up for crisp terrain definition with a wide-angle view of the world. The Mag lens change system uses a hybrid magnetic and mechanical connection. Changing lenses is a little clunkier than some systems quick-change systems, but it still offers relatively easy lens swaps with the included bonus lens.

One of our favorite not-so-techy details of the I/O goggle series is its clip strap. It's small thing, but when taking goggles on and off while backcountry touring, a clip strap (versus a one-piece strap) makes for smooth transitions when it's time to goggle up. Smith makes the I/O in an XL version and a fancy 3D custom fit version, too. Check availability online
Anon M4 – $320
The Anon M4 ski goggles stands out as one of the few toric lens ski goggles on the market. It stands out further, because it happens to be the only pair of goggles we know of that is compatible with a cylindrical lens, too. That means you can set it up toric or cylindrical. Why would you need the dual compatibility? Good question, but it does provide two distinct looks all with one pair of goggles. Anon's Perceive lens is right up there with other top brand optics yielding crisp visuals and enhanced contrast.
Our favorite thing about the Anon M4 is the magnetic lens connection called Magna-Tech. It's literally just magnets and makes for slick lens changes no matter where you are. A spare lens comes standard. The M4 also features Anon's proprietary MFI face mask connection, which is basically more magnets that hold an Anon neck gaiter snug to the goggle for gapless coverage. It's not really a backcountry thing, but it's nice for storm days at the resort. Check availability online
purchasing through our links helps support the site