Arc'teryx Proton LT Hoody – Active Insulation 

In my quest to test and understand active insulation, I've been putting the Arc'teryx Proton LT Hoody through the paces backcountry ski touring. The Proton LT falls right in line with the Patagonia Nano Air and the Outdoor Research Ascendant hoodies. If you missed what I've said about the Ascendant or the Nano Air, follow the links and read on. For those new to the category, active insulation refers to insulated jackets that maintain breathability and air permeability, providing warmth across a wider spectrum of aerobic/energy output levels. Think of your puffy jacket but designed to breathe. Adding breathability to a jacket that is inherently designed to keep you warm may sound a little contradictory, and its a tough combo under some circumstances – for example, mild temps and high-aerobic output but, for cold temps and start and stop activities like climbing or ski touring, there are times you need insulation and times you need breathability. Rather than changing layers with every start or stop of activity, imagine a jacket that breathes enough to move without getting too sweaty, yet warm enough to insulate when stopped or moving slowly.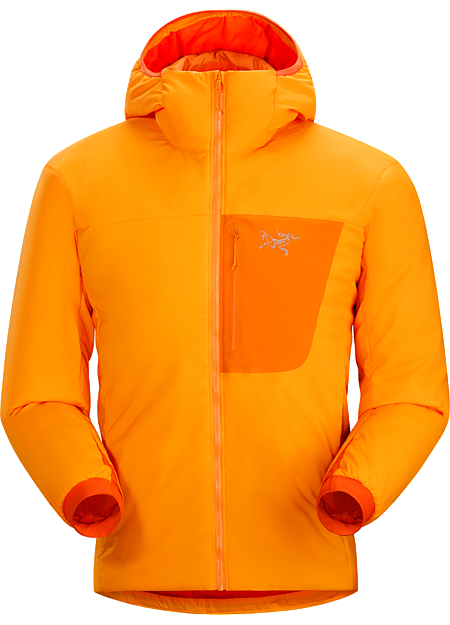 The Arc'teryx Proton LT blends air permeable outer shell and lining layers with breathable synthetic insulation. The proprietary materials are light, warm and definitely breathable. Given the level of insulation in the Proton LT, it's the warmest of the three active insulation jackets I've tested. It's a good compliment to touring in cold temps (-10 to -20 celsius) and replaced my normal puffy jacket. Where as the Ascendant and Nano Air jackets lighten the insulation layer relative to a typical puffy jacket that I'd pack for touring – perhaps in an effort to extend their range of use. I found the Proton LT too warm for strenuous trail breaking (as I do most any insulated piece unless it's super cold), but well suited to high alpine touring in cold or windy conditions. It also offers some of the best weather protection of the three active pieces I've covered. Wearing it precludes needing a true shell in all but the stormiest of weather, though I find it hard not keep one in my pack.
Fit for the Proton LT is classic Arc'teryx – athletic and trim. And quality is high as you would expect from Arc'teryx. Where does the Proton LT Hoody fit into the quiver of ski touring jackets? Well, for me, it's simply replaces the traditional puffy coat. Of the three jackets I've tested – OR Ascendant, Patagonia Nano Air and Proton LT – the Proton maintains a level of warmth that mostly closely matches the puffy I us win most conditions – a Dynafit Cho Oyu or an older Patagonia Puffball. Why not have a breathable one, right? The only downside is a little less wind protection and the need to keep a shell on your packing list. But who doesn't keep a shell on hand for when the weather really goes bad, anyway.
The Arc'teryx Proton LT is warm enough to replace a traditional puffy and breathable enough to handle the up and down in colder conditions. I found it mixed in well on a week of ski touring. I was less prone to wear it while breaking trail but generally found it comfy and breathable once a track was in or while following a beat-in track at a modest pace. It quickly became my descent layer regardless of whether I wore it on the up or not. The Proton LT Hoody broadens the role of the go-to hoody by adding breathability and maintaining a high level of warmth.