Easy On, Easy Off — Hybrid Climbing Skins
Most of us have struggled at one time or another while attempting to pull apart climbing skins stuck glue-to-glue. Sure, they eventually pull apart. But it's no fun to struggle with them. That's where the BCA Hybrid Climbing Skins come into the picture.
The word hybrid in the name has double meaning. First, it applies to their 65% mohair/35% nylon plush. Second, and more uniquely, it applies to the glue. The BCA Hybrid Climbing Skins feature a hybrid adhesive that's made up of two different layers of specialized glues, and it essentially solves the problem of super sticky skin glue while still being sticky enough to grip ski bases throughout a day of touring. The hybrid glue makes for easy transitions when it's time to skin or de-skin your skis. They BCA Hybrid Skins also offer solid grip and excellent glide — all in a lightweight, low-bulk package that makes for easy packing.
It's no secret that the BCA Hybrid Skins are made by Contour, an Austrian-based climbing skin brand. Contour actually has several climbing skin models. The BCA model matches the Contour Hybrid model except for the color of the skin plush.
Hybrid Climbing Skin Glue
Your'e probably thinking that the hybrid glue sounds great, but does it really hold up and stick to your skis over the course of a long day and through varied weather conditions? The answer is yes. Unlike early silicone-glue-based climbing skins, Contour's two layer approach to the glue creates a durable and reliable system. The design includes an outer glue layer that keeps them stuck to your skis and a second inner layer that bonds the outer glue to the skin. They have proven easy to use and easy to manage.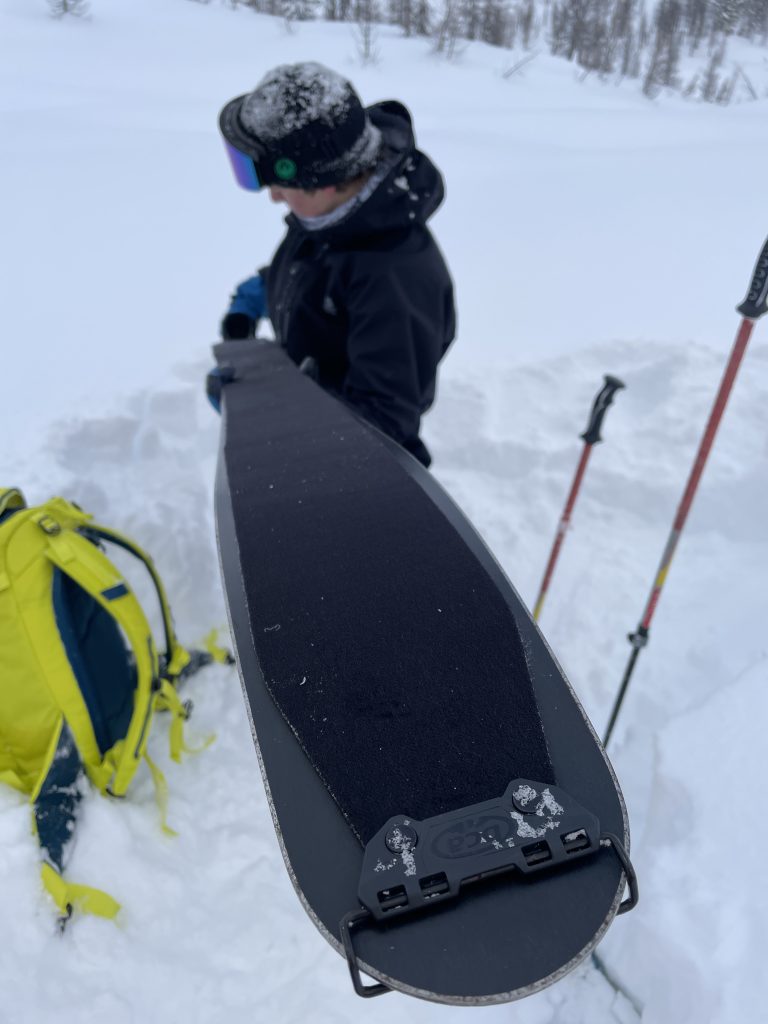 Like any climbing skins, routine maintenance and careful use throughout the day keep the BCA skins at their best. In fact, it's extra important with the BCA Hybrid Skins to keep the glue side dry and free of snow, especially in extra-cold temps, stormy days and even warm spring days. But even when fully snow covered and seemingly blown for the day, the glue was easily renewed by scraping off any snow and reapplying to the ski. In extra cold weather (-15 to -20c) maintenance at each transition is key. If snow build up becomes a problem, you can also store them inside your jacket between laps to help melt it away, then scrape them clean before yoour next lap. They clean up and renew much easier than similarly eced up traditional glue skins. Read more about climbing skin tips and tricks.
Similar to early silicone-based glues, you can renew the tackiness of the BCA Hybrid Skins by cleaning the glue. In fact, it's important to check the adhesive layer regularly between uses and clean it as necessary. Dust, dirt and ski wax residue affect the glue performance — just like they do with traditional glue. The difference with the BCA Hybrid Climbing skins is that you can clean and actually renew the glue using a sponge with soap and water or the cleaning wipes that come with the skins. Here's a video on cleaning hybrid climbing skins.
One additional thing that impacts the effectiveness of the hybrid glue is water on you ski bases. Ski bases need to be dry for the skins to stick. Wet bases aren't really an issue in normal winter weather with below freezing temps. However, come spring or mild sunny days, you need to watch your bases for water droplets. The BCA skin bag includes a micro-fiber panel built into it and made specifically for wiping down your skis in wet conditions.
Solid Grip. Smooth Glide. Durable Tip and Tail.
The hybrid glue is really the main talking point with the BCA skins. But it's worth mentioning that the mohair mix skin plush offers solid grip and smooth gliding, too. You might notice the skins feel a bit sluggish right out of the box, but once you have a few days of touring on them, the glide comes into its own to match other mohair plush blends.
The tip and tail are also solid and effective. BCA includes an easy-to-use offset trim tool that makes for quick, effective trimming. The skins are also lightweight and low in bulk, which makes them easy to pack.
How to Choose the Right Skin Width
Given today's wide ski dimensions (105mm+ at the waist), you can get away with skins that are narrower than the widest dimension of your skis. Choose skins that are 10-20mm narrower than the widest part (the shovel) of your skis. So if your skis are 135/108/118mm, a skin between 115-125mm will set you up with wall-to-wall coverage for the bulk of their length.
Check on availability and price of the BCA Hybrid Climbing Skins – $199-$219
Using our affiliate links helps to support the site.
Check out our climbing skin tips and tricks
Read more climbing skin reviews