The Best Backpacks Keep it Simple
Backpack design is a funny thing. Designers are always looking for new ways to reinvent the wheel. When, in my opinion, the hallmark of a great backpack is simplicity. The newest Patagonia SnowDrifter 30L ski pack nails it with a clean, user-friendly and ski-ready design. It also happens to be made with 100% recycled materials. And don't worry, it comes in black if you're not thrilled with the bright yellow.
Skier Focused Design
The SnowDrifter has been in Patagonia's lineup for a number of years. The latest edition is a nice evolution of previous models. It builds on strengths of the older versions while bringing a few design changes that make for a clean, simple and skier-focused backpack.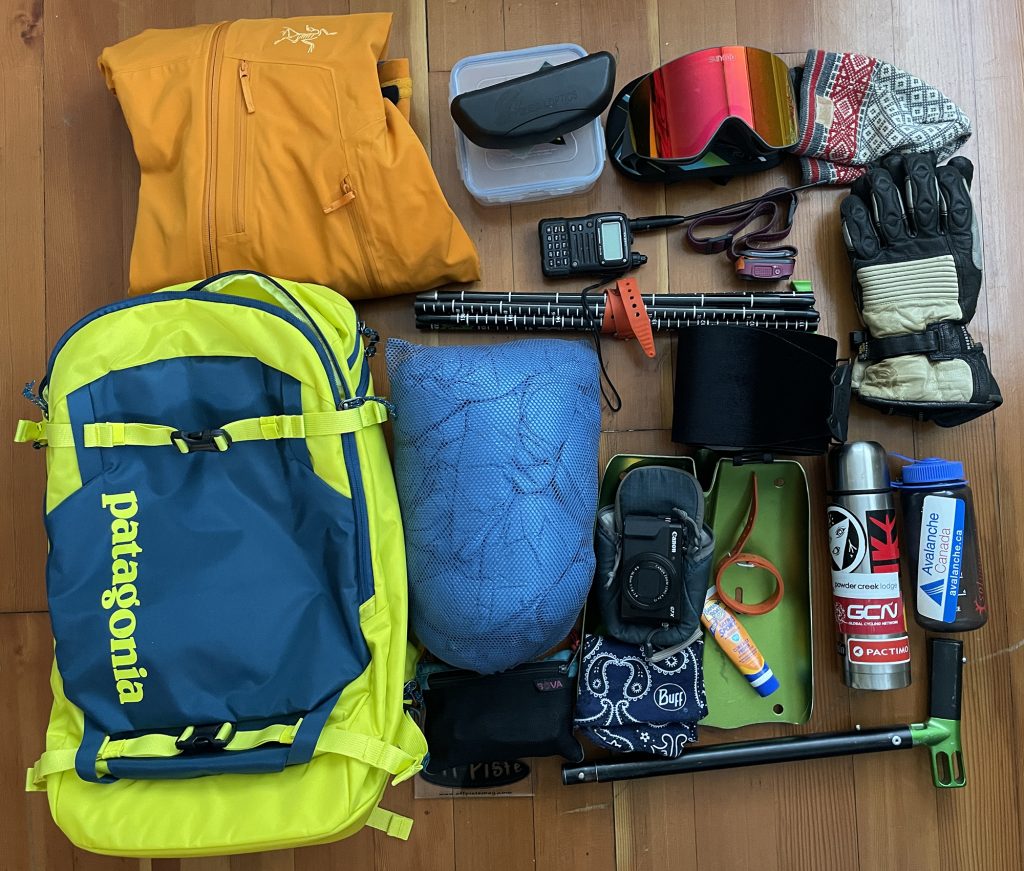 First, it hits a sweet spot for storage space. 30-liters used to sound small, but the SnowDrifter 30L really has all the room you need for a full day of midwinter of powder skiing.
Second, the SnowDrifter offers great access to your stuff. The pack is essentially a panel loader with zip back panel access to the main body. But it also includes zip access to the main compartment through the top. It sounds like a small detail, but having both access options works really well for different access needs. You can keep smaller stuff like gloves or a thermos accessible through the top zip, while larger gear like a puffy or shell can be accessed via the back panel. And, when it's storming hard, the top access means you can keep the pack upright during trasitions to avoid snow build-up on the back panel.
Good Pack Organization
Overall, the organization is simple, but it's nicely defined into four distinct zones — the main body, the avalanche tools pocket, a large accessory / goggle pocket plus two hipbelt pockets. Each zone is easy to access and generous in size for a relativley small pack. There's also a hydration sleeve inside the back panel.
The shovel pocket includes sleeves for your handle and probe plus a nicely sized mesh pocket for the little stuff like a repair kit, ski straps, headlamp, etc. There's plenty of room in the shovel pocket to stow climbing skins, too. Keeping skins seperate helps keep snow out of the main body and keeps them easy to grab.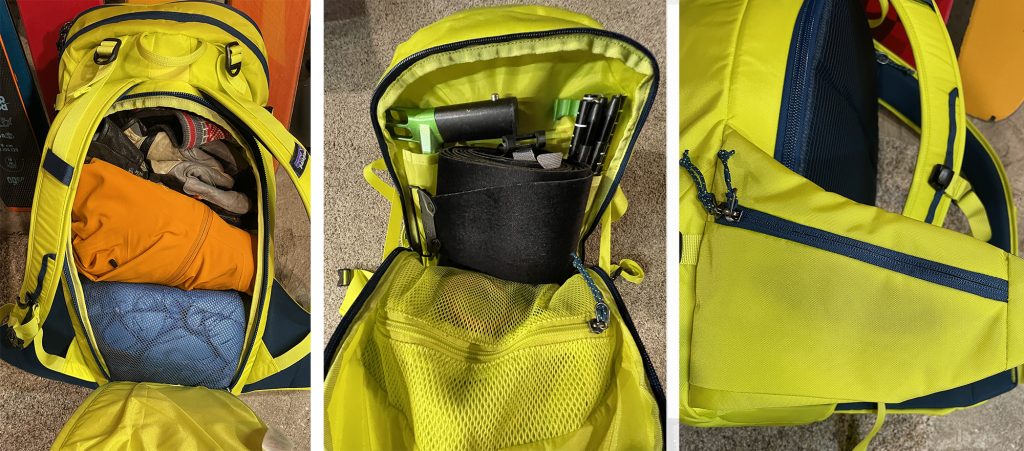 The accessory / goggle pocket on the top is big enough for more than just goggles. It easily takes sunglasses, snacks, a buff, etc, too. The hipbelt pockets are also some of the bigger that I've seen. Patagonia went with a wide hipbelt design that allows for these big pockets. The belt fits great and adds support to keep the pack stable. Dual zips on the hip pockets are a nice touch, too.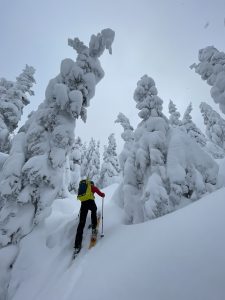 Aside from the wide hipbelt, the straps and suspension feel pretty standard. It rides snug against the body with a secure feel. It can handle traditional A-frame ski carry, diagonal ski carry and can hold a snowboard vertically. All three carry sytems are intuitive and stable. The pack weighs in at around 2.5 lbs (empty), which is reasonably light for its size. It's available in two sizes (S/M; L/XL) to accommodate different body types.
Bottomline
The Patagonia SnowDrifter 30L pack is made for mid-winter powder laps and all day ski tours. Everything about it is well organized and accessible, not to mention it's made entirely of recycled fabrics. If you are a heavy packer or prefer a pack you can push into overnight duty, you'll need to find something bigger. The SnowDrifter 30L is a day pack with an organized layout that makes finding what you need easy. Climb up. Ski down. Repeat.
Patagonia SnowDrifter 30L ski pack — $170
Check availability on the Patagonia SnowDrifter 30L Ski Pack
purchasing through our links helps support the site.