DPS Lotus 124 2.0 – Alchemist Edition
For the most part, backcountry ski waist widths have settled into the 100-115mm zone the last couple of seasons. You can confidently grab a pair of skis with a waist in the low hundreds for just about any day of touring. Between rocker, sidecut and lightweight core materials, these skis are agile, light, capable and most importantly fun in a very wide range of snow conditions. A 106mm waist ski can literally do it all from carving corn snow to floating deep powder, as can a 100 or 112mm waisted ski. But what about a bigger ski? Is it worth going wider? Can a bigger ski be a go-to board for all-conditions touring? I would have answered this question with a reasonably confident "no" before spending the season on the DPS Lotus 124 2.0 Alchemist (150-124-133). Following three months of touring on the new Lotus 124 , I have a new appreciation for going wide for everyday ski touring. The 124 sets a remarkable standard for maneuverability, control and a high fun factor in any soft snow.
Like a Full Suspension Mountain Bike
During my first week of touring on the DPS Lotus 124 2.0, I declared it the equivalent to riding a full suspension mountian bike. The Lotus' ability to smooth out varied snow conditions, absorb playful air and simply to encourage high-speed arcs put a wide smile across my face, run after run. It also opened my eyes to the advantages of riding what is arguably a pretty darn big ski. It's like going from a very capable hardtail or even xc bike to a full enduro set up. The ski simply broadens your options. You can ski it conservatively. You can dabble in its playful side. Or you can just kick open the door, and let it rip.
Lotus 124 vs Lotus 124 2.0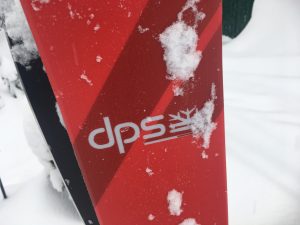 The Lotus 124 is not new. We reviewed the DPS Lotus 124 Spoon back in 2017 and loved it. As much as it was a total blast to ski, I still walked away after a week of skiing it with the view that it was a specialty board best suited to the deepest days. It took spending the bulk of the season – and a variety of conditions – on the latest model to appreciate just how versatile the ski really is. Although largely similar to version 1.0, there's no question that the Lotus 124 2.0 feels a bit different. From a design perspective, the Lotus 2.0 drops the beveled or "spoon" shape in the shovel. It also sports a new tip shape and redesigned tail profile. The result is that the Lotus 2.0 is a little less forgiving than 1.0. It still infuses every run with playful energy and still smears on a dime. But it requires a little more input to get the same feel as the earlier edition. That said, I've been skiing the Alchemist edition with a soft touring boot (La Sportiva Spectre 2.0) and have no complaints or sense that more boot is necessary.
Touring on a 124mm Waist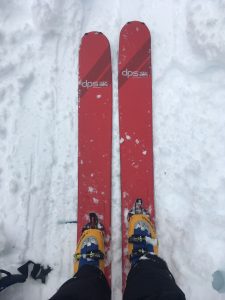 What about walking uphill with all that ski underfoot you ask? Honestly, weight has not been an issue. First, the Alchemist construction weighs in at a very respectable 1915 grams per ski in the 180cm length. If gram counting is your thing, the Tour1 edition drops over 300 grams a ski (a pound a pair). Second, I mounted them with the uber-light Marker Alpinist 12 binding. They feel light in hand and light underfoot. The only real issue with touring on a such a wide ski has been that my touring partners find themselves re-breaking trail behind me, because I am not sinking as deeply into the snow as they do. Oh well, it's the price they pay to have me break trail.
It's Quite a Ride
Bottom line. The DPS Lotus 124 is far more than just a deep powder ski. It's become my do-it-all soft snow touring board. I would not go taking it to the ski hill, but for any backcountry endeavor where you know the snow is soft, it's proven not just capable but really fun. It inspires speed and a playful use of the terrain. Don't let its width or long lengths hold you back, it's a very fun ski whether there's 6cm of new or 36cm.
Shop for the DPS Lotus 124 
Read more of our ski reviews:
Ogso Schwarztor (104mm)
Voile SuperCharger (106mm)
Prior Husume (109mm)
DPS Wailer 112 Tour (112mm)
Voile HyperDrifter (121mm)
DPS Lotus 124 Spoon (124mm)
purchasing through our linksand banners helps support the site!