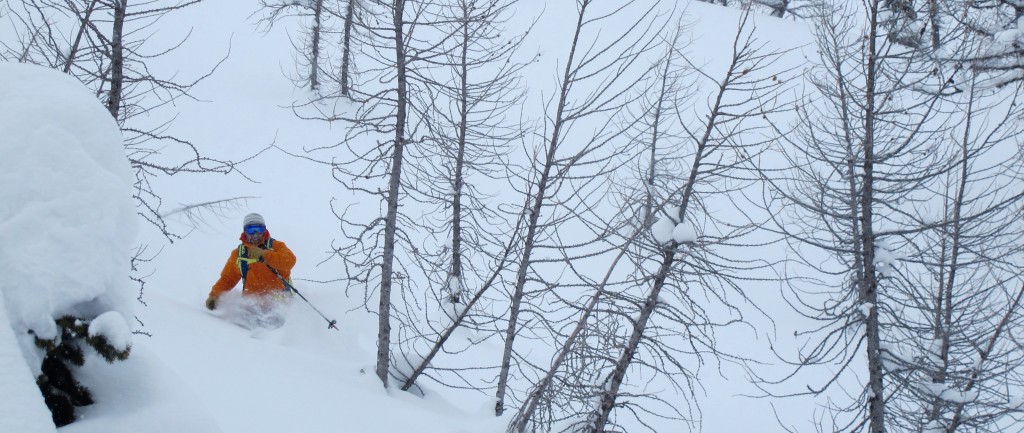 DPS Wailer 112 Tour 1 Review
The DPS Wailer 112 has been a consistent crowd pleaser since its introduction. The 112mm wide waist hits a sweet spot for powder touring, and DPS has fine-tuned the profile over the years to create a refined but always energetic ski. This season they added a new edition – the Wailer 112 Tour 1. The Tour 1 edition represents a lightweight backcountry construction that takes the ski's proven design to a new level of lightness by using balsa wood and prepreg carbon/glass laminates in the core as well as cap construction.

The Tour 1 drops a substantial pound per pair off the already reasonably weighted Alchemist edition. The result is a 3kg weight for the pair. Our 178cm test ski weighs in at 1.5kg each (1.9kg per ski mounted with a Dynafit Radical binding) a very respectable number for the ski's dimensions.
Lively
The best part is that the Tour 1 still offers the playful, lively ride of the Alchemist construction, especially in soft snow conditions where it bounds down the slope with the same energy and zest for turning as its sibling. The Tour 1's light weight is a noticeable pleasure on the uptrack, where the ski encourages ranging far and wide or simply making yet another lap.
After a couple weeks of hut-based touring on the DPS Wailer 112 Tour 1, I'm hard pressed to find fault in the ski. The tip responds to input with predictable grace in a wide range of soft snow conditions. The ski bounds through steep trees with finesse equal to how it handles wide-open terrain. Throw on the brakes and slarve or let it run and enjoy the ride; the Tour 1 edition of the Wailer 112 is an ideal ski touring board for varied styles. It rises to the occasion with the same energy that has made the Wailer 112 so popular. The Tour 1 edition does not show its limitations until the snow conditions get funky enough to test your turning skills. The Tour 1 construction is understandably not as forgiving as the Pure3 model in mixed conditions. The added dampness and mass of the Alchemist helps the 112 take on firm and funky snow with more confidence, but the trade-off is obvious on the skin track, where the Tour1 walks uphill with noticeable ease. And, really, the Tour 1 handles funky snow pretty well, just not as smoothly as the other constructions.
Tour 1 or Alchemist
For those looking to make the choice between the Alchemist and Tour 1 versions of the Wailer 112, we see it like this: the Tour 1 is our pick for a dedicated touring ski. Think human powered access and soft snow consumption in all terrain. However, if you're on the hunt for one ski to cross the line between inbounds and backcountry, you'll be better served by the damper ride of the Alchemist model.
See more ski reviews:
Ogso Schwarztor (104mm)
Ogso Couturier (104)
Voile SuperCharger (106mm)
Prior Husume (109mm)
DPS Wailer 112 Tour (112mm)
Voile HyperDrifter (121mm)
DPS Lotus 124 2.0 (124mm)