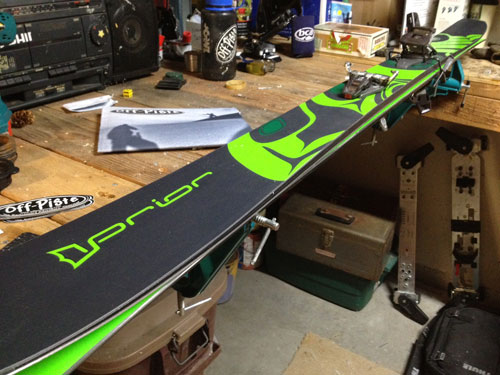 I recently mounted up a new pair of Prior Husume skis built with Prior's new XTC Carbon Construction. Based on the Husume dimensions, the carbon construction reduces the ski weight relative to Prior's standard lay-up and is designed with backcountry skiing in mind. The 2011 Husume also features a new tip profile (more taper). The result is a healthy dimensioned backcountry ski (124-102-112) that weighs in at 7lbs 8oz a pair compared with 8lbs 8oz for the standard construction model (all specs for the 175cm and as weighed in our shop). The Husume has tip and tail rocker matched with positive camber underfoot. We tested the XTC Husume, along with its big brother the Overlord, in a mixed bag of resort pow and carvable snow last spring with great results. I was finally able to get the XTC Husume out ski touring this month.
The flex is impressively similar to the regular fiberglass lay-up. If anything, they feel slightly softer, which is the opposite of what I expected and a plus in my opinion. Many carbon construction skis are stiff and not-so-forgiving, but Prior was able to retain the original ski's great flex. The weight savings on the 175cm ski is a remarkable pound per pair – you can still find lighter boards in the 100+ underfoot category – but it is definitely nice underfoot while breaking trail.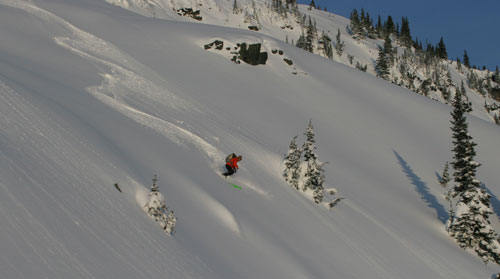 On snow, the Husume is lively and confident. The lighter swingweight of the XTC construction helps it come around  quickly, and the ski really comes to life with a little speed, much like the original construction ski. It's not a low-speed wiggler; it likes to run, and does so with confidence. At 102 underfoot, the Husume is a do-it-all ski that is equally at home in deep snow as it it is boot top conditions. It serves up a freeride feel with the ability to roll into traditional short radius turns without complaint. Prior's XTC construction offers a noticable improvement on the uptrack with no compromise in downhill performance. Although still modest in weight in the eyes of the fast-and-light crew, the XTC Husume strikes a great balance between lightweight construction and all-mountain performance. It begs to open up in big terrain and responds to short swing turns with ease; it made me feel like I could do no wrong.