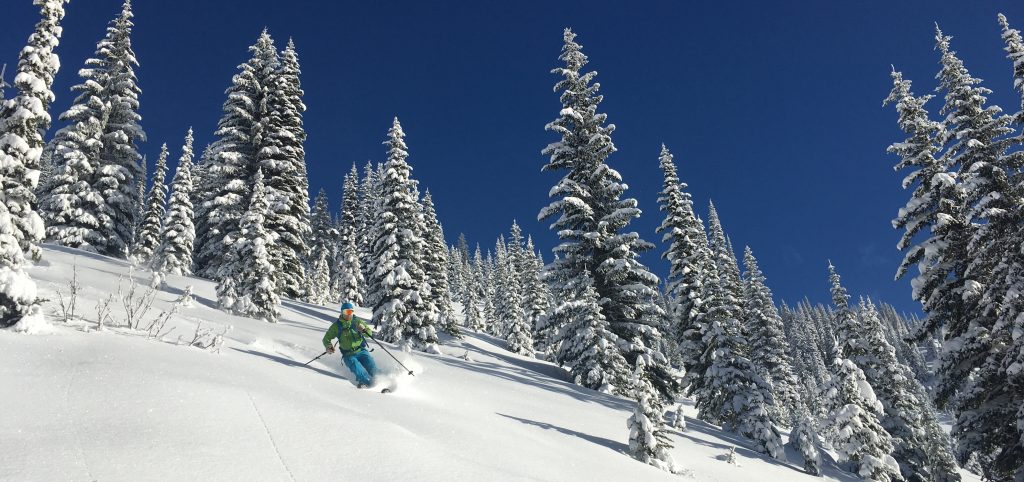 Tip Rise Meets Camber and Control
If you're not familiar with Ogso skis, it's time to get acquainted. Based in Chamonix, France, Ogso Mountain Essentials is a rising new ski brand that makes a range of very fun and versatile touring skis – read more about Ogso and our review of the Ogso Schwarztor ski, which we awarded a qiver-of-one label.
The latest ski to make it into our testing is the Ogso Couturier. Dimensionally similar to the Schwarztor that we reviewed last season (178cm measures in at 135-104-120), the Couturier features a different rocker and camber profile from that of the Schwarztor. Both skis feature a lightweight build, but the Couturier is part of Ogso's Neoteric Camber Collection. Ogso describes the Couturier as having tip rise versus actual rocker. The ski profile images below illustrate the difference between the tip rise on the Couturier and the super rocker profile found on the Schwarztor. 
The result of the reduced rocker and more traditional tail is a longer running surface, more edge control and a more traditional turn finish when compared to the super rocker. On snow, the result is wow. The Couturier engages into every turn with incredible ease and lets you carve it out or release as you like. The ski wants to turn as much as you want, but still offers a confident feel when you need or prefer to arc it out with a solid carve. The profile balances easy engagement with plenty of tail to hold onto turns. It's energetic without being squirrely, and it's confident without being sluggish. 
Named after the nearly 1,400 meter long Couturier Couloir on the Mont Blanc Massif, the ski is clearly aimed at a more ski mountaineering minded user than its Schwarztor cousin. Its reduced rocker and more traditional tail offer hard snow carving performance that the more rockered profile of the Schwarztor does not. Nonetheless, the Ogso Couturier still offers an energetic and playful feel in soft snow. It may not pivot, smear or release a turn quite as quickly as a more rockered ski, but it still brings a very fun, animated personality in soft conditions. The tip rise keeps it floating out of the snow, and the sidecut lets you initiate a new turn with the slightest effort.
Couturier Shape and Specs
The Ogso Couturier shape echos the familar tapered tip and tail shape of other modern five-point sidecut skis. Lively, responsive and playful may be overused when describing skis, but all these attributes apply to the Couturier.  The 178cm model measures in at 135-104-120. A lightweight paulownia wood core is layed up with a mix of carbon, aramid and fiberglass. It has a round flex with a damp feel that lets you carve at speed, turn on a dime or fall into a rhythm that suits the terrain in front of you.
The Couturier's blend of tip rise, camber and side cut is a winner. Its healthy 135mm tip helps it float better than its 104mm waist dimension might lead you to guess it would. You can load it up, dive into turns and spring off features large or small. It responds with casual ease to everything I have put it through from resort runs to backcountry glade laps
The 178cm weighs in at a respectable 2.9 kg (6.4lbs) a pair. Its light enough to feel responsive and fast moving on the skin track, but not so light that it gets nervous.
Ogso Couturier – Another Quiver-of-One?
I've already crowned the Ogso Schwarztor a quiver-of-one, and it truly lives up to this designation. But the Couturier could easily carry the same title, especially for skiers who find themselves in windswept alpine conditions or carvable spring snow on a regular basis. In fact, anyone with a preference for a traditional tail that holds onto a turn will likely prefer the Couturier.
It's a touring ski by and large – ready for extended traverses and powder laps alike. Think of it as a multi-tool ski that can hold a confident edge in carvable snow and still lights up with playful energy in soft snow. It would make a great compliment to a more powder-centric ski for a quiver of two. And I don't hesitate to say it's plenty capable as single quiver board for skiers who see more alpine conditions than they do plush deep powder.
The trick is simply finding a pair! Here in the Pacific Northwest, check out the Mountain Shop in Portland, Oregon or Doug's in Hood River. To read more, check out ogso-mountain-essentials.com
More Off-Piste Mag ski reviews:
Ogso Schwarztor (104mm)
Voile SuperCharger (106mm)
Prior Husume (109mm)
DPS Wailer 112 Tour (112mm)
Voile HyperDrifter (121mm)
DPS Lotus 124 2.0 (124mm)