DPS Lotus 124
When asked for backcountry ski recommendations, I often turn the conversation to where the ski will see most of its use. And for most of us, this means mixed snow conditions, which usually leads to talking about skis in an all-purpose backcountry range of something like 100-114 mm underfoot. It's the rare person who is looking for a dedicated deep snow ski that measures in at 120 mm plus underfoot. But for those in search of a wide stick for deep days and fast-paced charging, the DPS Lotus 124 delivers remarkable response, stability and, of course, floatation.
Powder Skiing Amplified
Seasoned skiers often say any ski performs well in soft powder snow, but it takes a good ski to ski a variety of conditions. I'm not going to dispute this, but skiing the DPS Lotus 124 illustrates that there are skis that really charge in soft snow. My daily driver skis are 112 underfoot and they are a lot of fun in the powder. They float, turn, slarve and flow down the hill with ease. And I've never really considered the need for a ski much wider. When given the opportunity to tour on the DPS Lotus 124, I thought to myself, 'why would I want anything wider than 112?' After a day on the Lotus 124, I have an answer to that question: The Lotus 124 takes all the responsive feel of powder skiing on a narrower board and amplifies it. The stability and float of 124 mm underfoot combined with the Lotus shape inspires speed, control and the incredibly playful consumption of powder.
Huge Sweet Spot
Granted, the test conditions were epic; nearly a meter of cold goose down flakes stacked up with little to no wind. But I had the opportunity for back-to-back comparison with my daily driver. Hands down, the DPS Lotus 124 Spoon inspired speed, pillow drops and surfy fun with more gusto than a smaller ski. It has a huge sweet spot and is incredibly balanced regardless of turn shape. The ski is also surprisingly lightweight. The Pure3 construction is a mere 100 grams/ski stouter than the popular Wailer 112 model. A weight penalty that is easily mitigated through binding choice.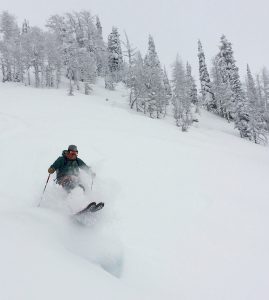 The Lotus 124 features surprisingly little sidecut. The ski's playful personality is born of its rocker profile and subtle spoon tip design. It turns on a dime and holds a big radius arc with confidence. I skied the 178cm with a pair of La Sportiva Spectre boots and it felt like a natural match. The biggest problem with the Lotus 124 is simply that it encourages charging, making short work of the slope that you just spent your hard-earned muscle power skinning up. The Lotus is all party all the time, encouraging pillow drops, speed and air for a guy who rarely gets air.
Quiver Ski and Then Some
The DPS Lotus 124 is, no doubt, a quiver ski. Sure, it handles lesser pow days and lets you carry speed through shallow terrain better than a narrower ski, making it fun in any soft snow. But it is first and foremost a tool for deep snow skiing. It inspires speed and offers the stability to match it's playful ride. It will complement your quiver and tempt you to take it along anytime the storm board reports double digit accumulation.
check availability and price of the Lotus 124
Read our review of the new DPS Lotus 124 2.0