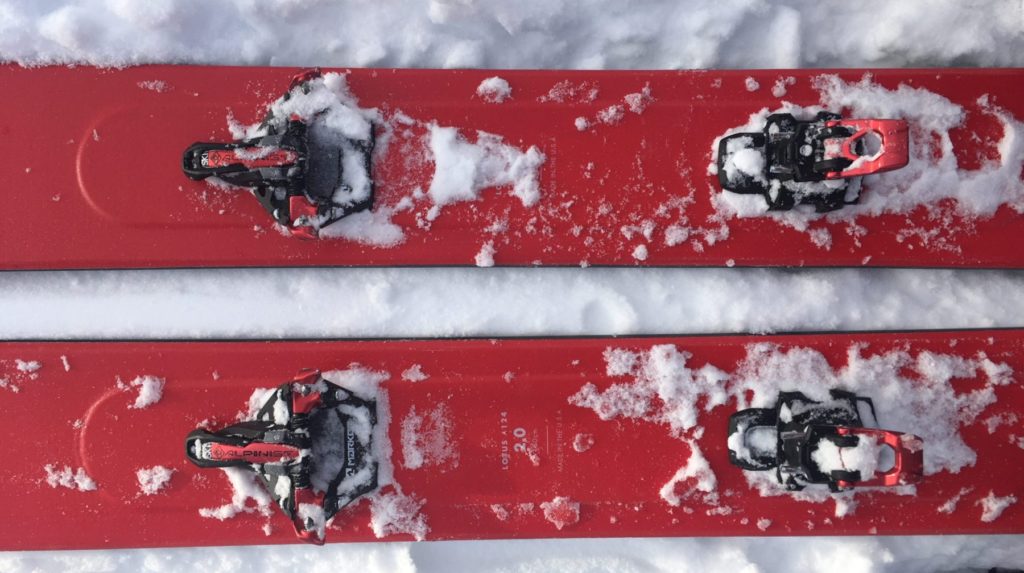 Marker Alpinist 12 Tech Binding
Dynafit set the tech binding standard and many have followed. One of the more recent alpine touring tech bindings to turn our heads is the Marker Alpinist 12. Marker is, of course, well established in the alpine binding world and first stepped into tech binding design with the Kingpin. Blending the security of an alpine binding heel design with a tech toe, the Kingpin earned its place in the AT binding hierarchy for skiers seeking a stout touring binding. But if it's a lightweight, dedicated ski touring binding you are after, the Marker Alpinist is the binding that deserves your attention.
The Marker Alpinist follows a minimalist design approach. Weighing in at a featherweight 250 grams (8.9 oz) per binding (~500grams/pair) without a brake, the design relies on forged aluminum, carbon, and fiber-reinforced polyamide plus a simple u-spring style heel piece to keep it light. The result is a full-function binding that rivals the weight of the Dynafit Speedfit.
Like the Speedfit, the only adjustable release value on the Alpinist is found in the heel rotation or lateral release. It's available in a 4-10 or 6-12 release value (Alpinist 10 and Alpinist 12 respectively). The forward or upward release is set by choosing one of three u-spring options  – soft, medium or stiff. The Alpinist 12 comes with the stiff spring installed. Changing out to the soft or medium is easily done at home or by your ski shop when they mount the bindings.
Flat Walk Mode and More
Besides looking and working great, the Marker Alpinist has a couple distinct characteristics that set it apart from the competition. First is the lack of boot ramp. In other words, the boot sits nearly level in the binding (vs an elevated heel as with most tech bindings). The Alpinist also offers a completely flat tour mode. What does all this mean? Well, it means your boot sits flatter and closer to the ski than on a Dynafit Radical or G3 ION binding. The result is a somewhat more relaxed stance that suits powder skiing and modern rockered skis nicely. Is it better? Hard to say. But I'm definitely enjoying the flat walk mode for low angle approaches and long tours. The binding still offers two additional heel lift modes – low and high. Low rises about 46mm off the ski and the high setting rises 60mm off the ski. Another nice quality to the binding is its lack of rattling parts. The heel lift pad sits snugly on the binding and thus does not rattle with each step. It's also easy to flip into position with your ski pole.
Simple u-spring design tech bindings like the Marker Alpinist are not for everyone. They are designed for dedicated touring, and I would offer are best for experienced skiers. The limited adjustability for release and minimalist design speaks best to seasoned touring veterans and those looking to shave weight on their ski set up. 

The binding has performed flawlessly through a wide range of deep snow conditions. The heel unit sheds snow nicely, and I have never experienced any icing or auto-rotation due to snow build up. Similarly, the toe piece sheds snow and has never developed any icing problems. The step-in toe alignment is not quite as positive as a Dynafit Radical, but after a few transitions, stepping in becomes second nature with a fluid, easy feel.
The heel unit is designed to move with ski flex (what Marker calls active length compensation) to maintain proper heel pin positioning and consistent release values. The mount features a modestly wide hole pattern for solid power transfer.
Everything You Need, Nothing You Don't
Marker set a high standard for simplicity, ease of use and all-around ski and walk performance with the Alpinist tech binding. It's available in two models, the Alpinist 10 (release value 4-10) and the Alpinist 12 (release value 6-12). The models are identical aside from their corresponding release values. Brakes are available as an add on, and ski crampon fittings are built-in.
The Alpinist is a dedicated touring binding for skiers with a preference for minimalist design and simple functionality. Marker has done a nice job of following existing tech binding standards, using innovative materials and designing a binding that has everything you need and nothing that you don't.
Check prices on the Marker Alpinist Tech Binding and support offpistemag.com when you purchase through our links.