Wacaco Nanopresso – Portable Espresso Maker
Strong coffee and adventure go hand in hand. When traveling and backcountry trips require packing your own coffee making supplies, you can go as basic as a cone filter or upgrade to the popular Aeropress. Both methods offer a solid approach to brewing a stout cup of coffee with its own merits. For those who appreciate the refined beauty of a euro-style shot, you should check out the new Wacaco Nanopresso portable espresso maker.
Nanopresso 2.0
Although technically, the Nanopresso does not create a true espresso shot by counter-top standards, it delivers a fine espresso-like shot with minimal fuss. The current Nanopresso is essentially Nanopresso 2.0, a second gen model. The original worked ok. But it had its limitations and quirks. Nanopresso 2.0 works along he same principles as the original but addresses pressure limitations and adds a variety of upgrades that help bump up its quality and utility. By the numbers, Nanopresso 2.0 is actually a little lighter, has a higher water capacity, better pressure and a new filter design. Essentially, it works more smoothly. And the result is a more refined shot and easier, more consistent operation. Combine it with the new Barista Kit, which includes a double shot basket, and you get a quality shot with minimal fuss. Cost is $65 ($80 for the color / theme models).
Portable Espresso Maker
The Nanopresso is super portable. It weighs in at about a pound and is designed for easy packing. If you're a go-light gram counter or minimalist, you can go lighter. But if the priority is a view and a smooth shot of espresso, the Nanopresso is easily packable. It's smaller than most water bottles and makes a great all-around road trip coffee brewing tool, too. Use it in the backcountry, car camping, hotel room or trailhead. It's a travelling coffee solution.
Nanopresso Portable Espresso – How It Works
The process is pretty simple. In the big picture, you need three things:
1. The Nanopresso
2. Finely ground coffee
3. Hot water
The variable here that takes some planning or extra gear is the hot water. In the backcountry, the hot water source could be as simple as carrying a small thermos (Wacaco makes a nice one – shown in video clip) or as complicated as firing up your camp stove. When traveling or road tripping, you can source hot water a number of different ways.
Given a hot water source, using the Nanopresso is super easy.
Load the basket with ground coffee
Fill the reservoir with hot water
Begin pumping
It literally takes a minute or two to make a shot (aside from boiling water). Clean up is super easy. And there are no moving parts that need your attention.
Recommended Nanopresso Accessories – The Barista Kit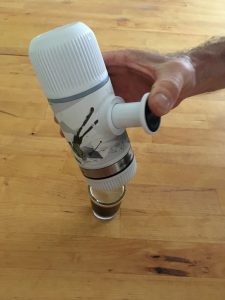 The Barista Kit (an extra $32) is packaged in a nice small container for easy portability. It includes a double-size basket, a larger water tank and an adapter ring to accomodate the bigger basket. It expands the Nanopresso capabilities by giving you the ability to make a double espresso (16 grams of ground coffee) using up to 120ml of water. And, in my estimation, it's an essential accessory. It ups the shot strength and volume. You know, more is better. The kit extends the length of the Nanopresso a little bit as it makes room for the added height of the double basket.
Perfecting the Shot
Like any coffee brewing set up, using the Nanopresso takes experimentation to dial in a shot that you like. The biggest variables being the amount of coffee and the type of grind. My experience has lead me to prefer the double shot basket of the Barista Kit and a fine (espresso) grind. I use modest tamping pressure and the standard water tank volume (80ml/2.7oz). Dialing in the shot is definitely part of the fun.
Wacaco Nanopresso $65: Nanopresso Barista Kit $32
Support offpistemag.com by purchasng though the links
Visit the Wacaco website to check out all of their products.