Avalanche Rescue and Snow Pits – The BCA Dozer 2H Shovel Does It All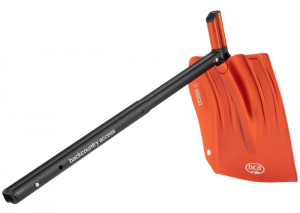 Avalanche shovels are the kind of gear we hope to never really use for their intended purpose of recovering a buried ski partner. But the shovels we all carry have many other uses, primary being to dig snow pits in search of weak layers and to perform snowpack stability tests. The Backcountry Acces Dozer 2H avalanche shovel has the durability to handle rescue digging and is well designed for clean snow pit excavation. Once you try this shovel, there's no reason to use any other.
Bomber Durability
Most importantly, the BCA Dozer 2H shovel is bomber. It's made of T6 heat-treated aluminum. I've had one in use for multiple seasons, and I have put it to work doing all the things you should not use your avalnche shovel to do — like dig out stuck cars and chop steps in firm snow — plus all the stuff it's designed to do. It shows no hint of fatigue, bending or failure. It's not the lightest shovel on the market, but its burly handle and blade fit together with limited play and have proven functional season after season of use.
Shovel and Hoe
The next great thing about the BCA Dozer shovel is hoe mode. If you've never used a shovel with hoe mode, it's very effective at moving snow. Typically, the longest part of any avalanche rescue is the excavation. There is no doubt that the hoe feature speeds up the process, potentially saving precious minutes. Rescue shoveling and large pit excavation is especially productive when you pair one person shoveling normally and one person moving snow with the hoe.
Compact Design For Easy Packing
Your shovel spends way more time inside your pack than out, so it better pack well. The Dozer has a neckless blade, which means it fits easily inside your pack without taking up unnecessary space like a blade with a neck. I'd also suggest that the no-neck design is stronger. 
Flat Blade For Clean Pit Walls
Beleive it or not, blade shape makes a big difference when digging snow pits. A flat blade makes cleaning snow pit walls and creating good columns easier. Hoe mode also comes in handy for dialing in pit walls and cleaning out a snow pit.
Rectangular Shaft for Easy Assembly
Ever try to assemble a round shovel shaft and have to fuss trying to line up the locking button mechanism? The BCADozer 2H shovel has a rectangular shaft that makes for fast and easy assembly.
It's a Great Shovel
There's no downside to the BCA Dozer 2H avalanche shovel. It's everything you want in a shovel and nothing you don't. It's the only avalanche shovel you'll ever need.
Check prices on the BCA Dozer 2H Shovel 
Check out this video about efficient avalanche rescue shoveling or this article about our backcountry ski packing list
support offpistemag.com when shopping via our affiliate links