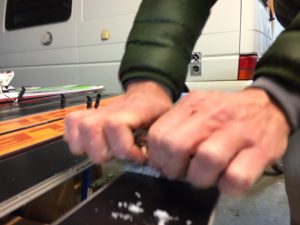 2016 backcountry skis – Ski testing part II
In keeping with the first ski testing post's focus on 2016 backcountry skis with 90-99 mm waists, here are a few thoughts on skis with waist widths in the 90's.
Generally speaking, for West Coast backcountry skiers, a mid-90's waist on a backcountry ski is considered on the narrow side and remains a quiver ski for many users. But if your home snowpack is more typically shallow, a mid-90's ski holds more quiver-of-one appeal. Either way, a mid- to upper-90's waist makes for a versatile tool. Here are a couple of our favorite occasions to run a mid-90's ski.
Spring skiing – 100mm+ powder skis are fun in many conditions but very little compares to ripping turns in carvable spring snow on a narrower ski. The mid 90's have evolved to be the all-mountain dimension underfoot, and we think that it's an ideal width for spring skiing when the conditions can vary from firm to carvable to over-ripe schmoo. They are wide-enough to handle the fresh, narrow enough to be responsive in firm snow and technical terrain yet significantly lighter underfoot than your big powder boards, which means you can ski further, faster!
High-alpine ski mountaineering – Typically, big ski tours are more about covering terrain than searching for deep snow. When it comes to covering distance on skis, narrower boards make sense. They are lighter and you've got less climbing skin to drag along. A mid-90's ski is ideally suited to ski mountaineering. Sure, you could go narrower, and people do, but then you give up a degree of power and ease in variable conditions. A good 90-something ski offers a nice compromise between all-conditions float and efficient movement in technical terrain.
Here are few more 2016 backcountry skis with mid-90+ waist dimensions worth mentioning:
The DPS Tour 1 Wailer 99 (125/99/111): This ultralight construction version of the venerable Wailer 99 is a prime candidate for a dedicated touring board. Though it pushes to the edge of the 90mm waist category, it remains responsive and technically capable, while maintaining a modern tapered tail ride.

The Scott Cascade 95 (129/94/117): New this year, the Cascade 95 builds on the Scott Punisher shape with a new lightweight construction. This ski is relatively soft in its flex and likes to turn. It's pretty traditional in its sidecut profile, but it handled everything we could drop into with ease.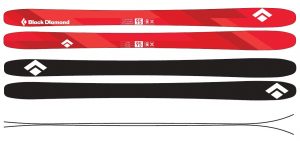 Black Diamond Link 95 (122/95/109): Solid all-around performance in a lightweight, modestly priced ski. The new Link series features Paulownia wood cores and an even all-ski flex. Avail in 90mm waist, too.


Blizzard ZeroG 95 (128-95-111): Blizzard's new Zero G construction uses wood and carbon fiber to create a responsive ski that held and edge and easily rallied through mixed spring conditions. The ZeroG 95 surprised testers with its versatility.
More beta on the 2016 skis soon. If you happen to be in the market for some new boards, it's a great time of year to score a deal at your local shop or online. Be sure to check out our 2015 ski reviews for all the beta on our favorite skis from 2015.