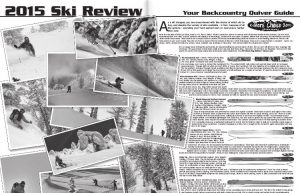 It's the time of year when ski deals can be had at your local shop and online. So, to help in your quest for the right quiver of one or quiver builder set of boards, we offer our full 2015 ski reviews for your consumption.
Backcountry skis are lighter and more versatile than ever. A combination of rocker profile, tip and tail shape and light but stable construction has served backcountry ski design well. Carbon fiber has become commonplace and rocker is the norm.
Our 2015 ski reviews are based on a full week of ski testing, riding skis back to back and in different conditions every day for a week during the spring of 2014. There were many standout skis but, for the first time, we chose to give Editors' Choice Awards to skis that really shined in their width category.
The full 2015 ski reviews first appeared in the October 2014 edition of Off-Piste Magazine (issue 62). You can be sure to get the full 2016 ski review next fall by subscribing to the print or digital edition of the mag. You can view older ski reviews by looking to the October issues from previous years in our Back Issues section.
2015 backcountry ski reviews (pdf copy)
2015 Off-Piste Mag Editors' Choice skis
check out older ski reviews
Support the mag when shop for ski deals online:
OMC Gear 25% off
Evo up to 30% off
Backcountry up to 20% off