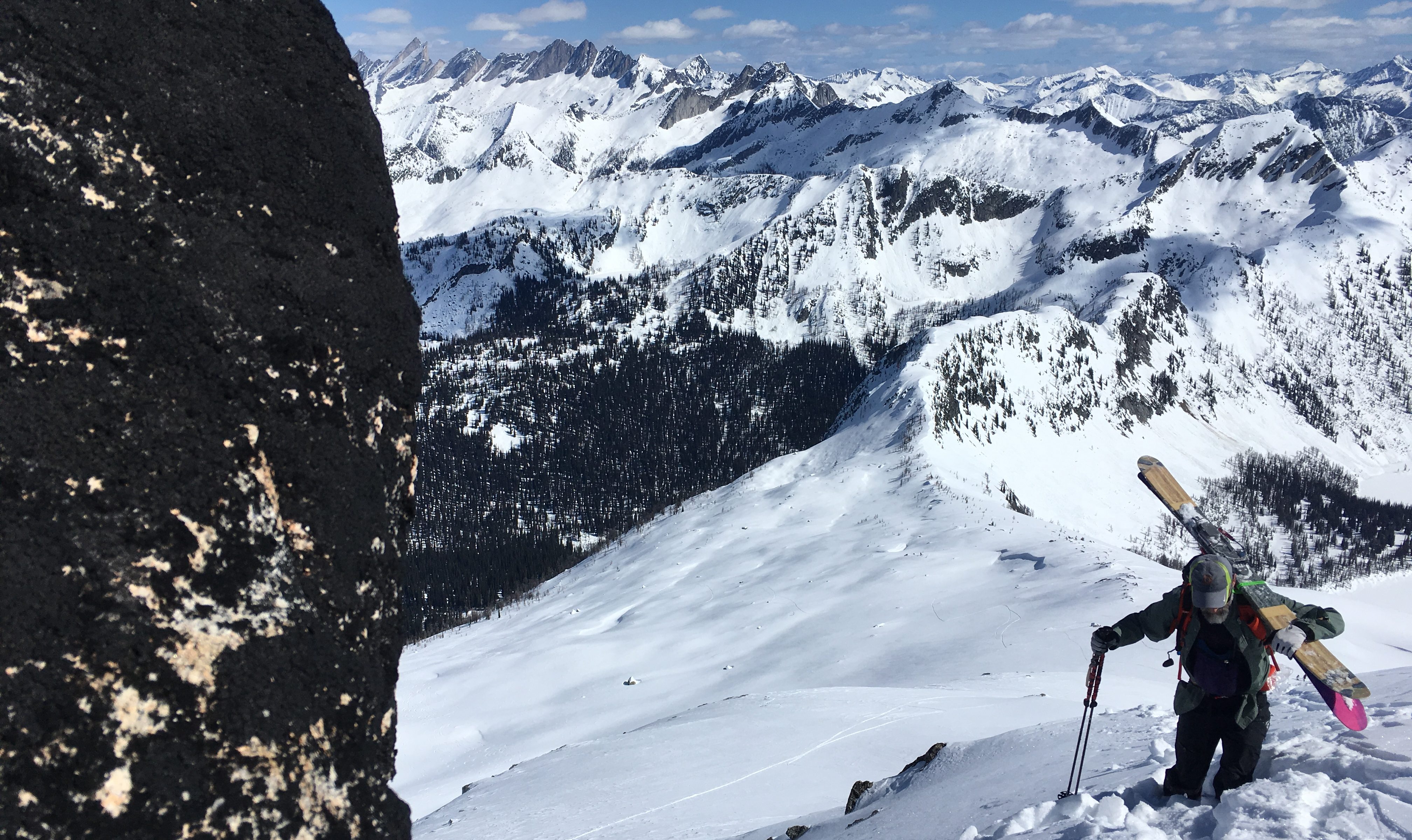 Ski Mountaineering – Ski Crampons and Boot Crampons Guide
Climbing skins can only get you so far when it comes to summit attempts, climbing couloirs and spring ski mountaineering objectives. From firm boot packs to firm skin tracks, lightweight boot crampons and ski crampons are the ticket to efficient ski mountaineering travel.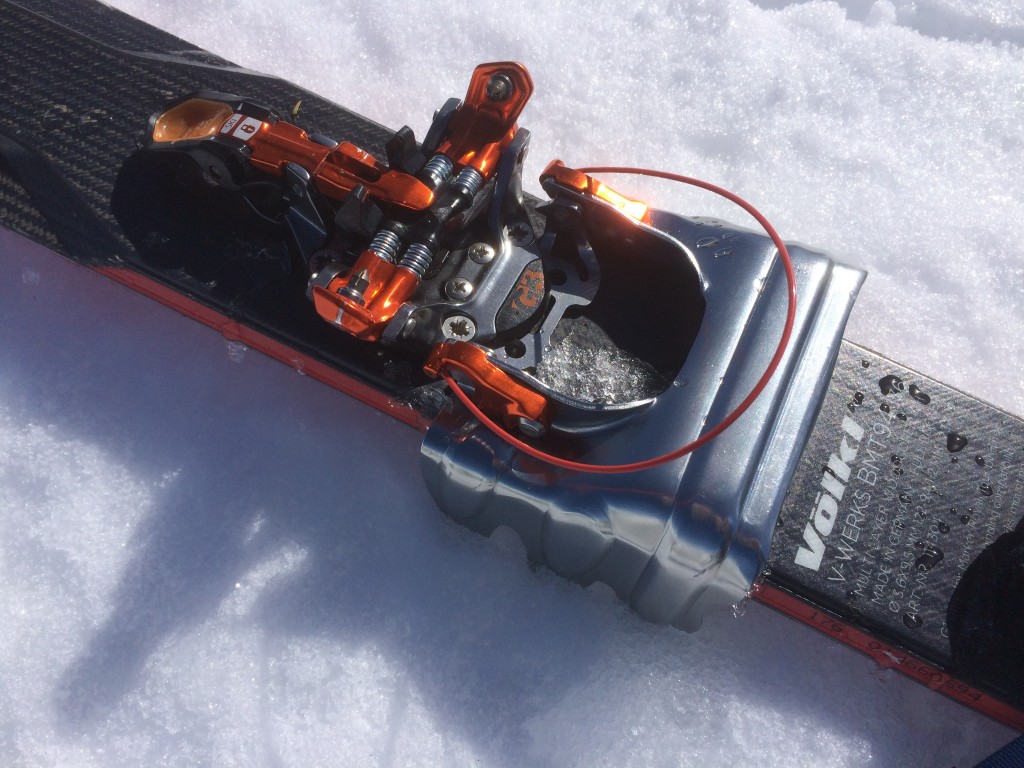 Ski Crampons
Ski crampons are an underrated tool that can make skinning even shallow terrain easier when the snow is hard. Unlike boot crampons, most ski crampons pivot underfoot, so they engage in the snow when you step down and pivot up to slide when you lift your ski to stride forward. There is very little resistance or even change in the cadence of your skinning stride when using ski crampons, but there is considerable benefit and grip when they engage.
If you know the feeling of "holding on" while skinning on firm snow or steep side-hills, imagine how much energy can be saved if each step is significantly more secure feeling. Well, that is what ski crampons do for you. They offer security and stability that is unmatched by skins. Ski crampons are not a standalone climbing tool. They work in conjunction with your skins, and they save you energy on firm slopes of any angle.
Think about skinning on firm snow or a few inches of new snow over a firm base at any time of year. Either way, skinning in these situations take more energy as you need to engage your arms and work for your traction and or edge. Such scenarios often don't warrant boot crampons or even putting your skis on your pack and kicking steps. These moments are when ski crampons are the ticket to efficient skinning on firm snow. They are lightweight and easy to install on the fly.
All the various alpine touring binding companies (Dynafit, Fritschi, G3, Marker, etc) make ski crampons for their respective bindings. If you happen to run Dynafit bindings, you can also get compatible ski crampons from B and D Ski Gear, a small machine-shop-based biz that makes a variety of great products for ski touring. Or check ski crampon prices and availability at backcountry.com
Ski Crampons for Telemark Skis
If you run tele gear, your choices are more limited. But there a couple choices for ski crampons. Not many tele bindings offer integrated ski crampons systems, so you need to add hardware to accept a crampon. B and D Ski Gear makes a nice simple system that mounts a small adapter on your ski that accepts a Dynafit-style ski crampon. Similarly, 22 Designs sells a mount and corresponding ski crampon for use with their bindings. Voile Equipment also makes a ski crampon, but it uses a fixed mount and does not pivot as you walk, which makes for solid engagement with the snow but changes the skinning dynamic. Voile also makes a splitboarder specific crampon.
Lightweight Boot Crampons for Ski Mountaineering
When it comes to boot crampons, there are many options. Because I am a skier first and mountaineer second, I see boot crampons as a short term solution to reach skiing. As a result, I believe crampons should be lightweight, easy to use and easy to pack. And there is generally no need for burly steel varieties. There is definitely a trade-off in durability when you move to an aluminum crampon, but personally, given the amount of use my crampons see, I'm happy to trade a little durability for the drop in weight from a steel model. Staying away from rocks with your aluminum crampons definitely helps extend their lifespan. Aluminum can't rival the durability of steel, but the Black Diamind Neve Pro has proven itself many times over for varied ski mountaineering use. They include anti-balling plates to reduce snow build-up underfoot. Hopefully, if the snow is soft enough to ball up underfoot, you're skiing it rather than hiking with crampons.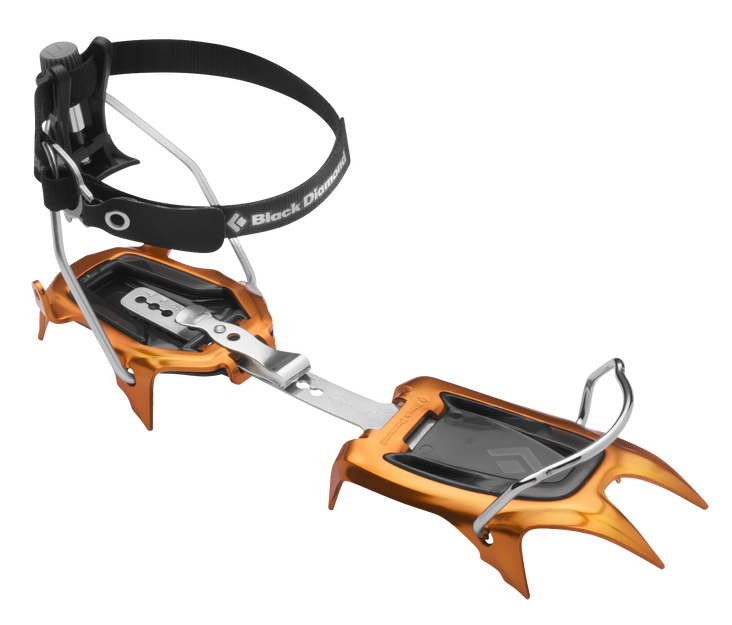 BD Neve Pro Crampons
The Black Diamond Neve Pro boot crampon is lightweight and easy to use. They weigh in at about 10-ounces each and their 10-point aluminum frame is ideal for light-duty ski mountaineering pursuits. You can cross glaciers, boot up snowy couloirs and generally climb anything that is not pure ice with an aluminum crampon like the Neve Pro. The metal toe bail accommodates telemark, alpine touring and climbing boots, while its easy-adjust heel bail and quick-tightening strap make putting on and removing them a breeze.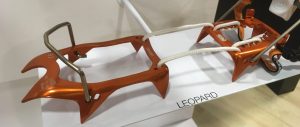 Another lightweight ski mountaineering boot crampon that we like is the Petzl Leopard boot crampon. It's has a traditional aluminum design, but Petzl lightens the build by connecting the toe and heel units with dyneema cord. It weighs in at 330 grams. There's also version featuring a steel toe section called the Petzl Irvis Hybrid crampon. You get the durability of steel in the front points with a reasonably lightweight design – that's actually lighter than the BD Neve Pro crampon.
TechCrampon 250
An interesting boot crampon solution that is great when you only need a crampon for limited steep climbing (couloirs, summit pitches, etc) is the TechCrampon 250. Made in the Pacific Northwest, it is designed specifically for tech-compatible ski boots. It's not a full boot crampon, but it's proven to be very functional for a variety of ski mountaineering pursuits. Read our full review of the TechCrampon 250.
Lightweight Ice Axe
Finally, if you are traveling in steep, firm snow, an ice axe is lightweight insurance to help arrest a big slide and for maintaining balanced footing on steep slopes. An axe also doubles as an anchor for your gear, roped lowering and general delicate maneuvering in firm snow. My axe stays on my pack more often than not, but when it comes time to transition between skis and crampons or to descend firm slopes, there's no substitute.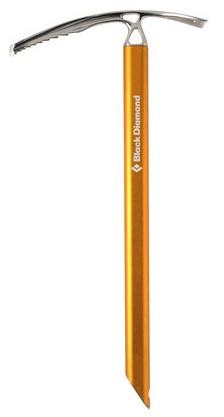 I've been using a Black Diamond Raven Ultra ice axe for multiple seasons. It features an aluminum shaft and a steel head – ideal for light-duty ski mountaineering use and it weighs an impressive 11 ounces. There's a bent shaft version called the Raven Pro if you prefer.
Similar to the Raven Pro is the Petzl Ride ice axe. The bent shaft gives it a technical edge. Need to carry a shovel and an axe? Check out the BCA Shaxe – read our review.
Read More From OffPisteMag:
Backcountry Ski Packing List
Backcountry Ski Repair Kit
Hut Trip Packing List
Everything you need to know about Ski Crampons 
Support offpistemag.com when you make a purchase through our product links