The lackluster winter here on the West Coast has many of us pursuing ski mountaineering adventures where climbing skins can only get you so far. Here's some beta on a couple solutions for alpine endeavors: ski crampons for telemark and AT gear and boot crampons for when it's time to carry your skis.
Ski Crampons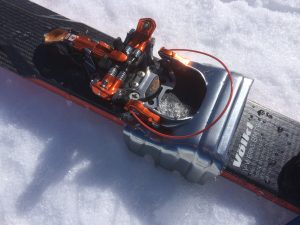 Ski crampons are an underrated tool that can make skinning even shallow terrain easier when the snow is hard. Unlike boot crampons, most ski crampons pivot under foot so that they engage in the snow when you step down and pivot up and slide when you lift your ski to stride forward. There is very little resistance or even change in the cadence of your stride when using ski crampons, but there is considerable benefit and grip when they engage.
If you know the feeling of "holding on" while skinning on firm snow or steep side-hills, imagine how much energy can be saved if each step is significantly more secure feeling. Well, that is what ski crampons do for you. They offer security and stability that is unmatched by skins. They are not a standalone climbing tool; they work in conjunction with your skins, and they save climbing energy.
It could be a spring ski ascent on firm snow or a few inches of new snow over a firm base at any time of year; either way, skinning in these situations takes more energy. Such scenarios often don't warrant boot crampons or even putting your skis on your pack and kicking steps. Ski crampons are the ticket to efficient skinning in firm snow situations. They weigh very little and are easy to install on the fly.
All the various alpine touring binding companies (Dynafit, Fritschi, G3, Marker) make ski crampons for their different bindings. If you happen to run Dynafit bindings, you can get compatible ski crampons from B and D Ski Gear, a small machine shop based biz that makes a variety of great products for ski touring.
If you run tele gear, you also have a couple choices for ski crampons. Not all tele bindings offer integrated ski crampons systems, so you need to add hardware to accept a crampon. B and D Ski Gear makes a nice simple system that mounts a small adapter on your ski that accepts a Dynafit-style ski crampon. Voile Equipment also makes a ski crampon, but it is fixed and does not pivot as you walk, which makes for solid engagement with the snow but changes the skinning dynamic. The tele bindings that offer integrated ski crampons include Black Diamond 01 and 02 and the G3 Targa Ascent models.
Splitboarders can use the the Voile or the B and D ski crampons. The crux being to be sure you get them wide enough for your board.
Boot Crampons
When it comes to boot crampons, there are many options. Because I am a skier first and mountaineer second, I see boot crampons as a short term solution to reach skiing. As a result, I believe crampons should be lightweight, easy to use and easy to pack. And there is generally no need for burly steel varieties. The Black Diamond Neve Pro boot crampons fits the bill nicely. I've been using a pair of these for a handful of seasons and they have served their purpose very well.
Weighing in at about 10-ounces each, the Neve Pro crampon is aptly named for a tool intended for snow and glacier travel – Névé is actually a granular type of snow that has been melted, refrozen and compacted, yet it precedes the formation of ice. The Neve Pro's 10-point aluminum frame is ideally suited to light-duty ski mountaineering pursuits. The metal toe bail accommodates telemark, alpine touring and climbing boots, while its easy-adjust heel bail and quick-tightening strap make putting on and removing them a breeze.
There is definitely a trade-off in durability when you move to an aluminum crampon, but personally, given the amount of use my crampons see, I'm happy to trade a little durability for the drop in weight from a steel model. Staying away from rocks with your aluminum crampons is a great way to help improve their lifespan. They can't rival the durability of steel crampon, but the Neve Pro has proven durable enough for varied ski mountaineering use. They even include anti-balling plates to reduce snow build-up underfoot. Hopefully, if the snow is that soft, i'm skiing it.
A cool new boot crampon that I've been using this winter is the TechCrampon 250. Made here in the Northwest, it is designed specifically for tech-compatible ski boots. It's not a full boot crampon, but it's proven to be very functional for a variety of ski mountaineering pursuits over the past year. Read our full review of the TechCrampon 250.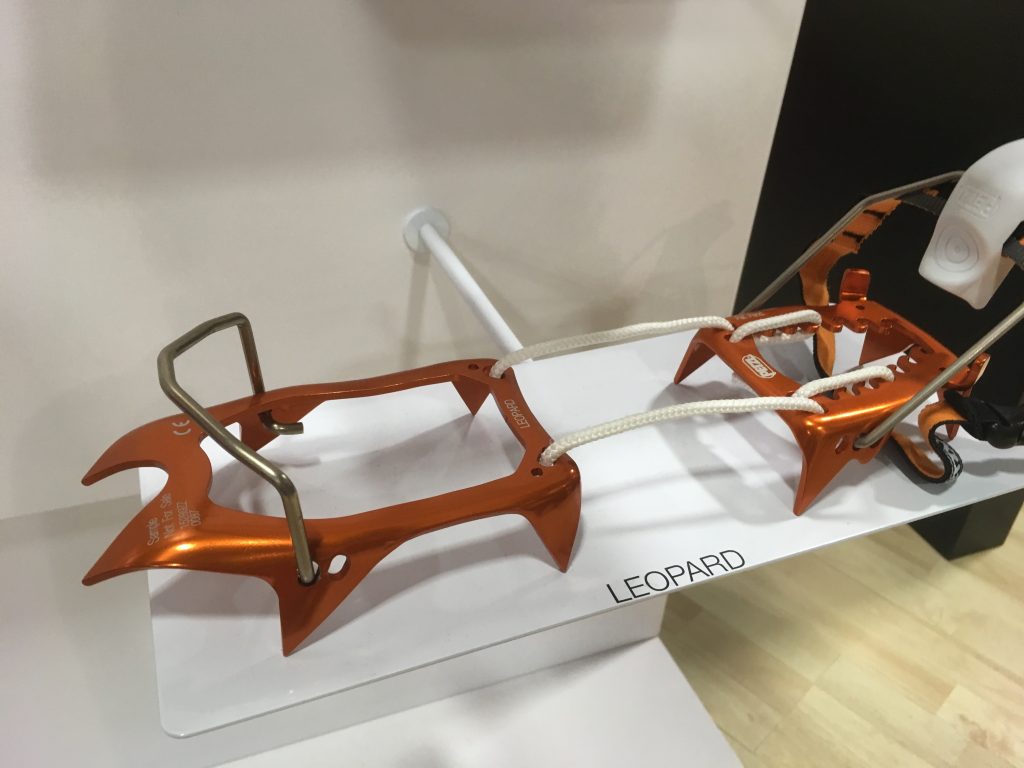 Another light-is right boot crampon that we like is the Petzl Leopard boot crampon. Pretty much a traditional design, but they lighten the design by connecting the toe and heel units with dyneema cord. It weighs in at 330 grams. Pretty slick!

shop for ski and boot crampons

Check out our review of the BCA Shaxe – the shovel handle is your ice axe.