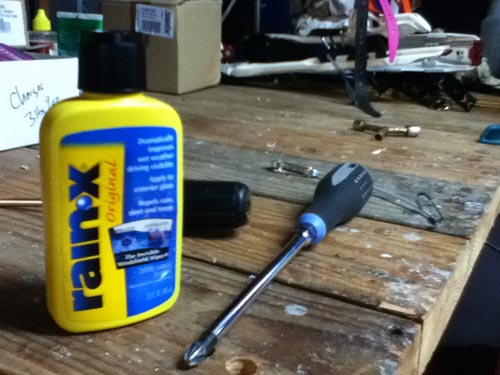 Snow build-up on your top sheets is a fact of backcountry skiing, and spring is probably the worst season for snow build-up on your skis. Warmer temperatures mean heavier snow and that means you are dragging more weight up the hill than you need to.  K2 tried to address the issue with a p-tex top sheet material on their backside ski line. It helps reduce build-up, but even the p-tex top sheets benefit from some sort of additional coating to help shed snow.
I have tried a variety of things over the years to reduce snow build-up on my top sheets while ski touring. On the advice of a buddy, I recently began using a product called Rain-X. It is one of the best and least expensive options I have tried. It was developed for car windshields and works great at making rain bead up and disperse on your car windshield. Well, it turns out that it does a pretty damn good job of keeping snow off your top sheets while ski touring, too.
Every top sheet material is a little different, but Rain-X is super easy to apply. Just squirt a small amount on your top sheets and rub it around with a cloth or paper towel. It doesn't take much, but you have to apply it every day to maintain its effectiveness. Longevity of its effectiveness is dependent on your top sheet material and the snow conditions. I recommend applying it in the morning before you head out the door.
You can find Rain-X at auto parts stores, gas stations and , often, grocery stores. The 4-ounce bottle pictured runs around $4 and will last quite a while.