Carve or Slarve – The Blaze 106 is Right at Home
By the numbers, the Volkl Blaze 106 is an intersting ski. It specs out with a 146mm tip, a 106mm waist and a 128mm tail for all lengths. It's wide shovel and strong sidecut are the first details to jump off the page, but upon closer inspection, it features an interesting and long rocker profile, too — which means the rocker runs quite far from the tip and tail. What makes the overall shape "traditional" is its lack of taper in the tip and tail and a whopping 40mm of sidecut from tip to waist.
It's kind of the opposite of a modern five-point shape. Other than its width, it kind of looks like a carving ski until you begin to take a closer look at the rocker. While the rocker profile is long, it's also very shallow — which means it does not rise far off the ground and looks flatter than many skis in this width category. That's all to say that we were really curious to see where the Blaze 106 excelled given it's quite different from most of the modern, looser shapes that play in the backcountry touring space. 
On Snow
It's no surprise that the Volkl Blaze handles a carve better than most more backcountry-specific skis. It is, afterall, a Volkl. The bigger surprise was how surfy and nimble such a traditional tip and tail ski shape can be given its relatively modest 106mm waist. Volkl's recipe of long shallow rocker, strong sidecut and a wide shovel give the Blaze 106 a very versatile personality. 
Take it to the ski hill on piste and it rolls out short radius carves better than most skis in its weight class. It has a damp, smooth feel despite its modest weight. It feels like a Volkl, albeit one made for soft snow skiing versus slalom racing.  Jump into fresh untracked snow and the Blaze 106 really defies its shape and width. It floats through deep snow like it's wider than it is and responds to a light touch for a fun, playful ride that lets you turn on a dime and duck through tight tree lines. 
Versatility
By design, the Blaze 106 is not specifically meant to be a dedicated backcountry ski. It's what Volkl calls part of the "lightweight freeride" category. Essentially skis designed for soft snow, adventurous lines and hunting powder. However, given its reasonably light weight build, it makes a great touring ski, too. The 106 offers a responsive ride that is at its core a more traditional shape than many of the more tapered designs on the market. Nonetheless, it responds to subtle input and rides out soft snow with playful ease thanks to its extended rocker design. It's a modern powder ski for skiers who also appreciate the balanced feel of a more traditional shape.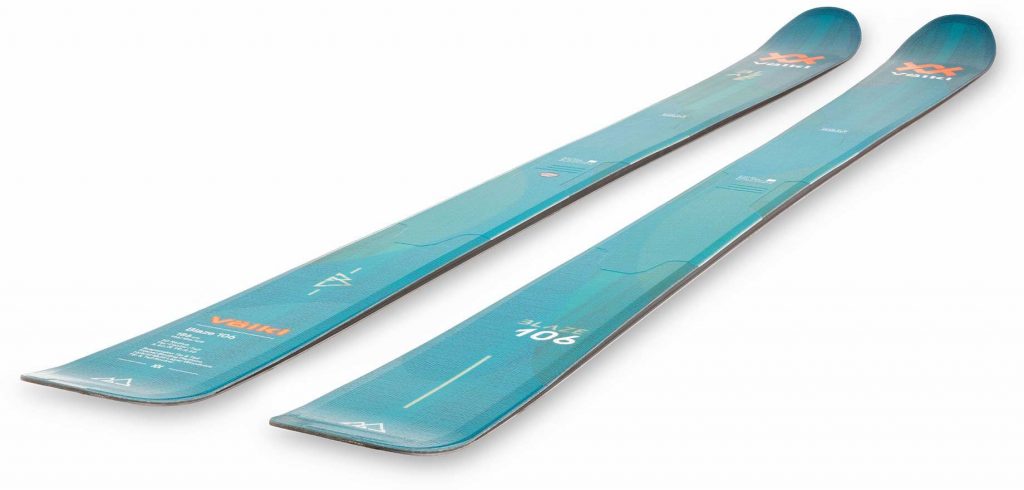 Combined with lightweight touring binding like the Marker Alpinist (read our Marker Alpinist review), the Blaze 106 makes for a dedicated touring rig that can rival a wide range of competitors for versatility and an overall lightweight uphill package.
Mount it with a more all-around binding with brakes and full release adjustability, and you have a ski that you can use at the ski resort and the backcountry without any real compromise in resort performance.
Given its extended rocker profile and limited camber, it's a safe bet to ski the Blaze a little longer than you might initially think you need. 
Volkl Blaze 106 – $600
Specs: 165cm, 172cm, 179cm, 186cm — 146-106-128
Weight/ski: 1720grams / 3lb 12oz (172cm)
Check prices and availability of the Volkl Blaze 106 at REI and EVO
Using our links to buy gear helps support our content, thanks.