GoSun 10 Watt Portable Solar Panel
Phone, GPS unit, satelite communicator, camera gear, headlamp, the list goes on. Carrying electronics in the backcountry is the norm these days. Keeping them charged over the course of a multi-day backcountry trip, however, is a project of its own. Portable batteries are an obvious solution and are great for a single device for a few days. But when you need to keep multiple devices charged over a longer timer period of time, a portable solar panel is the ticket. The summer, I put a GoSun portable 10 watt solar panel to the test to maintain the charge on two Garmin cycling computers, two iPhones and a backup battery while on an eight-day bikepacking trip. It worked flawlessly.
Clean, Simple Design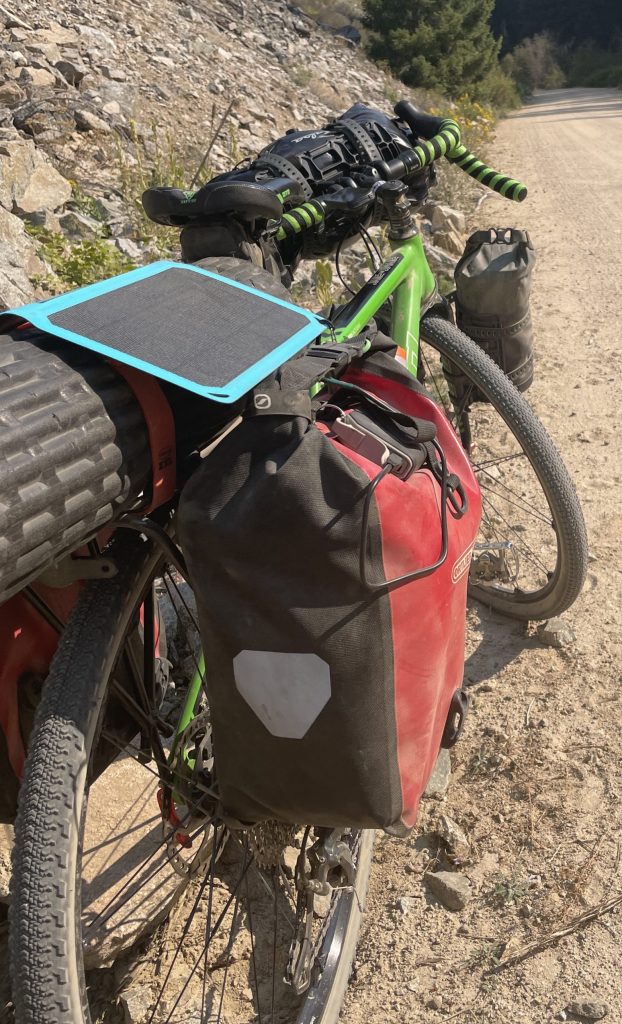 The GoSun 10 Watt Portable Solar Panel is a lightweight folding panel. It measures 6.25 x 7 inches folded or 12.5 x 7 inches when open and weighs about 10 ounces. The design is clean and simple. It's coated with a flexible polymer that gives it a rugged, waterproof feel, and there's a single USB port outlet for connecting it to a device. All four corners are slotted for easy attachment to hang from almost anything.
How It Works
Using the GoSun solar panel is super easy. Just plug the charging cord for your device into the one-and-only USB port on the panel, and set the panel in the sun. GoSun says it charges as fast as a houshold outlet provided full, unfiltered sunlight. My experience matched the claim. I was pleasantly surprised how quickly it topped up the charge on a variety of different devices. Of course, the lower you let a battery drain, the longer it takes.
Best practice for backcountry battery charging in to charge regularly. I followed a simple process where I strapped the panel across the top of my panniers each morning and let it charge my backup battery while pedaling during the day. When there was sun at camp, I connected the panel directly to my phone or Garmin unit. Both processes worked well.
Foldable, Durable and Adventure Worthy
Along with charging quickly, the GoSun Portable Solar Panel proved to be totally adventure worthy. The folding design keeps it small and packable. There's no added frame or stand to add weight or bulk. The panel folds flat and easily slips into a pack or pannier without taking up unnecessary space. Whatever it's coated with handled day after day of dust and dirt without any trouble. It wipes clean with a damp rag and charged even when dusty — albeit probably at a slower rate. The two included mini carabiner clips make hanging it snap.
GoSun 10 Watt Portable Solar Panel $99
Check price and availability on the GoSun Portable 10 Watt Solar Panel
Read our review of portable back-up batteries