Portable Chargers for the Backcountry
Electronics in the backcountry are part of life. Apps like Gaia (GPS), Strava, Avenza and Ride turn our phones into worthy gps and map tracking tools for adventure in any season. However, keeping electronics fully charged and ready to go on a multi-day backcountry trip requires back-up power.
There are many portable chargers and storage batteries on the market that can be used to keep electronics charged. I've been using a couple different portable chargers over the past year: the MyCharge AdventureMax and the Goal Zero Venture 30.  Basically, both are lithium batteries encased in rugged plastic housings that you charge up when you have access to power and then use to charge phones, gps units and small electronics when away from power.
When deciding which portable charger to buy, you need to consider how many milliamps (mA) the device you need to charge requires and then scale the portable battery capacity appropriately to offer the charging you need. For example, an iPhone X battery is about 3,000mA. So, you need a battery with more than 6,000mA to get two charge cycles for the iPhone X. A quick search will get you the info on your device if you're not sure of its battery size.
Of course, the more power you need, the bigger and heavier the portable charger. Fifty to a hundred bucks buys you a battery with 7,000-10,000mA capacity. Portable batteries of this scale offer multiple chargings and weigh in around half a pound (250 grams).
Charging Best Practices
A couple tips help make for efficient charging and power management in the backcountry. Number one, temperature affects power capacity. Warm the battery (keep in a pocket) before use. A cold battery will not output its full potential. Number two, it's best not to fully drain your device power if at all possible. Charging is far more efficient from 50% battery to 100% than it is from 0% to 50%. Number three, a 10,000mAh battery will not necessarily charge a full 10,000mA. Be sure to estimate a 10-15% loss in mAh from the battery. So a 10,000mAh charger is best viewed as 8,500-9,000mA of usable power.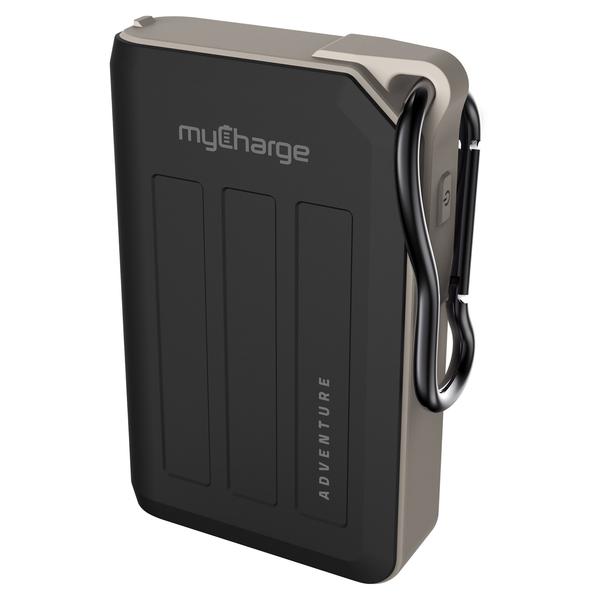 MyCharge AdventureMax Portable Charger
The MyCharge AdventureMax has a 10,500mAh capacity and two 2.4A USB outlets. The 10,500mAh capacity allows for three full charge cycles on most phones and even more on smaller gps units. The battery can be fully charged in about 4.5 hours and outputs at 2.4A/hour.
The MyCharge AdventureMax also allows inline charging. This means you can rechage the unit while charging a device. Inline charging is convenient when you have limited outlets (and time) and would like to charge both the batttery pack and your device simultaneously from a single USB wall plug. I've found this valuable in airports, hotel rooms or anytime I only have a single wall plug.
The unit is reasonably sized and weighs in at about a half pound. A built-in carabiner makes for secure connection to a pack. It also features an on/off button and an iluminated series of LED's that indicate charge status. MyCharge makes a series of Adventure chargers in range of sizes to suit different charging needs.
MyCharge AdventureMax Portable Charger Specs
Capacity: 10,500mAh Lithium Ion
Dimensions: 4.4 in x 2.9 in x 1.0 in
Weight: 0.55 lbs / 249 grams
USB port output: Two 2.4A outputs (2.4mA / hour output)
Cost: $50
Shop for the MyCharge AdventureMax and support Off-Piste Mag
Goal Zero Venture 30 Portable Charger
The second portable charger unit tested is the Goal Zero Venture 30.
The Venture 30 is a 7,800mAh lithium storage battery. Like the MyCharge unit, it's designed to charge via a USB wall plug, but is also compatible with Goal Zero's portable solar panels that are available separately. When paired with a Goal Zero Nomad 7 solar panel (a 7 watt panel), it can be recharged in 8-16 hours. Charging time from an outlet is about 5 hours.
The Goal Zero Venture 30 includes two 2.4A USB output ports and one micro USB. The shockproof, weather-resistant unit is built for rugged outdoor use and has withstood many weeks of adventure.
The interface is simple and a series of five LED lights indicate how much power is available or how charged the Venture 30 unit is. The LED's can also be used as a light. The unit includes a USB/micro USB cord that is integrated into the unit for simple storage and an always-ready-to-use package.
Goal Zero Venture 30 Portable Charger Specs
Capacity: 7,800mAh
Dimensions: 4.5 x 3.25 x 1 in
Weight: 8.8 oz / 250 g
Cost: $99
Shop for the Goal Zero Venture 30 and support Off-Piste Mag
purchasing through the product link helps support offpistemag.com