Outdoor Research Trailbreaker Ski Pants Review
As the song goes, "You gotta get up to get down," and skinning uphill tests more than just your legs. It tests your outerwear, too. Unlike a jacket that you can change as needed for the up and down, you're gonna wear the same pants all day. As a result, backcountry ski pants need to breathe while you go up and protect from the elements all the time. It's a big ask. But if you've ever backcountry skied in softshell ski pants, you know how well a densly-woven softshell resists the elements, keeps you comfortable and lets your body breathe on the skin track.
Hybrid Softshell Ski Pants
Outdoor Research goes one step further with their dedicated backcountry ski pants – the Trailbreaker. They're a well designed hybrid that blends breathable stretch woven soft-shell above the knees with three-layer waterproof Pertex® Shield fabric on the lower legs, where you're most exposed to the snow. It's a great idea that offers a nice compromise for weather protection with breathability in the high heat zones.
The Outdoor Research Trailbreaker pants are the result of a collaboration with professional ski guides, and they nailed it. They've also continued to refine the design since the Trailbreaker's original release. The latest edition extends the breathable softshell zones to include the back of the knee. Its hybrid combination of waterproof, breathable and stretch-woven soft-shell now maintains breathability where you need it most through the thighs, back of knee and seat. High snow contact zones at the front of the lower legs are fully waterproof.
Attention to All the Right Details
There are numerous small details that set the Outdoor Research Trailbreaker Pants apart from similar backcountry ski pants. First, the cut is great. It falls somewhere between baggy new-school and Euro-slim. Combined with the stretch nature of the fabric, there's plenty of room to flex and bend naturally without feeling too loose or too tight.
Next, there's a dedicated beacon pocket with a retaining clip, which is key to making a pants pocket viable for carrying your beacon (read more about where to wear your avalanche transceiver). It's a nice touch.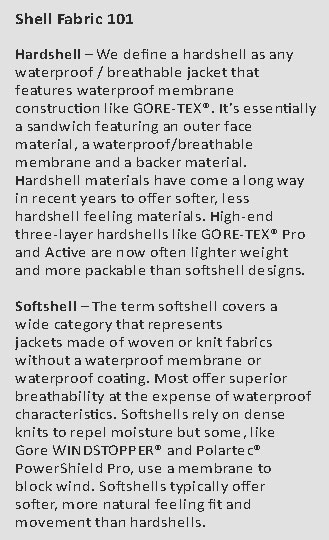 Another feature worth mentioning is pocket placement. You'll find standard hand pockets, but rather than put side or front cargo pockets like most pants use, Outdoor Research puts a modest zip pocket on the back of each thigh. It sounds like an odd location, and it felt a little strange at first. But it turns out to be a great place to store lightweight items like a ski scraper, a small radio or your phone (provided your beacon isn't in the next pocket over). I'm sold on the back-of-thigh pockets. Whatever is in them seems to dissappear while skinning up hill.
Another nice touch is that the built-in gaiters are removable. Personally, I find gaiters more trouble than they're worth, but it's nicer to zip them off rather cutting them out. Finally, the waist includes velcro adjustments straps for fine tuning the fit, and the pants are suspender-ready.  However, suspenders aren't included, so if you like 'em, you'll need to cannibalize another pair in your closet or buy 'em seperate from OR.
Made for Backcountry Skiing
The Tralbreaker pants are backcountry ski pants through and through. From the materials and the cut, to the pockets and backcountry-centric features, these pants hold up to the use and abuse specific to backcountry skiing. They are great pants, perfectly suited to ski touring in nearly any conditions.
Outdoor Research TrailBreaker Pants $225
Order the Trailbreaker direct from Outdoor Research $225
using our affiliate links helps support offpistemag.com
read more backcountry ski pant reviews