Outdoor Research Trailbreaker Pants Review

As the song goes, "you gotta get up to get down" and breaking trail tests more than just your legs; it tests your outerwear.  Backcountry ski pants need to breathe while you go up and protect from the elements all the time.
I'm a longtime advocate of softshell materials for backcountry skiing because of their increased breathability over more traditional three-layer waterproof/breathable fabrics like GORE-TEX. The softshell trade-off is a loss in waterproofness. But it's a misconception that your backcountry gear needs to be fully waterproof. Breathability trumps waterproof for most backcountry ski days. Still, many folks are unwilling to give up the waterproof feature altogether and the Outdoor Research Trailbreaker pant is a well designed hybrid that blends breathable stretch woven soft-shell above the knees with three-layer waterproof Pertex® Shield fabric on the lower legs, where you're most exposed to the snow. It's a great idea that offers a nice compromise for weather protection with breathability in the high heat zones.
Outdoor Research has been working with ski guides to design their backcountry line and the Trailbreaker backcountry ski pants are well designed from top to bottom. The combination of the three-layer lower leg and a relatively thick stretch-woven soft-shell material makes the Trailbreaker pants a little warmer than full softshell pants like the Arc'teryx Rush FL Pant. However, the Trailbreaker still maintains great breathability and there are large side vents for warmer days or if you find yourself over-layered.
There are several small details that set the Outdoor Research Trailbreaker Pants apart from other backcountry ski pants. First, there's a dedicated beacon pocket with a retaining clip (read more about where to wear your avalanche transceiver) . Yes, most skiers wear their beacons in their supplied harnesses, but a growing contingent is placing beacons in a pants' pocket. The practice is considered acceptable by the avalanche safety community provided the pocket is integral to the pant – not exterior – and secure. The Trailbreaker's beacon pocket is both, and it's the only pant I have used that offers a dedicated retaining clip. It's a nice touch.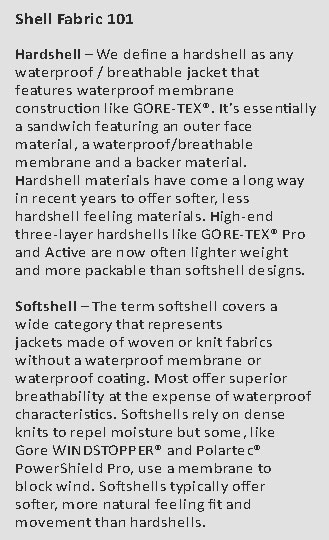 Another feature worth mentioning is the pocket placement. You'll find standard hand pockets, but rather than put side cargo pockets like most other pants use, Outdoor Research puts a modest zip pocket on the back of each thigh. It sounds like an odd location, and it felt a little strange at first. But it turns out to be a great place to store lightweight items like a ski scraper or even a small radio. I'm sold; I like the back-of-thigh pockets.
The Trailbreaker pants include built-in gaiters which are removable. Personally, I find gaiters more trouble than they are worth, so I was happy to zip them off. The waist is adjustable with velcro cinch straps and suspenders are included. The fit falls somewhere between baggy new-school and Euro slim-fit. I like suspenders on my ski pants, but the included suspenders did not have quite enough adjustability to accommodate my needs even though the pants fit well for length and waist measurement.
It's great to see Outdoor Research offering gear designed by and for backcountry skiers. The result is a great backcountry ski pant that is perfectly suited to ski touring in almost any conditions.
Outdoor Research TrailBreaker Pants $225