Avalanche Transceiver – Chest Harness or Pants Pocket

Standard protocol for wearing an avalanche transceiver has long been strapped to your chest in it's harness. In the last handful of years, more and more skiers are moving to storing their beacons in a pant pocket. Using a pant pocket makes for convenient access when doing morning transceiver checks, can help keep transceivers a safe distance from a VHF radio or phone and offers quick-access in the case of emergency use. However, not all pant pockets are created equal. Some pants feature pockets transceiver clips but most pockets are not suitable for transceiver storage. Backcountry Access recently published a good article covering the topic of where to wear your avalanche beacon featuring a cautionary tale of what can go wrong when using the wrong type of pocket.
The following excerpt is from Backcountry Access:
Chest or Pants – Where to Wear your Avalanche Transciever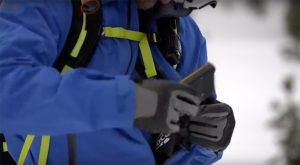 Last season, a skier on the Bugaboos to Roger Pass traverse took a ride in an avalanche. He pulled his airbag and was fortunately not buried, and he suffered only a minor knee injury. The skier was quite shaken up though and early the next morning he realized that his avalanche transceiver was missing. He had been carrying it in the side pocket of his ski pants–and the avalanche had ripped the pocket and the transceiver was never located. They called for a helicopter and abandoned the rest of the traverse.
continue reading the full article by Jordy Shepherd at Backcountry Access