Layering for Backcountry Skiing – Baselayers and Midlayers
Dressing for a full day of backcountry skiing requires a balance of breathability and weather protection. And the only way to really achieve the balance is through layering. It's not rocket science, but it's easy to overdress for ski touring. Touring is an aerobic activity, and you need to be prepared to sweat. Every layer should embrace breathability including your shell and pants. A good layering system walks the line between being warm, but not so warm that you are overly sweaty. Of course, temperature, humidity and precip factor heavily into finding the right layering system for the day. To shed some light on what we think is a good set up for a routine day of ski touring, here's what we are wearing for base and midlayers this winter.
Recommended Ski Touring Baselayers:
When it comes to base layers, we recommend going as light as possible. The lighter and more breathable your next-to-skin layer, the dryer you will stay, because unless it's raining (and we hope you're not skiing in the rain), sweat is the primary cause of being damp and cold when ski touring.
Baselayer Tops:
Synthetic – Patagonia Lightweight Capilene Zip-Neck – $69 – Time-tested, Patagonia Capilene synthetic baselayers do the job of breathing well, wicking moisture and staying dry to keep you warm. Go with the lightest version. Read about Defunkify laundry detergent for keeping your synthetic base layers fresh.
Merino Blend – Outdoor Research Alpine Half-Zip – $80 – We've tried a variety of merino baselayers the last several years. Wool definitely has its benefits, but we've found many of the wool options are just too warm or thick for the high-energy output of breaking trail. The OR Alpine baselayers use a lightweight merino and synthetic blend that balances the benefits of wool with a light sweat-wicking synthetic that sheds sweat to keep you dry.
Full Merino – Icebreaker 200 Long Sleeve Half-Zip Top – $125 – When it comes to straight up merino wool baselayers, the 200 weight Icebreaker sets the bar for lightweight performance. One of the best things about wool is it's natural odor fighting characteristics. You can literally wear merino for back-to-back days without getting stinky, and better yet, it stays stink-free through years of service.
Baselayer Bottoms: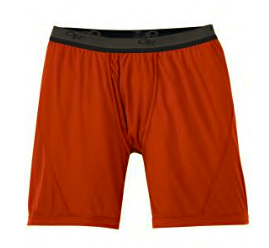 Outdoor Research Echo Boxer Briefs – $24 – Whether you choose to wear full-length bottoms or not, a synthetic boxer brief is a must. The OR Alpine Echo boxer is light, breathable and sheds moisture.

Patagonia Lightweight Capilene Bottom – $59 – We recommend saving full-length bottoms for the coldest days, but when the weather calls for them, we reach for time-tested Patagonia Capilene and normally only wear the lightweight edition. They breathe, wick moisture and keep you dry and warm as expected.
Recommended Ski Touring 
Mid Layers
Mid layers serve as insulation on a cold day and, depending on the weather, can easily be your outer layer when moving uphill. Like a base layer, breathability is essential in mid layers, too. All the heat and moisture that your base layer sheds must be able to vent, or it will be trapped in this layer leaving you damp and chilled once you stop moving.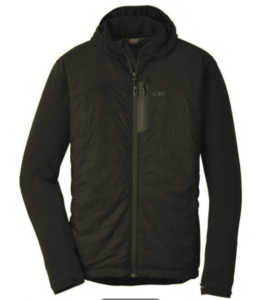 Outdoor Research Deviator Hoody – $190 – One of my absolute favorite mid layers for cold days is the Deviator Hoody. This thing is built for moving. It breathes, wicks and has just enough insulation to keep you warm for short breaks while you wait for your ski partners to catch up on the skin track. I like that it's a full zip piece because it makes for easy layer changes and added venting if required. Throw a shell over it, and you're good-to-go for a wide range of temps and conditions. It's avail for women, too.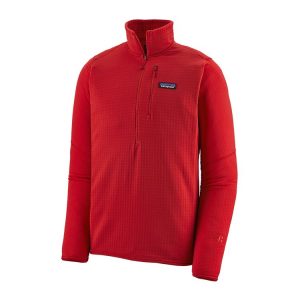 Patagonia R1 Half-Zip Pullover – $129 – The R1 half-zip is a classic layering staple. The Polartec waffle grid fleece does a great job of breathing and wicking, but it can be too warm for some people especially in moderate temps. If you run cold or ski in cold temps, it's a great choice. We also like the Patagonia Crosstrek 1/4 zip top. Patagonia calls it a trail running piece, but it serves the uphill skier pretty well, too. Both are avail for women as well.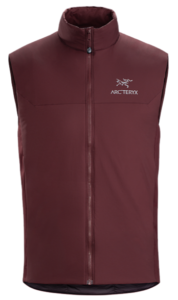 Another versatile midlayer option is a vest. It's remarkable how often you can tour in a baselayer, a vest and a light breathable shell. Of course, you need a warm puffy or down jacket handy for extended breaks, too. Two of our favorite vests include the Patagonia Nano Air Vest ($199) and the Arc'teryx Atom LT Vest ($175). The Nano Air is the lighter weighth of the two. Both work well for uphill travel, offering quick-drying and good breathability.
Support offpistemag.com when you purchase through our product links.
Read about a new kind of lightweight merino base layer from Artilect