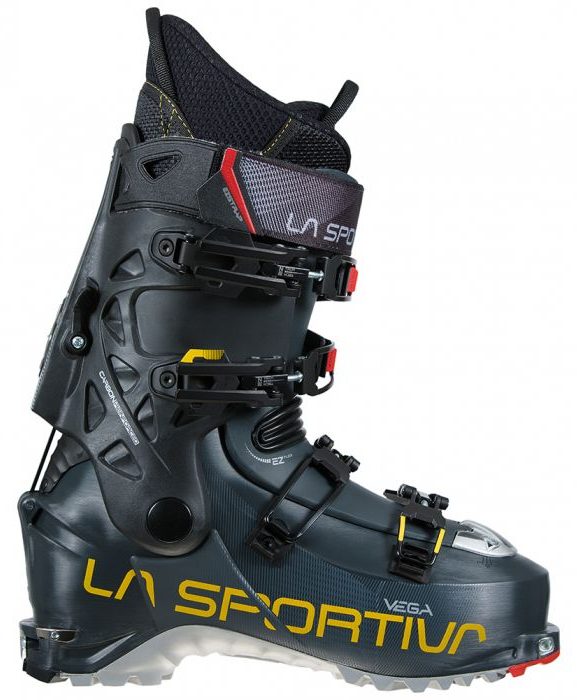 Uphill Ease, Downhill Power – La Sportiva Vega
We ask a lot of our ski boots when backcountry skiing. They need to be light and flexible enough for easy uphill travel, stiff and responsive enough to drive skis in a wide range of conditions, and comfortable enough to wear all day long. The new La Sportiva Vega ski boots check all the boxes. They balance a wide-ranging walk mode with confident downhill performance and all-day comfort. 
Built on the same platform as Sportiva's popular Spectre 2.0 (Sparkle for women), the Vega brings a new buckle system and an updated liner to the familiar uphill and downhill performance that earned the Spectre 2.0 numerous awards.
There are a lot of stiff, powerful AT boots on the market. And there are plenty of lightweight, walk-friendly boots. But few AT ski boots offer the balanced combination of an easy-walking feel and four-buckle power that the La Sportiva Vega provides. It walks better than most AT boots – even lighter weight boots, and has plenty of power to drive a big ski. 
What's New?
The obvious update on the La Sportiva Vega is the buckles. Although I liked the unique cable design and micro-adjustability of the Spectre buckles, they were the boot's weak point. High-mileage users found that the cables would eventually fray and break. The new buckles have a time-tested alpine boot buckle design. They still allow a degree of adjustability, and they make for quick tensioning or loosening of the boot.

The La Sportiva Vega also has a new liner. It's heat moldable with a durable feel and a standard tongue style design. Reinforcements in the cuff and tongue add downhill performance. As per La Sportiva, the cuff is designed to transfer power to the boot without compromising on the liner's flex and comfort when walking. It works great. With a couple weeks in the boots, I have no complaints. 
Comfortable Fit
Sportiva specs the boot last at 102.5mm wide, which is relatively roomy. Theoretically, it's the same width last as on the Spectre, however, the Spectre actually had a reputation for fitting more narrow than its 102.5mm spec would have you think. I actually had to have the Spectre lightly punched by a local boot fitter to make room for my wide foot. The Vega, on the other hand, fits great with no boot punching. A side-to-side comparison skiing with the Spectre on one foot and the Vega on the other yields a slightly higher volume feel in the Vega. It's subtle, but let's just say the Vega seems to have a true 102.5mm last. The fit is awesome, especially if you like (or need) a little extra width in the toe box, and the heat-moldable liner provides a fair bit of latitude to fit a wide range of foot shapes. The tongue also offers three positions to fine tune volume to match your feet.
Vega Walk Mode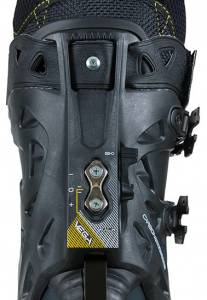 The Vega's walk mode with its 60-degree cuff range sets a high standard for easy walking. The range is balanced fore and aft, offering plenty of room to move in both directions. It's literally the largest cuff range of motion of any boot in its power class. More importantly, the cuff movement is independent of buckle tension, which translates to less time spent messing with the buckles. Just flip the walk mode switch and it's ready to go. Most people will still likely want to adjust the buckles between laps, but the walk mode is not dependent on the buckles. The walk mechanism appears mechanically similar to the mechanism on the Spectre, which has proven trouble-free though it does require the occasional drop of lube to keep it functioning over the course of a high-mileage season. Short of stepping into an utralight rando-race oriented boot, you'll be hard pressed to find an alpine touring boot that walks better than the La Sportiva Vega.
Progressive Flex and Forward lean = Downhill Performance
Four buckles and a solid carbon reinforced cuff matched to a Grilamid shell create a powerful boot. Sportiva rates the flex at 115, and while boot flex ratings are not all created equal, I find the Vega capable of driving every ski in my quiver. From 95mm waist ski mountaineering boards to 124mm waist powder skis, the Vega handles them all with ease.
But what really sets the Vega apart from many carbon-reinforced boots is that it's not too stiff. It has a progressive flex that lets you drive a ski, absorb terrain and stay centered on your skis — like a boot should. Add the boot's three forward lean settings – 12, 14 or 16 degrees – and you have a set up that encourages an aggressive stance and dynamic ankle flex. I am a advocate for forward lean – especially when skiing today's long rocker tipped skis – and the 16-degree setting on the Vega feels great.
Uphill Comfort and Downhill Control
The bottom line is that the Vega is an easy choice as a go-to alpine touring boot. A balance of uphill comfort, progressive flex, light weight and downhill control set it apart from other boots. It's a true uphill walking machine that drives a wide range of backcountry skis with ease and control. Add a first class liner, a simple walk mechanism plus no-fuss buckles, and you have the one boot you need for all of your backcountry ski touring needs.
La Sportiva Vega AT Ski Boots – $679
Weight: 1445 grams/per boot (size 27.5)
Last: 102.5mm
Flex: 115
Forward lean: 14° (adjustable +/- 2°)
Cuff Range of motion: 60°
Available in men's and women's sizing
Check prices and availability on the La Sportiva Vega direct from La Sportiva or at bc.com
Want a little stiffer boot – check out our La Sportiva Vanguard ski boot review
read our other AT Ski Boot Reviews
Purchasing through our links and banners helps support the site.