Sharing the Stoke – Backcountry Skiing with Kids – by Dave Waag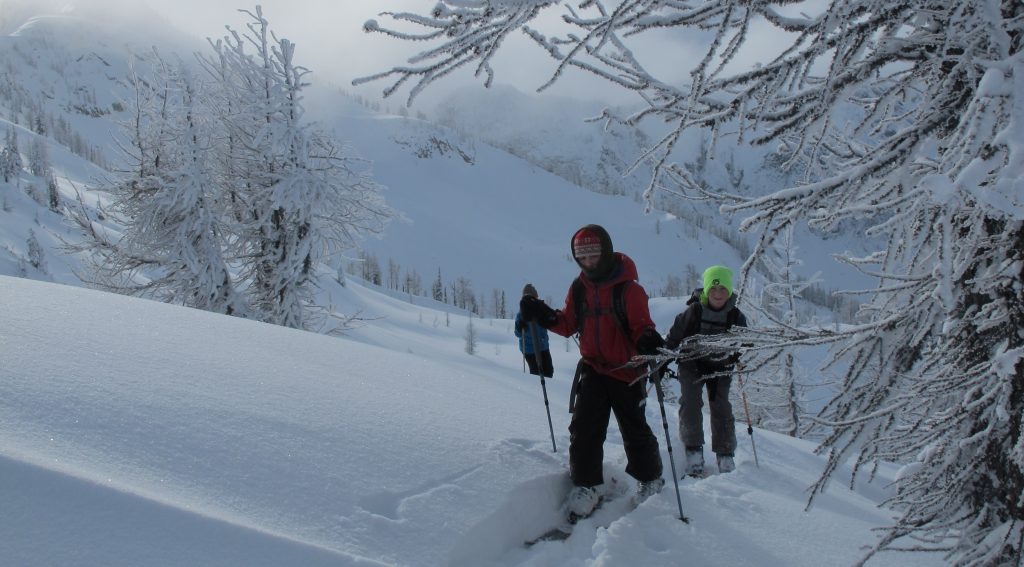 "I can't go any further," my six-year-old son exclaims with the added drama of excruciatingly slow forward shuffles on the skin track.
"Let's regroup and take a break at the larch tree just ahead," I offer encouragingly as I look over my shoulder to gauge the whereabouts of my wife and daughter on the skin track.
Reluctantly, my son yields and resumes his shuffle up the hill while asking me what I have for snacks. It's a pretty good climb we've undertaken, pushing 1,000 vertical feet, but the weather is stellar – cloudless, cool and no wind. And, although I swear we just took a break less than fifteen minutes ago, I'm happy to be out on my skis enjoying a day in the mountains rather than at home wishing I was in the hills – not to mention how great it is to share my passion for the winter backcountry with my kids.
We reach the aforementioned larch tree and I dig into my pack for snacks and hot tea as my wife and daughter pull in right behind us. It's a beautiful day in the mountains: fresh snow, blue skies and modest winter temps. And yes, the whole family is out for a ski tour. Stella and Fergus, ages 10 and 6 respectively, are actually into their second season of backcountry skiing. Our days are not exactly epic by adult standards, but the kids do pretty well. Having experienced the soft untracked powder snow of the backcountry, my daughter has already begun to bemoan the chopped snow and "island hopping" found on a powder day at the ski resort. Tough life.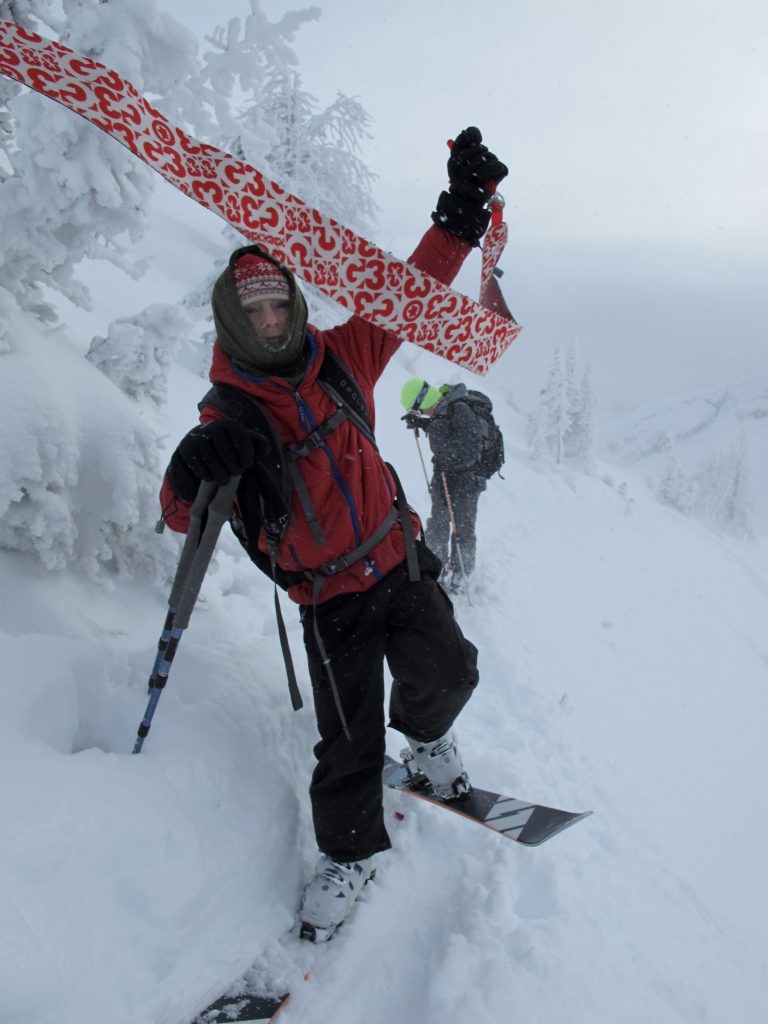 I pass around a little beef jerky, some hot tea and the all-important chocolate to chase it all down. In no time, both kids are excited to keep moving and now have their sights set on the ridgetop, above where we began our first lap. It's the same place to which I was hoping we would make it, but afraid to suggest for fear of mutiny based the perceived effort required.
We are on lap number two above Powder Creek Lodge, the backcountry hut we get to call home for the week. The snow and weather conditions are perfect for kid skiing, something I've learned can make all the difference in the kids having fun. We've ventured out in stormy weather too, but everything just seems easier when the sun shines; breaks are more relaxing and clothing management is way simpler – that's lesson number one when sharing backcountry skiing with kids – good weather makes all the difference in ease and enjoyment of the day.
We're back on track skinning up to the ridge and I'll be stoked if this lap goes as well as the first and downright thrilled if we squeak out a third run, but I'm not going to bet on it, yet. It's a long slow walk up to the ridge for six-year-old legs and our main priority is to enjoy the mountains and have fun, not to over do it and kill the fun – that's lesson number two when sharing backcountry skiing with kids – do not over do it, have appropriate terrain ambitions for the age and ski skills of your kids.
I explain what looks like a good run off the ridge and get nods of approval from the whole family. With any luck, we can be pulling skins in another 20-30 minutes; I lead on setting a low-angle, kid-friendly track to the ridge. The kids don't carry packs, but they are outfitted with avalanche transceivers and the knowledge to use them. We've been playing beacon games since they first inquired about my transceiver several years ago. At the start of this trip, both kids effectively searched for and found a buried beacon in less than one minute. Of course, staying out of avalanche terrain is always my goal – lesson three – play it safe while building safety and decision–making skills as appropriate.
Fueled by the promise of killer views and a sense of accomplishment – not mention a little sugar, we gain the ridge without another break. It's a bit wind affected up here and the feature of being on a ridgetop heightens the kids' senses a bit. It's a pretty lofty perch for such little legs, but we keep well away from the leeward cornice and settle into a nice protected nook to peel our skins and, of course, have another snack.  I assist in the skin peeling process a bit – offering a hand for added balance or some extra strength to stretch the rubber tips, but even six-year-old Fergus is getting the hang of peeling his skins without removing his skis!
We goggle up, zip up and get ready to point 'em down the hill. My wife goes first, while I watch the kids from the ridge. They wiggle turns through the powder leaving tracks just like mom and, by the time I arrive, both kids are bursting full of powder-inspired stoke, ready to keep descending in the name of continued powder turns. It's this enthusiasm for the descent and their comfort with the mountain environment that tells me they get it. They are fueled by the sensations, the accomplishment. They are skiers. They are having as much fun as I am, and I couldn't be more stoked.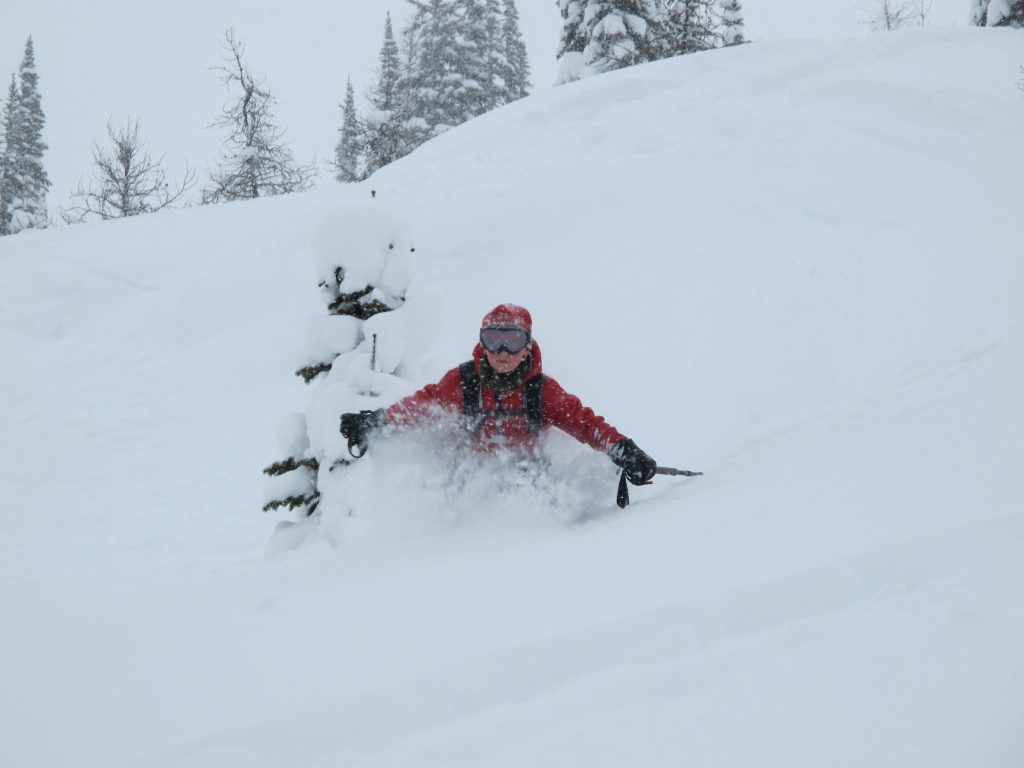 Beta for sharing the stoke
Second only to ski gear beta questions, I get a lot of inquiries about backcountry skiing with kids from friends and acquaintances who know I have been taking my kids into the hills on skis. My kids started when they were eight and four. Here's a few key tips:
Safety: Safety first. I outfit the kids with beacons simply to instill the protocol and teach proper use. My number one rule is to stay out of avalanche terrain and extend as much safety knowledge as is practical with their age.
Terrain: Adjust your terrain expectations. The best days out are the days when the kids make it to the "top" and are confident they can ski the chosen terrain. Recalibrate your internal slope meter to suit the ability of your kid(s) and everything will go more smoothly.
Weather: Pick your days wisely. Cold and stormy weather is no way to endear little people to the mountains.
Gear : I geared the kids up with mini alpine touring set-ups – keeping their gear as light and modern as possible helps to bolster enthusiasm.
Skis: I chose modestly weighted kid's alpine skis with rocker (Völkl Gotama Jrs). The Gotama Jr is a sweet little ski that has everything you want in a kid's powder board – easy initiation, great float, soft flex and light weight.
Bindings: Size small alpine touring bindings generally fit boot sole lengths of 260mm and longer (boot sole length is usually embossed near the side of the boot heel or you can measure the sole length from tip to heel). For smaller boots, I found Silvretta Pure Carbon bindings to be easily modified to work with shorter boot soles. Depending on your kid's size and weight, you may be able to slip them into a standard Marker, Fritschi or similar. Using a tech-style binding (Dynafit) is dependent upon finding tech compatible boots small enough to fit your kid's feet.
The Silvretta Pure Carbon binding is no longer sold in North America, so they must be sourced used. Scour your local used gear options including e-bay, craigslist, second hand shops and local ski swaps to find a pair. The Pure also happens to be the lightest frame style AT option available and Silvretta actually made a kid-sized model for a few years, but I was not able to find any in the US.
Clothing: My kids run warm. Something to do with kids' metabolisms I'm sure, but the result is that they dress relatively light. Dressing too warmly will bog them down. Better to go light and have back up layers handy if needed.
Packs: So far, I have not required my kids to carry packs. I encourage backpack use on shorter days, but I understand that light is right on both the ascent and descent, so I still often carry what they need in my pack.
Food: Don't underestimate the need for snacks. Little bodies burn at a high level, and I've found frequent snack breaks are crucial to balancing the happiness equation, especially in cold weather.