Lightweight and Powerful with a Wide-Ranging Walk Mode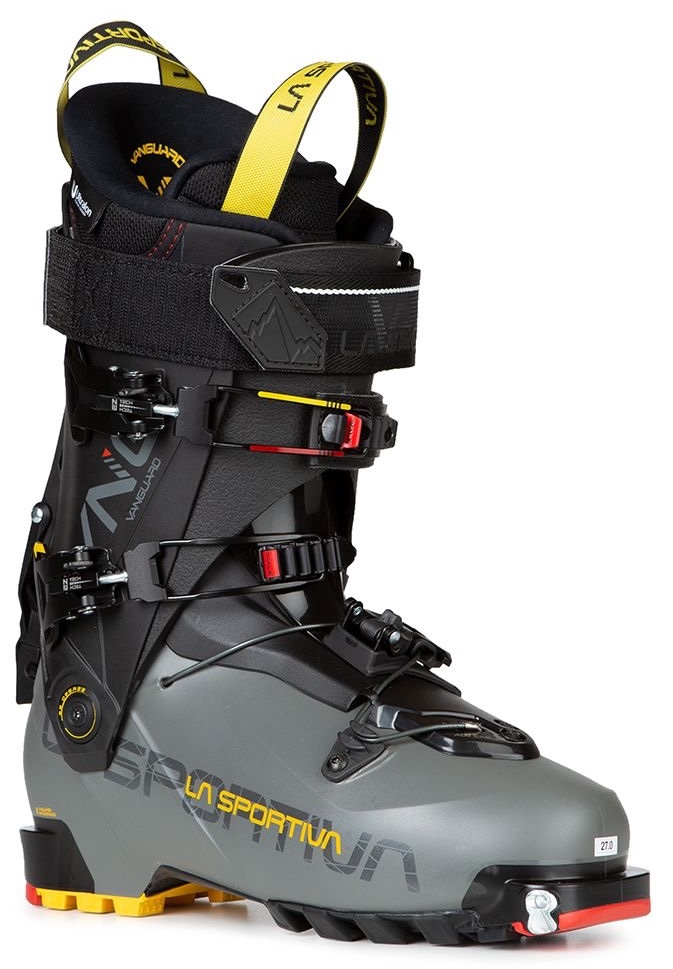 Alpine touring ski boots need to balance weight, power and durability with walkability, flex and comfort. Generally speaking, the more powerful the ski boot, the less walk-friendly and heavier the design. The new La Sportiva Vanguard ski boots break that trend by being lighter and more powerful than similar boots while setting a new standard for range of motion and comfort on the climb. The Vanguard sets a high bar for downhill performance and uphill efficiency.
The Vanguard brings a fresh take on ski boot design that innovates while keeping it simple and delivering performance on snow. Sportiva rates the flex at 130 and the cuff range of motion at 63 degrees. It's a boot for skiers who have high standards for downhill performance and uphill comfort.
All-New Design
It's clear that La Sportiva sat down at the design table to create the Vanguard ski boot. It's not just a souped-up Vega — their do-it-all four buckle touring boot (read our La Sportiva Vega ski boot review). From the unique V-shape cuff design to the buckle system and Pebax Rnew material, the Vanguard is new from the sole up.
While the La Sportiva Vega features a traditional boot shell and tongue design, the Vanguard moves to a unique V-shape cuff with a scissor-like construction. The benefit of the design is two-fold. One, it means the boot opens wide for easy entry. Two, it creates a full-wrap cuff that when locked in ski mode creates a powerful connecton to the boot. In addition to the cuff, an integrated tongue serves to further connect the cuff and boot for downhill power. The design is surprisingly agile and frictionless in walk mode. It affords an incredibly free-moving feel without a need to releasing buckle or power strap tension.
Another unique design characteristic is how the upper buckle ties into the power strap. La Sportiva calls this Twin-PWR. It combines the upper buckle and power strap for ease of closure. This likley also reduces weight over a more traditional design and still provides a powerful feel to the cuff.
The forefoot buckle takes a design cue from the Scarpa Wave Closure and uses a cable to distribute tension evenly across the instep. Sportiva calls this a Double Release buckle. It features a two-stage release that lets you adjust tension for walking without fully unbuckling.
Lightweight
Through a combination of design and materials, The La Sportiva Vanguard drops 200 grams (nearly half a pound) a pair over the Vega and similar boots like the Scarpa Maestrale (read our Scarpa Maestrale review).
A common complaint with lightweight but powerful AT ski boot designs is that boots lose their progressive flex. Weight is often reduced by using carbon. The carbon makes a boot light and stiff, but carbon doesn't offer the same natural flex of Pebax. The V-Shape design and Pebax Bio Based Rnew with carbon infusion keep the Vanguard light while still maintaining a progressive feel to its 130-rated flex.
Our size 26 test boots weigh in at 1330 grams per boot. They feel noticeably light on your feet. Their light weight adds up to less energy spent to climb and ski over a long day of trail breaking and touring.
Pebax Rnew
In keeping with the competition and modern sustainability, the Vanguard's Pebax shell and cuff are eco-friendly, derived from bio-based Pebax Rnew, which is castor oil based for a more environmentally sustainable approach to ski boots. Renewable plastics are fast becoming standard issue and seem to handle temperature extremes without issue.
Downhill Performance and Walkability
There are plenty of touring boots that prioritize downhill performance. The remarkable thing about the La Sportiva Vanguard is that it combines strong downhill performance with such a high level walk range. The walk mode is one of the widest and frictionless of any boot I have skied, let alone a boot with a 130 flex rating that's capable of driving a ski like the Vanguard can. The combination makes for a boot that truly raises the bar for skiing and walking performance in one design.
Walk mode is switched using a simple mechanical arm. All moving parts are external for simplicity. The forward lean is adjusted by flipping the small bar that the lever arm locks into, letting you choose 12 or 14 degrees.
The shell width spec (last) is 102.5 mm. This makes for a middle-of-the-road fit that feels good for my wider-than-average feet. A high quality and thermomoldable Ultralon liner adds to the boots all-around comfort. Even with the nice liner, it pays comfort dividends to have your boots custom molded by an experinced boot fitter.
The Bottom Line
The La Sportiva Vanguard is a true performance ski touring boot with a walk mode that raises the bar for range of motion and touring comfort. Add a first class liner, easy-to-use buckles, a remarkably lightweight feel and you have a boot that sets new standards for uphill ease and downhill power. The Vanguard is available in men's and women's versions.
Check availability of La Sportiva Vanguard AT Ski Boots $899 direct from La Sportiva
Read more AT Ski Boot Reviews
Purchasing through our links and banners helps support the site