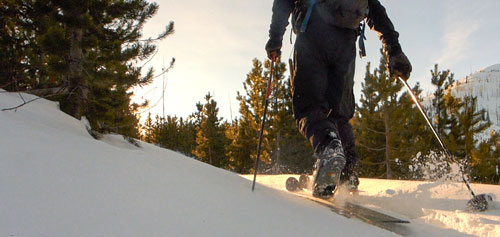 The term backcountry skiing has evolved over the years to represent a broad category of skiing from descent-focused big mountain riding to light-duty rolling hill touring. But, for many, it still conjures images of lightweight, touring-friendly gear that's adept on the uphill and the down  – the quintessential roots of backcountry touring.
Interestingly, a few companies are bridging the descent-focused world and the light-duty touring world with skis that turn and float like modern fat skis but offer the weight and fish scale bases of lighter nordic skis. Voile Equipment in Salt Lake City is leading the charge in this category with the BC editions of their popular Vector and Charger ski models (read reviews of the Vector and Charger BC in our annual ski review). The Madshus Annum also has metal edges and fish scales, but is decidedly more nordic in its design.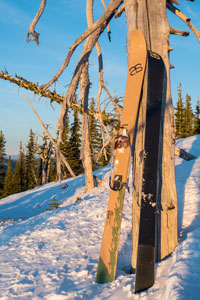 I was able to test a new ski that bridges the nordic and backcountry worlds, the Kōm from Altai Skis. The ski measures in at 124/98/119. The dimensions may put it in the downhill, touring-for-turns category, but its lightweight construction and fish scale pattern base give it many of the advantages of a more traditional nordic ski. Think a blend of downhill and nordic DNA.
Nils Larsen and Francois Sylvain, veteran ski industry folks, are the minds behind Altai Skis. They've incorporated modern design ideas like tapered tip and rocker into the Kōm while preserving more traditional attributes like a tall tip and pattern base.
On snow, the Kōm is smooth and predictable. Its personality is reminiscent of a nice round turning tele ski that responds easily to turns of all styles. I skied it with a three-pin binding and two-buckle plastic boots – a perfect match in my opinion. Given soft spring corn snow, I chose to climb without the aide of skins, though it can easily be used with skins, too. The pattern can't match the climb of skins, but the bases climbed great in damp spring snow.
The Kōm is only available in a 162cm – arguably short in many people's minds. But don't let the modest length dissuade you. You might just find yourself questioning why we ski on longer skis – especially in this category. The Kōm is a great bridge between traditional nordic backcountry and the more downhill minded backcountry worlds. It gives folks with nordic roots a taste of downhill skiability and those with a downhill bias a taste of the freedom associated with lightweight, skin-free touring. Learn more at www.altaiskis.com