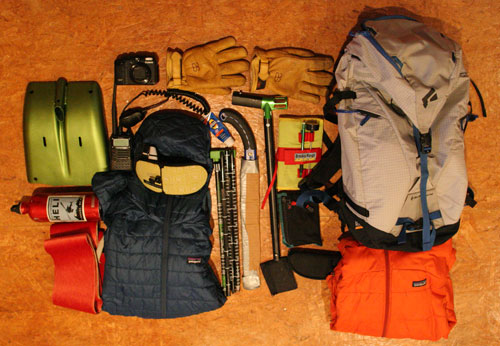 It's not always easy to let a favorite piece of old gear go in favor of a replacement, but strapping on the Black Diamond Alias ski pack has been an easy transition this season.
Redesigned for 2014, the Black Diamond Alias Ski Pack offers a clean, simple interface reflective of BD's alpine climbing packs but with key added ski features. It's a traditional top-loader with a large main compartment, dedicated avalanche tool storage on the front panel plus a floating top lid with zippered pockets. It's available with or without the Avalung component. The Alias provides a tidy 35 liters of storage – well matched to day of touring and perhaps more if you have a strong light-is-right ethic. The standout characteristic for the Alias is its minimalist styling.
That's not to say the pack is short on features. First, there is the Avalung (it's available without the avalung, too), an added piece-of-mind for many skiers and a feature exclusive to BD packs. Next, the pack cloth is lightweight ripstop nylon, including 210d Dyneema side panels for added durability without a weight penalty. Borrowing from their climbing pack designs, the ice axe attachments – BD pickpockets – provide secure axe storage with minimal loose straps. There's also a rope cinch strap and a top skirt to accommodate expansion. The avalanche tool storage compartment is in line with the pack's tidy design. Shovel, probe and handle fit securely in the front zipper compartment. There's enough room for larger shovels and a saw, but not necessarily your skins or a large avalanche pro size shovel.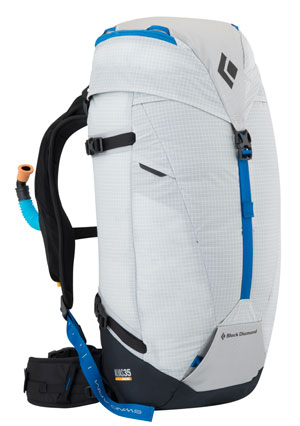 There are plenty of small details to appreciate on the Alias: insulated hydration sleeve, nice pull-tab on top skirt, good buckles. We're luke-warm on the vertical zipper entry for the avy tools pocket, and the compression straps are a little finicky to keep tight when A-framing skis (female buckle end is sewn tight to pack seam, but ultimately the pack works well. The suspension system drops last year's pivoting hip belt in favor of a much simpler design that works great.
If you're looking for a clean, well-executed top-loader ski pack, look no further; the refined Black Diamond Alias Avalung ski pack meets the needs of skiers who prefer a lightweight, traditional loading and functional pack. It's available in two torso sizes to help dial in the fit.
Favorite Feature: Less is more with this pack's clean, simple design.
Least Favorite Feature: A-frame ski carry was finicky to keep tight when skis don't lay flat.
Support Off-Piste Mag when you shop for deals on the Black Diamond Alias avalung ski pack