Happy Norwegian Ski Waxing and Tuning Stand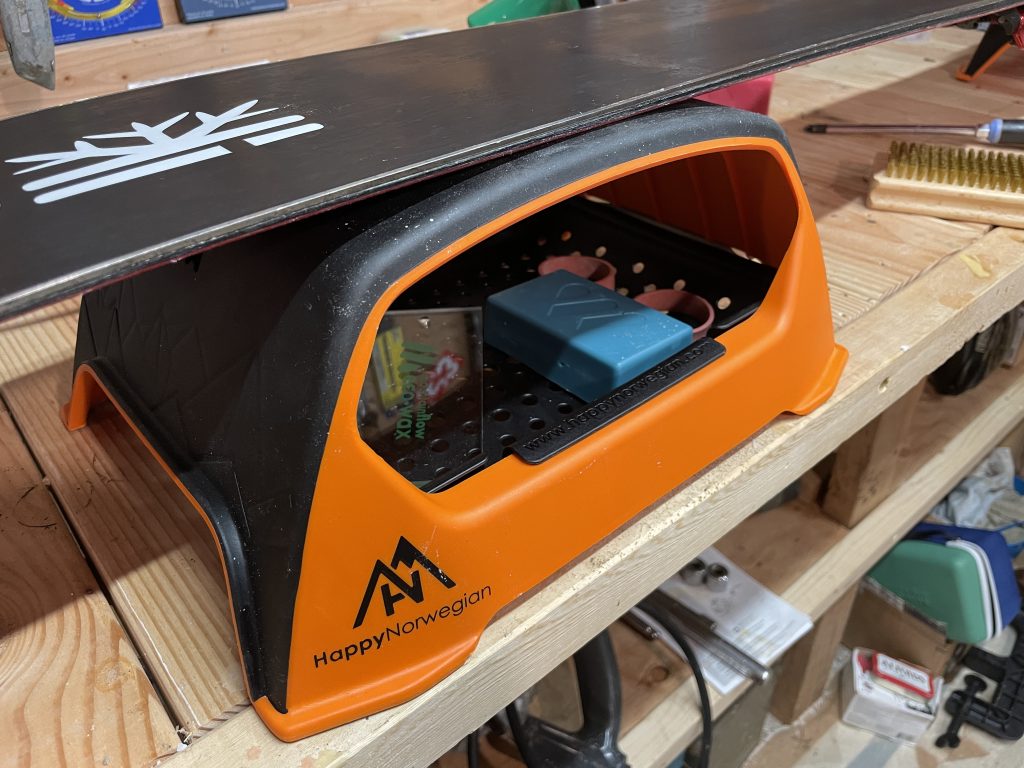 If you don't wax your own skis, it's time to start. Thanks to the creative folks at Happy Norwegian, Mr. Grippy makes setting up a home ski tuning stand easier than ever. Mr Grippy is a portable ski waxing and tuning stand designed for home and travel use. It works almost anywhere.
Works For All Skis
The Mr. Grippy ski waxing and tuning stand was originally conceived of by two Norwegian college students in search of a practical solution to their ski tuning needs while living in small apartments. It's a classic example of functional simplicity. Unlike traditional ski vises that require a work bench, counter or table and only work on a limited range of skis, Mr. Grippy works anywhere you have a flat space with room for your skis, and it works with virtually all skis — nordic, alpine, backcountry, you name it. It'll work with a snowboard too as long as you can fold down or remove the highback part of the binding. You can use it on the floor, a work bench, a counter or table, even in a parking lot. They won't damage a table or counter like traditional clamp-on ski waxing and tuning vices either. 
How It Works — It's All in The Name — Mr. Grippy
The name refers to the extremely grippy rubber material across the top and under the feet that keeps the stands and your skis from sliding around as you work. We're talking super grippy and totally effective. Simply space the two stands out to support your skis, lay your ski across and you can apply full normal force for waxing, scraping and brushing. Mr. Grippy also holds skis vertically for edge work with plenty of stability for routine sharpening and maintenance needs.
Easy To Clean
The rubber is so grippy that it also attracts dust, dirt and wax shavings. But you can just wipe them down with soap and water. If they get ski wax on them, just clean them with base cleaner to keep them good and grippy. You can even put them in the dishwasher. 
Totally Portable. Totally Functional.
Mr, Grippy is about efficiency. The stands nest together when not in use for easy storage or transport. Nested together, the overall footprint is only 10″ x 13″, and they sit about 6″ high. They fit easily on a shelf or in a closet when not in use. But Mr. Grippy isn't just for small apartments and travel use. It's a solid solution for any home ski tuning set up. In fact, if you have a dedicated work bench, Mr. Grippy is nice because it'seasy easy to set up and only takes up precious bench space when in use.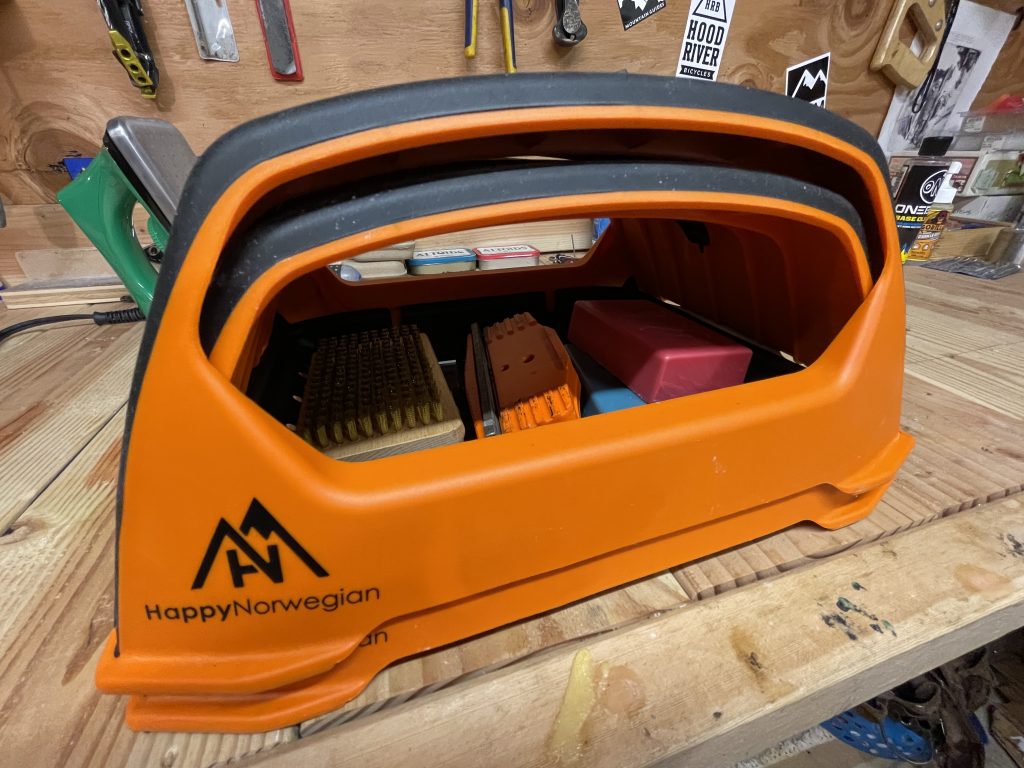 Between uses and during the off season, just stack 'em and store 'em. The creative minds behind Happy Norwegian also designed an accessory called Ms. Tidy — a tray that snaps into the base area of one stand to store your wax and tuning supplies (in use in the images) — you guessed it, to keep everything tidy. The whole package gets high marks for creative design and simplicity.
What are you waiting for? Make this the season that you keep your skis waxed, tuned and always ready for action. Mr. Grippy is a practical solution for anyone in need of a home ski waxing and tuning stand.
Save 10% when you use code OFFPISTE10 and shop for Mr Grippy direct from Happy Norwegian $120 (before discount).
Have you read about mountainFLOW eco-wax or our other articles on home ski waxing and tuning supplies
purchasing through our affilaite links helps support offpistemag.com