Ski Waxing for the Backcountry
Backcountry skiing is a far cry from ski racing, but freshly waxed skis are still important to keep you sliding and slashing through the pow. And the good news is that ski waxing for the backcountry is not rocket science. In fact, it's down right simple. You just need a few basic tools and supplies to keep your skis ready for your next tour.
Work Space / Ski Tuning Stand
Number one, you need a good place to wax your skis. Ideally, it's indoors and reasonably warm – like a basement, workshop or garage. Short of a dedicated work space, you can always lay down a drop cloth and set up a make-shift work zone in the kitchen. If your space is not heated and the temp is cold, bring your skis indoors to warm them up to room temperature before starting to wax.
You'll also need a ski stand of some sort. Our favorite home ski waxing and tuning stands include:
The Voile Ski Tuning Tree. They are affordable ($60/pair), can be set up on most work benches and counters and work with any skis or board. They're a must-have tool for any home ski bench set up.
If you're short on workbench space or want something that you travel with, check out these slick ski tuning stands that work anywhere you have a flat surface and room for a ski. Mr. Grippy Ski Tuning Stand.
Of course, you can rig a variety of temporary ski stands, too. Check out this simple, low-cost homemade ski tuning stand made with 2x lumber and old bike inner tubes.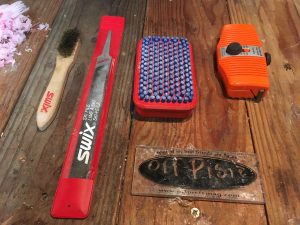 Basic Tools
Beyond a work space and supports for your skis, the list of required ski waxing tools is pretty basic. For pure and simple waxing, the must-have items are:
A dedicated ski waxing iron for melting ski wax
A plastic ski scraper for removing wax
A Scotch Brite scouring pad for cleaning and buffing skis
Wax! We recommend MountainFLOW eco-wax. It's 100% plant-based and petroleum-free.  

You can take your ski waxing kit to the next level by adding some light tuning and edge maintenance tools. Consider the following tools for your home ski waxing bench:
Base cleaner for prepping your bases
A metal scraper for stubborn wax and cleaning base damage
An 8- or 10-inch flat file for base and edge touch up work
A ski edge file tool for deburring and sharpening dull edges
A wire brush for cleaning the file
Sandpaper or plexifile tool for keeping your plastic scraper sharp
A nylon brush / wax cork for buffing wax – Dakine makes a nice combo brush/cork
Ski Waxing Basics
Waxing skis is easy. Follow these simple steps for a basic hot wax.
Clean ski bases. Scrape off any old wax and wipe down with a damp rag. Use a base cleaner solution if you have one. Scotch Brite pads work well for base cleaning, too.
Set waxing iron to medium heat (try the cotton setting if you are using a home iron). If it starts to smoke, it's too hot.
Hold iron a couple inches above the ski base. Hold wax against hot iron and let wax drip on ski base moving quickly to distribute wax along length of ski. It takes surprising little wax to cover the base.
Place iron on base of ski and move back and forth along the length of the ski to melt the freshly dripped wax into the base. Do not let the iron sit in one place. Keep it moving continuously to help distribute wax evenly along base.
Let wax cool while you repeat the process on the other ski.
Scrape wax off the base. Buff with wax cork or brush if you have one. Otherwise, just go skiing!
Check out these great ski wax kits or these ski waxing tools from REI
Read about DPS PHANTOM – wax alternative
Read our other ski waxing related articles