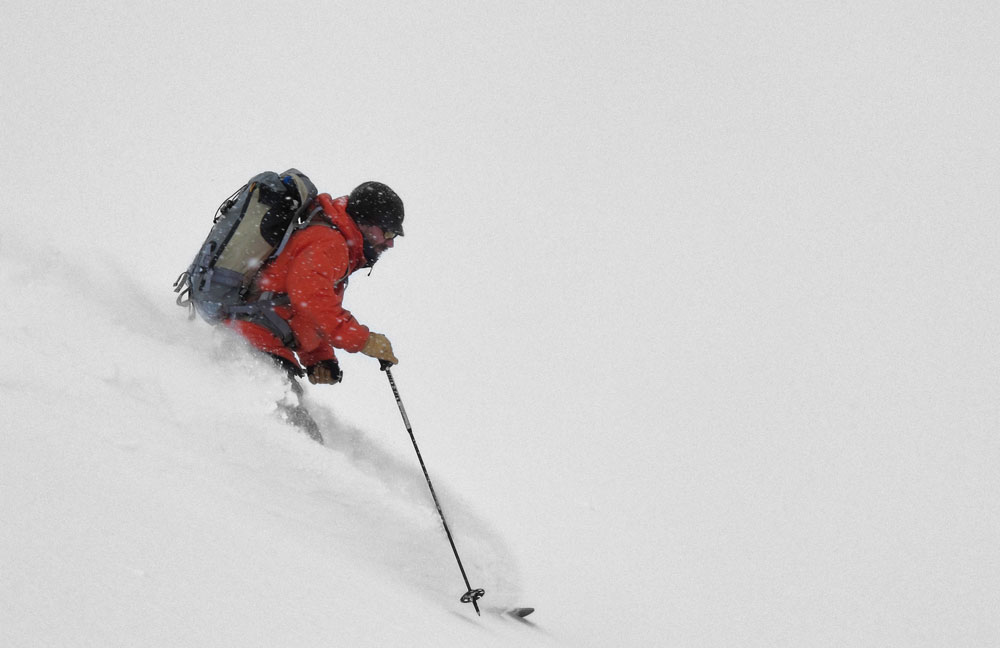 The office ski fleet is flush with sweet backcountry powder boards this season and with a couple months of skiing under our belt, it's time to offer some insights. The full run down of skis includes three models that measure in at 112mm underfoot.: The DPS Wailer 112, Voile Charger, G3 District.
I have been a fan of the Voile Charger since its inception, so I was excited to add a couple more skis with the same waist dimension for a little head-to-head testing. At this point, I've got the most time on the DPS Wailer 112, so here's the beta on it.
Ski: DPS Wailer 112 Pure 3 carbon construction
Length: 178cm
Dimensions: 141-112-128
Weight: 7 lb 1 oz/pair
Binding: Dynafit Radical
Boot: La Sportiva Spectre
The first thing to strike me with the DPS Wailer 112 was its light weight. Our ski weighed in a few ounces lighter than the published numbers and barely stepped over 7lbs.
I mounted them in the neutral boot center location, which leaves a fair bit of ski out front. Given my modest size and weight (135lb), I was curious to see how the ski handled. Any concerns I had that perhaps the 178cm was a little long for me were immediately dispelled upon taking them on their first tour.  The DPS Wailer 112 is incredibly responsive and forgiving, yet ever so capable.
The 112 delivers incredible turning ease and backs it up with stability and confidence in all terrain. The ski is the definition of playful and easy going, yet it steps up to the conditions and terrain as needed. Low angle meadow skipping through the pow – check. Big radius powder turns in the alpine – check. Fast short swing turns on steep terrain – check. The 112 is as versatile as it is bright yellow in color.
Despite my questioning the ski's tip length, the 112 is balanced and easy to engage. The tips are easy to drive and keep the ski floating through everything that comes their way. This is one forgiving ski. I'd compare it to the Charger when it comes to ease of engagement, turn shape variety and the ability to ride it out. But I'll give it a slightly more surfy feel than the Charger when it comes to turn finish and full-speed big radius arcs.
It also tours well, walking the line between fat and lightweight very nicely. Breaking trail is easy on the thighs thanks to the ski's generous tip rocker and wide dim's without a significant weight penalty.
Every time I switch back to the DPS Wailer 112 after skiing another ski, I wonder if it will shine as brightly, and it does. I have yet to ski it at the resort or in any truly challenging snow conditions, but I'm confident it will rise to the occasion.