Featherweight Tech Binding
DPS adds to their touring binding lineup this season with the DPS R10 tech binding. It's a lightweight yet descent-minded AT binding that weighs in at a featherweight 260 grams (9 ounces) each. It's a binding for all-day tours and quick skin track laps alike. 
The R10's weight and appearance might lead you to assume that it's another bare-bones tech binding for uphill fanatics. It's actually packed with features found on bindings twice its weight. 
It's also no secret that the DPS tech bindings are manufactured by the Italian brand ATK. The machined aluminum design of ATK is unmistakable. The R10 mirrors the ATK RT 10 model. It's a clean, no-nonsense design that's loaded with features for such a lightweight and otherwise minimalist looking binding.
R10 – Modern Features. Lightweight Design.
What features bump the DPS R10 into the full-featured category? First, the heel unit offers adjustable lateral and vertical release values (rated 5-10). Many lightweight bindings only offer a fixed vertical release value. In addition to the adjustable heel release values, the R10 includes a brake, heel elasticity, multiple heel lift positions plus an interesting adjustable toe lock feature.
Heel Elasticity
Heel elasticity is the ability for the heel unit to accommodate movement as the ski flexes. Early tech bindings simply relied on a gap between the boot heel and the binding heel tower to absorb flex in the system. Now, most full-featured bindings — the Dynafit ST Rotation, G3 Ion, Fritschi Vipec, etc — feature heel elasticity to better absorb and accommodate ski flex. The R10 has what ATK calls their Elastic Response System. It offers 10mm of elasticity in the heel unit, which combined with the 4mm heel gap at the pins adds up to 14mm of elasticity. This dynamic range helps create consistent release values. It also helps avoid damage to the binding in the event of a really hard landing that flexes the ski more than normal.
Soft Step-In
An additional feature on the R10 is what ATK calls the Cam Release System. While the tech is all internal, the benefit is that step-in tension and release tension are independent of each other. In other words, no matter what release value you choose for the heel, the binding has a soft, easy step-in feel. Soft step in may sound like no big deal, but it's actually one of my favorite details on the R10. No more stomping on the binding to get in given a high release setting.
Low Ramp Angle
Although more of a design feature than a tech feature, the R10 has a nice low ramp angle. Ramp angle is the height difference from toe to heel when locked in ski mode — and the R10's is about a cm lower than a Dynafit Radical. Low ramp angle is nice for long tours, flat approaches and rolling terrain. DPS also says low ramp angle suits modern ski designs (like theirs) by maintaining a more upright skier position. You can further reduce ramp angle an additional 4mm with a toe shim from ATK.
Heel Lifters

Finally, the R10 offers three walking positions — flat (no heel lift), +28mm (low lift), +40mm (high lift). Given the binding's low ramp angle, the flat walking mode is just that, flat, which makes for nice walking on longer approaches and in rolliing terrain. The other two options offer typical heel height range. The lifter is easy to flip with your ski pole, though the low lift requires the binding be rotated to the ski mode (pins forward) position, versus the high lift and no lift positions that require it be turned 180 degrees form ski mode. This means it's easy to flip between no lift and high lift, but switching between no lift and low lift requires turning the binding.
Uphill Hardness 
An interesting feature of the DPS R10 tech binding is what ATK calls the U.H.V.® System or Uphill Hardness Variator. What the heck is that? Well, it's an adjustment on the toe that lets you determine how secure the toe lock is when in walk mode. Basically, it lets you dial in the tension of the toe.
Why would you do this? Rather than a graduated tension that simply gets tighter the further you pull the lever, the R10 lets you set the throw of the toe lever to match your boot (think worn in toe fittings), or to adjust the tension to match the terrain. For example, you can turn up the hold in firm steep conditions where you are likely to apply more leverage on the system relative to climbing in lower angle terrain. Essentially, it lets you tune the locking strength to match your needs and or your boots. The U.H.V. plays no role in the binding's retention characteristics when in ski mode — ie. unlocked downhill mode.
The Brake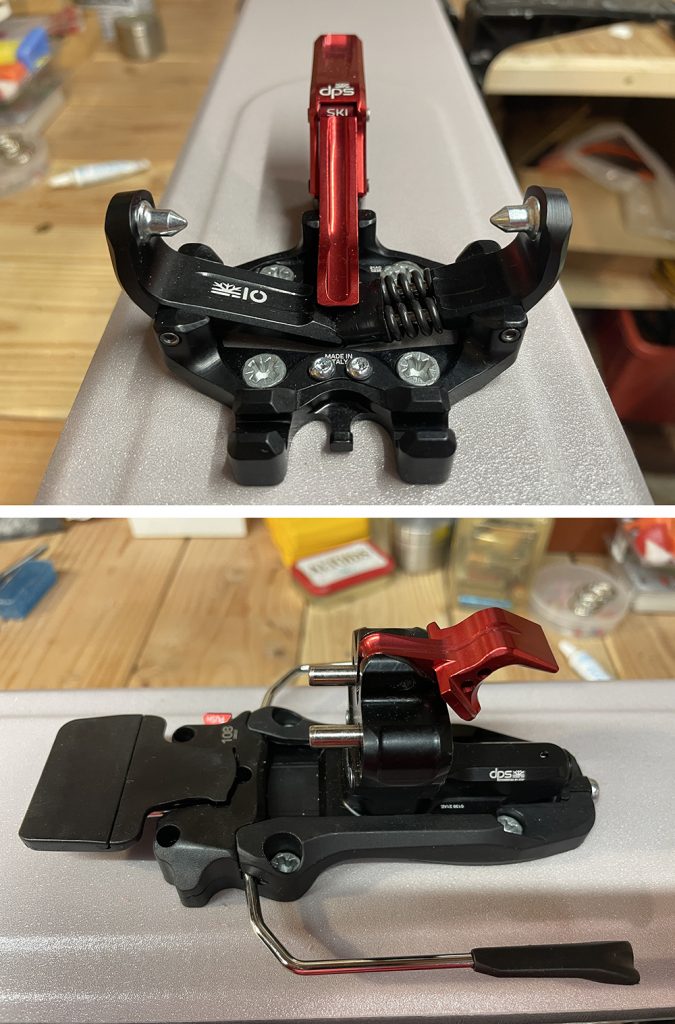 The R10 also comes standard with an integrated brake. It requires pressing a small release button to deploy before switching to ski mode, but is otherwise straightforward in its design. It's easy enough to deploy before you step in, but it does require remembering to do so. I found it just a day or two of touring to get into the habit of releasing the brake for ski mode.
Bottom Line — A Dedicated Touring Binding
Skiing the R10 feels great. It's noticeably lighter than similarly featured bindings from G3 and Dynafit. It's easy to step into, has user-friendly heel lifters and the overall design makes for efficient transitions between uphill and downhill modes.
In other words, the DPS R10 binding sets a high standard for lightweight touring functionality. You can find a burlier tech binding, and you can find a lighter tech binding. But you're not going to find a lighter binding with the same level of features, ease of use and user-friendly design. It's a dedicated backcountry ski rig made for long tours and powder laps. Paired with a one of the DPS Pagoda Tour skis, it makes an enviable set-up with dedicated touring at its core.
DPS R10 Tech Binding is available directly from DPS Skis $599