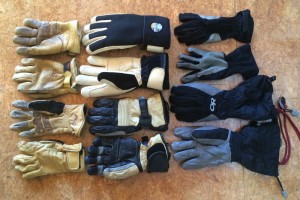 Good leather ski gloves need to be durable and not too warm, yet still able to handle storm conditions. Of course, a glove's warmth rating is subjective and based on weather and personal preference. Some  skiers use a two-glove system – lightweight gloves for the up and warmer gloves for the down, while others prefer to run one pair of gloves for everything. In warmer climates, like the Pacific Northwest, I think it's easier to run a single pair of gloves than it is in colder climates like the Rockies. Regardless, it's important to pack a back-up pair of gloves in case your hands end up cold, wet or both.
Unlike lift skiing, I find that my backcountry ski gloves take a beating. It could be chopping wood at the hut, dealing with snowmobiles or simply all the handling of skis and skins, but they need to hold up to abuse. For this reason, I like an all-leather ski glove. It's easy to renew leather's waterproof quality and leather gloves offer great dexterity. Then I pack a warmer, gauntlet style glove as my back-up pair.
A few of the gloves I've used for multiple seasons include the Black Diamond Kingpin (lightweight all-leather, light on insulation), the Altai skis Elkskin gloves (stout, pile-lined leather work glove), an older pair of Mountain Hardwear Bazukas (insulated, rugged) and the Outdoor Research Alti Gloves (two-glove system with liner and insulated outer, my back-up gloves)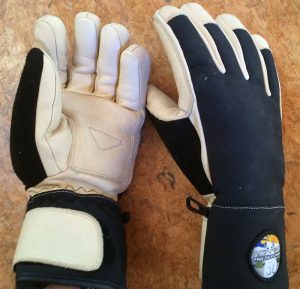 An interesting new glove arrived here at the office this fall called the Free the Powder Gloves. The company is a start-up run by skiers who saw a need for an affordable, durable and functional ski glove. So they set out to make an all-purpose, mostly leather glove for a good price. They offer the glove in two models, a long cuff and short cuff. Both styles sell for an impressive $60 a pair.
We got the short cuff model and, though we haven't done any skiing with 'em yet, here are some first impressions. In the big picture, it's a well insulated glove with a stout leather palm and soft-shell type fabric on the back. The leather is cowhide and is much thicker than the goat skin found on many gloves. As per the glove spec's: they use "premium grain cowhide with Kevlar® under the palm, a water-proof and highly breathable softshell material, super-soft fleece lining and insulation is 200 grams Breathefil™ with 3M Thinsulate®." The palm and thumb are reinforced with an extra layer of leather and the thumb has a soft back for nose or goggle management.
They are likely a little on the warm side for all-purpose Northwest touring, but look like a good option for colder climates and as a glove for descents or lift skiing. Fit and dexterity are good. Like most new gloves, they feel a bit thick before being broken in, but I expect with some wear they will pack out a little. We look forward to getting some time in the Free the Powder Gloves and will post an update during the winter.