Leather Ski Gloves
Put your skins on. Take your skins off. Buckle your boots. Loosen your boots. Fuss with your bindings. Open your pack. Eat a snack. Take a photo. A typical day in the backcountry asks a lot of our gloved hands – far more than a day at the resort. Good gloves for backcountry skiing need to be weatherproof, dexterous, rugged and warm – but not too warm. Given the always-on-the-move nature of a day in the backcountry, the best backcountry ski gloves are equal parts ski and work glove all in one. In my opinion, the best solution is a leather ski glove. Leather palms and fingers are essential. Fortunately, I am not alone in my wish for all-leather ski gloves, and most glove companies offer at least one all-leather option.
Here's a handful of leather ski gloves that get the Off-Piste Mag seal of approval.
A stout, pile-lined Elk hide ski glove. The Altai Elkskin glove is my go-to glove. Essentially a cold weather work glove, the Altai Elkskin features a pile lining and a rugged build. The elk hide is thick and incredibly durable, yet it remains supple for easy handling of buckles, zippers and gear. If you are hard on gloves, these are the gloves for you. They hold up to firewood hauling, ski edge handling, snowmobile maintenance, and most importantly, they are dexterous enough for all-day backcountry touring wear. In traditional work glove style, the cuff is short, but there's a velcro cinch to help seal out snow and cold. They strike a great balance between being warm enough for cold days and light enough for the skin track most of the time. On top of it all, they are made in the USA and reasonably priced.
More work glove than ski glove, the Black Diamond Kingpin uses a full goat leather build for good dexterity and a soft feel. It's lined but not what i would call insulated. It's great in mild conditions and as an uphill glove. The edition pictured is an older (well worn) model with a velcro cuff, this year's version drops the adjustable cuff in favor of short gauntlet with elastic much like the Outdoor Research Aksel shown below. BD gives it a 20F-35F temp rating. The Kingpin glove is a solid choice for mild weather and those looking for dexterity and minimal insulation for use on the skin track.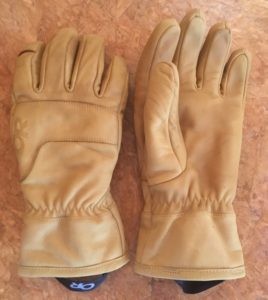 The Outdoor Research Aksel glove is a lightly insulated all-leather glove. It's like a BD Kingpin with light insulation. The wool-blend lining adds enough warmth to extends its range beyond just uptrack use. The cow leather build is durable and soft from the first wear. The cuff is just long enough to overlap your jacket or tuck into your sleeve, and it makes a great uphill glove that is easily pushed to serve downhill duty in moderate temps – especially here in the Northwest. It's the kind of glove you can wear all day long provided the weather is dry.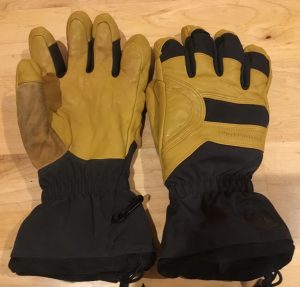 A lightweight, insulated ski glove with leather palm and fingers, the Black Diamond Patrol glove offers a nice balance of ski and work glove features. Basically, BD merged a classic gauntlet style ski glove with the leather palm and fingers of a work glove. The Patrol is insulated with lightweight PrimaLoft Gold insulation. Its goat leather palm keeps it soft and lightweight. The Patrol is very packable, but not quite as warm as you might think, which actually extends its functionality as a backcountry glove but limits its appeal as a resort glove. The Patrol is my backup touring glove.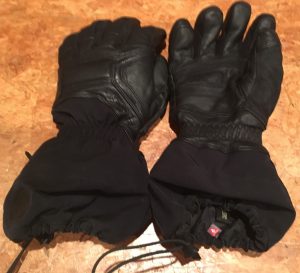 This is a seriously warm and rugged glove worthy of the coldest days and harshest weather. The Black Diamond Guide glove is not something for skin track in normal conditions. It is a cold weather, deep pow day glove. They are great for resort days and for serious cold, stormy weather anywhere. The Guide Glove is built to last, and what you lose in dexterity, you make up for in warmth. They are significantly warmer than the BD Patrol, and are the ultimate back-up glove.

While not a leather ski glove strictly speaking, the OR ExtraVert Glove is well matched to ski touring. It features a full goat leather palm and fingers with a stretch-woven softshell back and cuff. The result is a lightweight and packable glove. It's well suited to the skin track and easily pushes into downhill duty on milder days thanks to a lightweight wool-blend lining. The ExtraVert has the dexterity you need to manage buckles and zippers. The goat leather is super soft, but it's not as rugged as deer or elk skin. The glove pictured is a few seasons old. The latest edition features new textured finger tips for even better grip and dexterity.
Check out more leather ski glove options
Support offpistemag.com when you purchase through our affiliate links