DIY Ski Waxing with mountainFLOW eco-wax
If you're new to ski waxing at home, having freshly waxed skis is easier than you might think. And if you're a seasoned wax pro, you'll apprciate the sustainable, plant-based approach that mountainFLOW brings to their eco ski wax products. MountainFLOW launched in 2016 with a focus on creating plant-based alternatives to traditional petroleum-based ski wax products. Their first offering was a water-based anti-stick spray for top sheets. Soon, they expanded to offer climbing skin treatment, rub-on base wax and hot wax products — all featuring eco-minded, plant-based recipes. They actually had a successful appearance on Shark Tank in search of invenstment to grow the business. We've reviewed their climbing skin spray and rub-on wax with great results.
DIY Ski Waxing
Keeping your skis waxed and sliding fast is down right simple. You just need a few basic tools and waxing supplies. Number one, is a good place to wax your skis. Ideally, it's indoors and reasonably warm – like a basement, workshop or garage. If you're short on a dedicated work space, you can always lay down a drop cloth and set up a make-shift work zone in the kitchen. If your waxing space is not heated, bring your skis indoors to warm them up before starting to wax.
mountainFLOW eco-wax
Next up, you'll need a dedicated waxing iron, a ski scraper, a base brush and, of course, some wax. MountainFLOW packs all of these items — plus a couple of stout rubberbands for holding your brakes out of the way — into their Blue Square Wax Kit for $99.  The kit offers everything you need to wax your skis at home in a nice little carry case. You'll feel like a pro with the wax iron. It includes a temperature dial so you can work with different waxes and has a pivoting cord for a better range of motion as you move along your boards.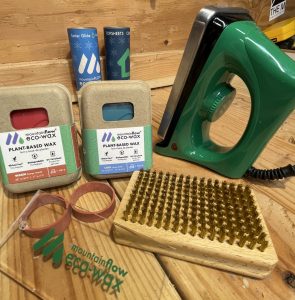 If you're already set up with an iron, scraper and brush, you should still check out the wax. After all, the real highlight of the mountainFLOW eco-wax kit is their plant-based eco-wax. They offer a full temperature range of waxes plus a universal wax. Beyond the obvious environmental benefits of petroleum-free wax, eco-wax is refreshingly non-toxic smelling and works just like good ski wax should. The crew at mountainFLOW experimented with literally hundreds of recipes and wax variations. Following head-to-head comparisons with traditional fluoro- and hydrocarbon-based waxes, they found a recipe that holds its own on the speed and durability front while being 100% plant-based and environmentally safe. Choosing mountainFLOW eco-wax is a no-brainer. Worried about speed? Check out their eco-wax race and base prep formulas.
Efficient Ski Waxing – The Hot Crayon Technique
Less can be more when it comes to waxing your boards. It's easy to melt loads of wax on your base, let it cool and scrape it off. But it's not neccessary or efficient to just drip wax with abandon — not to mention the wasted wax that just ends up destined for the garbage. Check out this short ski waxing video by mountainFLOW. They demonstrate the hot crayon technique — an efficent way to get the wax you need without using more wax than neccessary.
Purchasing through our links and banners helps us keep the content coming!
Shop for eco-wax products direct from mountainFLOW
See our other ski waxing articles