Hitting the Great White Highway – Questionable Ski Trip Advice
by the Grumpy Old Shop Guy, aka Don Pattison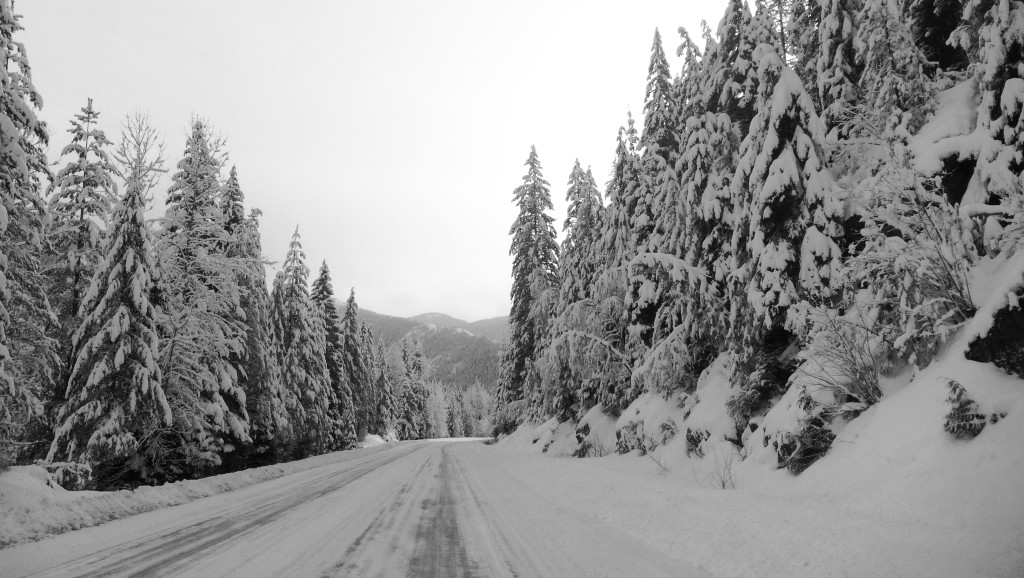 It's the inevitable and ponderous start to another ski season, and I've got a worried mind. Driving my old Jeep over the local pass last weekend, a couple of thoughts popped out – I need new wiper blades and the good December snow reminds me that a ski trip should be planned. Friends are using up their data plans sending me trip info and good reasons to join their ski safari for a few days of hiking and turning. But the annual question surfaces: Where to go? So many pricey options and so little cash. So many weather predictions and so few weather certainties. An older skier must often rely on prior experience, throw the boots toward the door and simply hit the highway.
Historically, my ski trips have started by putting some Neil Young prairie rock in the stereo slot of the old Grumpymobile and trying to come to a consensus with my squirrely, non-committal ski buddies. Depending on available slacker time, the slimness of the travel budget and weather reports gleaned from resort snow phone calls (pre-internet for the younger reader), we hit the slick roadways for points north and east — since our backs are against the western ocean. Those care-free days of roaming the West in search of snow, cold beverages and a free couch are mostly over, except for harmless local shenanigans. In a bold attempt to remember ski trips-gone-by and hopefully share useful advice for those in search of powder dreams, here is biased list of ski trip destinations along with some insightful opinions to help tip the scales and hone in on your next ski trip.
Utah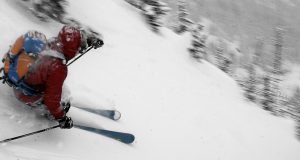 Pro – After spending a winter in the 1980's sleeping on a Park City couch and selectively touring the Wasatch and Uinta canyons daily, I got me some of that best snow on earth but I had to wait and work for it. That soft white curtain blowing from my ski tips to my knees and up my torso and covering my face is a Class-A narcotic. This potent drug will cause a young skier to endure famine, poverty, conjugal drought, parental abandonment and social condemnation. Well worth rehab, in retrospect.
Con – Deciphering the drinking rules and "enjoying" the 3.2 beer is enough to turn some away. For the rest, the likelihood of getting powder skunked on a three-day junket that leaves you rattling around on weeks-old tracks and hard pan is relatively high. When the snow gods do deliver, the competition can be as fierce as the avalanche hazard. When the gold rush does arrive, touring favorite local shots will have youngsters stepping all over your ski tails and Red Pine will be tracked out by 10 a.m.
British Columbia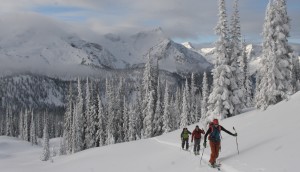 Pro: Like the friendly neighbors they are, hospitable Canadians share arguably the best powder skiing on this planet, and you can help yourself with a valid passport and a backcountry ski (or, if you must, splitboard) set-up. The deep and well-layered Canadian pow is often safely sequestered in beautiful forest pokes that are both safe and sublime. Larch trees are the best ski trees because you can see through them as your awaiting, virgin line unfolds before you. Nelson, BC was my kind of town when the price of a hot tub and shower at the aquatic center was $1.50 and a pitcher of local ale at the Lord Nelson Hotel was $5 USD. It'll cost you more now, but it's still the gem of the Kootenays, eh.
Con: Your Whistler vacation might not meet expectations if you're trying to sleep through the all-night Euro sing-alongs and wake-up to white rain at the base area. Also, Outside Magazine just blew the cover on small, soulful ski towns and hidden gems like Smithers and Terrace.
Montana
Pro: It's name should suffice as your first clue, but wild mountains reign in Montana and there's plenty of room to get away from what passes for a crowd in Big Sky Country. What Montana lacks in infrastructure, it makes up for in shear wild landscapes, plus there's cool off- the-radar ski hills like Lost Trail and Lookout Pass to launch your backcountry ambitions.
Con: If touring is your goal, be sure to bring your sled, and we're not talking kiddie sled. Along with vast wild country come long approaches best mitigated by your two-stroke ticket or, if your bank account allows, a nice smooth four-stroke sled. And just think, at least it'll be wicked cold while you pin the throttle and follow the other Great White Highway.
The Great Northwest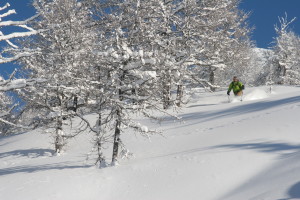 Pro: For the geography impaired or those with DUI records, this is as close as you can get to the mythic snows of central British Columbia without a passport. The North Cascades offer Alp-like terrain and a generally stable snowpack and you'll be hard pressed to beat the spring corn on a volcano. Did I mention the beer and coffee are legendary, and now both Oregon and Washington have legal weed.
Con: Generally speaking, you better like storm cycle skiing 'cause you never know if Mother Nature is going to rain on the cake before the party is over – maybe that's why the beer, coffee and now weed are hot commodoties.
New England
Pro: The oldest traditions of American skiing and real ski towns where you can find all kinds of trouble involving snow machines, fire arms, ice skates and sugar shacks.
Con: If you don't generally wear a helmet, you might consider it due to the brushy nature of the glade shots that pass for tree skiing in the East, plus it'll serve you well in the aforementioned activities, too.
Skinny Tips
Europe – It's a big money bet on getting worthy snow, but you will get beaucoup ski culture and many memorable episodes. I, however, can't go back to Austria due to my name being on a watch list for an unpaid fine from the early '90's. How was I to know the run was closed? After all, the sign was in German. It's too bad, because the Arlberg is vast and the on-slope drinking and dining really beats the chili and PBRs at my local hill. Chamonix is a skier's Disneyland without the safety fences, so be careful. They hauled 40 bodies off those aiguilles during the two months I was there.
Tetons – Don't get lost on Teton Pass and spend a cold night out. That is my takeaway from time spent in that state-line range. Trouble can be found in the backcountry and in the town of Jackson Hole. Lost Texans can be found on Gros Ventre.
Colorado – How do I get a Rocky Mountain High on the cheap? I mooch off my brother and do day trippers along the I-70 corridor. An expeditious objective, like a 14er, takes some doing, and that snowpack is as fickle as a Vail matron.
Alaska – The native translation for Denali should be "long climb for some skiing with cold feet". If you are planning a ski trip in the Alaska Range, pick your partner(s) carefully. Many climbing parties who bail on the West Buttress route do so because they can't stand the sight of each other.
Iceland – Seriously, they should rename this island Niceland because of the easy-access Summer Solstice skiing, hot springs and hot Scandinavians.
Argentina – Get your party legs ready. The Buenos Aires locals have a whole different approach to the ski day plan at Las Lenas Resort than I have. Instead of my time-tested ski/beer/hot tub/dinner/bed plan, they have a ski/nap/dinner@10pm/disco 'till 3am/bed agenda. This does keep the locals from busting an early start and getting in your line, but to be a gracious guest, I joined their late night fiestas, including torch skiing conga lines and burn holes in some treasured skiwear.
All right, that's about all the ski trip wisdom I've got for now. It's time to limp through the crowd of milling gear shoppers and head down the soggy sidewalk to my reliable barista. Safe travels.
The Great White Highway by the Grumpy Old Shop Guy first appeared in Off-Piste Mag Issue 63
Check out more Feature stories from our print magazine Vault.