Off-Piste Mag Gear Pick – Arc'teryx Sawatch Pants 
The Arcteryx Sawatch pants are a piece gear that works and wears just the way you want it to. These softshells have become my go-to ski touring pants for a variety of reasons. In fact, I'm on my second pair and not because they don't wear well. But because they fit and feel so great, I've worn them for far too much wood chopping, building maintenance and general après ski chores than I should. Anyway, on to why they are such great pants for backcountry skiing.
A good ski touring pant needs to breathe, offer protection from the elements and promote a good range of motion. The Arcteryx Sawatch Pants do all of the above. The fabric is a mid-weight, tightly woven softshell material that offers a nice blend of breathability and protection from the elements with an emphasis on breathability. The Sawatch Pant material is a shade lighter weight than some of the competitors' fabrics, but still, in my mind, stout enough for mid-winter wear in most climates. Mine have seen a wide variety of days in the Cascades and Central British Columbia. The fit is athletic but still loose, and I really like the suspenders and belt combo for keeping them in place; although the built-in webbing belt does a fine job if you prefer to roll without suspenders. If you are still using a waterproof breathable pant for touring, do yourself a favor and upgrade to softshells.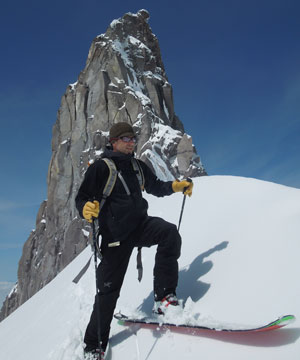 In classic Arc'teryx fashion, the Sawatch design is clean and simple. These pants were designed for ski touring, versus being an all-mountain pant that can ski tour, too. They perform great in everything from modest sunny days to full storm cycle conditions. The twin cargo pockets are low profile, yet generously roomy. The boot cuffs are cut wide and reinforced to accommodate ski boots and there's a low-profile, built-in internal gaiter/powder cuff that can be cinched tight if required, but is otherwise unobtrusive.
These pants are great. I can't think of a single significant thing to change on the Sawatch. The pockets are well located, the cuffs don't bind around your boots. They are durable, have nice reinforced instep cuffs and shed precip damn well for a non-waterproof pant. The Arcteryx Sawatch Pants are a great dedicated touring pant. They are even casual enough to weather a trip to the bar or grocery store après tour without feeling terribly conspicuous. The Arcteryx Sawatch is everything I could ask for in a touring pant.
Shop for the Arcteryx Sawatch Pant and support Off-Piste Mag 
Check out another favorite ski touring pant – the Outdoor Research Trailbreaker Pants