Dream Job – Avalanche Forecaster
An Interview with ChugachNational Forest Avalanche Center Forecaster Wendy Wagner
by David Waag
We all appreciate the value of our regional avalanche forecast centers and, let's be honest, who hasn't dreamed of working as an avalanche professional. It's all face shots, field observations and free gear right? Well, it turns out there's a lot more to it than just going skiing and enjoying untracked powder laps. There are only about 30 forecasters employed by regional avalanche centers around the US, and it's not easy to just waltz into one and get a job. I had the good fortune to connect with Wendy Wagner, forecaster for the Chugach National Forest Avalanche Information Center (CNFAIC) in Alaska. Wagner is going on five years with the CNFAIC keeping tabs on snow and weather in the Girdwood Turnagain area, not far from Anchorage, Alaska. She answered some questions about what it takes to become an avalanche professional and what it's like to work as an avalanche forecaster.
Off-Piste Mag (OPM): How do you become an avalanche forecaster?
Wendy Wagner (WW): I don't think there is a set path to become an avalanche forecaster. I never thought I'd get the opportunity to be a one, even though I secretly hoped to when I was younger. I think Bruce Tremper wrote it up, but there's something on the avalanche.org website about how to become an avalanche forecaster (www.avalanche.org/avijob.php). Basically, it says your chances are slim.
For me, I'm kind of a new school version. I came to it through academia. I was in graduate school [at the University of Utah] to be a mountain weather forecaster. I knew I wanted to study snow, and I wanted to somehow work in the avalanche forecasting business. But I also knew there were limited jobs and the few that existed are hard to get, so I was going more for the weather aspect.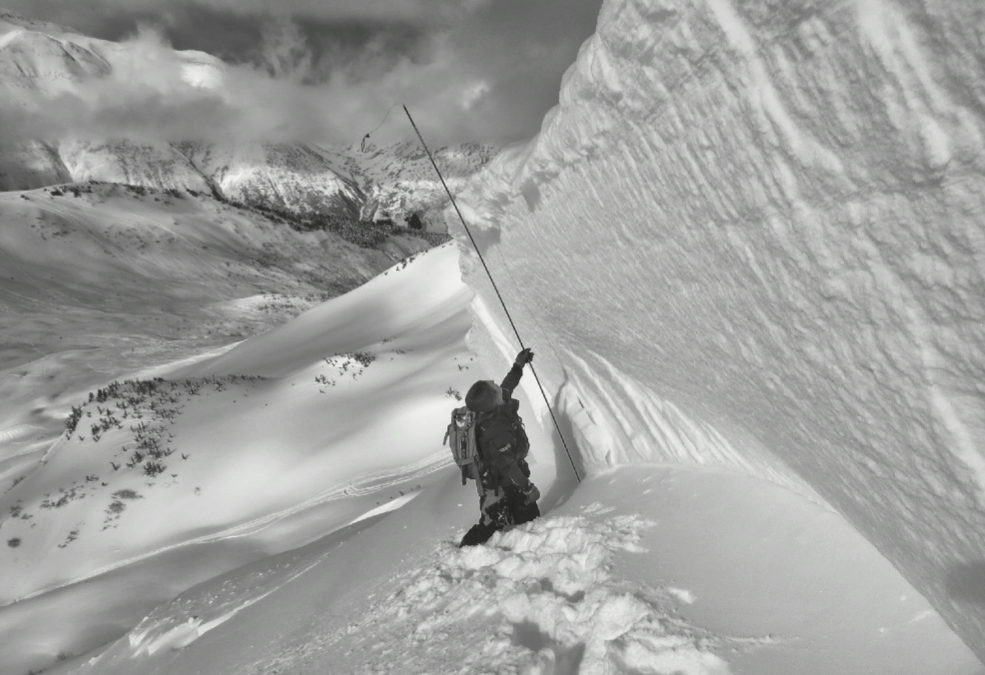 OPM: The Northwest avy center is connected to the National Weather Service.
WW: It is. It's the one avalanche center that is set up that way, and my academic path would have lead well into that organization. But that's not how things unfolded for me. It was just luck of the draw. I was fortunate to have several ski partners who were forecasters and avalanche professionals. Given my studies at the University, I was, in a way, taken under the wings of the Utah Avalanche Center (UAC). Drew Hardesty, in particular, was my first mentor . . . when I look back, [the UAC crew] cultivated me and set my path. They wrote letters of recommendation when the opportunity in Alaska opened up. The timing for Alaska was right. The job opened in the middle of the winter, and not many people were available to start mid-season. I was in limbo. I had finished grad school and had a fellowship working on some snow science projects. I applied for and, luckily, was offered the position. I just went for it. They are great folks up there in Alaska. Coming in, I felt like a deer in the headlights but have been able to establish myself. Basically, I was very fortunate.
Being an avalanche forecaster is about knowing the avalanche community and being part of the community. When I was in grad school, I did several avalanche projects and worked with local avalanche professionals, which all led to getting to know the avalanche community.
Being an avalanche educator is another way to get involved in the community and finally, one of the most common, [in the forecast world] is to have a ski patrol background; I don't. It's one thing I wish I had.
OPM: Were you an intern at UAC?
WW: No. I think it was more of an informal mentorship and being eager to be a field partner. Since I had been working on snow-related projects during grad school, I think that helped to set me on the course to cooperate with the UAC. The UAC also helped put me in touch with the avalanche professional network. When I travelled, they connected me with regional professionals, and I built relationships.
OPM: Officially, what is your degree?
WW: I received a Masters in Atmospheric Sciences from the University of Utah. They have one of the leading mountain weather programs in the world and I was fortunate to be in the Mountain Weather Department.
OPM: What is the role of the CNFAIC, are you forecasting for the department of transportation, recreation?
WW: My position is with the Forest Service, and it's very similar to the other Forest Service forecast centers in the Lower 48. We are primarily a public safety service for backcountry recreation. We produce avalanche advisories on a daily basis. It's our number one, primary job. Secondary is public outreach, education and snowmachine rescue workshops that are free to the public.
Similar to the Lower 48, we work very closely with the department of transportation, which, in our region – the Girdwood Seward highway zone,
is only two people. We are not officially tied to them, but rely heavily on an informal sharing of information. The railroad is tied into our network as well. We also work closely with Chugach Powder Guides (CPG), the only heli-ski operator in our area. They are awesome because they have so many eyes everywhere, but they only operate late February, March and April. So, they are not around in the early season. And, of course, the ski area [Alyeska]. When there's activity, we share everything, often using text messaging. I feel very lucky everyone is so open to sharing their information.
OPM: What's a normal day at work? Walk us through a workweek.
WW: There are four forecasters in our office. We produce an advisory everyday and they are due out by seven o'clock each morning. On a typical work week, I'm writing advisories two or three mornings a week. The day usually starts at 4 am or a little earlier if there's an accident or very active weather. The day before we write the advisory is a field day, and we have two to three official field days a week. We are very lucky to have  the flexibility to go where we think we need to go. We do need to travel with a partner. I think our center is unique in that we are required to have field partners. It can be another forecaster, a DOT employee, an Alyeska patroller. We have a great list of qualified avalanche professional partners. A typical field day is either skiing – probably 60% of the time – and about 40% of the time we are out on snowmachines. We spend between three hours and a full day in the field.
OPM: How many daylight hours are there in Alaska in December or January?
WW: Well, we are supposed to be back half an hour before sunset. So, on our shortest day of the year, December 21st, that makes for a five-and- half-hour day, not too bad really. We start right as it's getting light. On the darkest day we get out at 10am and are back by 3:30. Often field days are only three or four hours [regardless of the daylight]. It really depends on where we need to go and whether there is an accident investigation or slide activity to investigate.
OPM: Field days mean snow study and skiing?
WW: Yes, We dig a lot, especially when we are tracking weak layers. A few years ago, we had hardly a weak layer in the entire snowpack. That made for some fun field days. Last year however, we dug a lot; it was unbelievable. We focus our field days on identifying problem areas like where the weak layers exist. Or where we think we'll find them. Or, if a storm is rolling in, we will focus on the surface conditions.
When we get back from the field, we process the day's data. We take a lot of photos and are trying to utilize more video. We've had a lot of great feedback from the public about the value of the video. Sometimes, the video is just to show that it's snowing or current conditions. The weather at Turnagain can be completely different from Anchorage. We post the day's observations to our field observation page, so folks can get a sense of
the conditions and weather that night. We also sift through the data from public observers, AKDOT, CPG, and such. Basically, we communicate with everybody and then get up early to write the forecast. The experience from the field day into the morning advisory is full on. Sometimes you have a sense of the danger rating that evening and know essentially what you'll write in the morning. Other times, the weather is changing so fast you really have to wait to see what unfolds overnight and write it up just before seven.
OPM: How do you balance the job of forecasting with the fact that you love skiing?
WW: The stereotype is that we are just out there skiing or riding our sleds and having fun, but for me it is an extremely stressful job, especially in the morning when you're writing your forecast. People are going to read it and make their choices. The ultimate goal is to help people make good decisions in the backcountry. I don't know if everyone understands how stressful it can be. Everyday I want to get better and I look forward to doing that for the foreseeable future.
We do get to be in the field quite a bit though, and that's fantastic. However, our number one priority is to collect observations to build our advisory. Priority number two, for me, is to have fun. The trick is to maximize both
of these. Anytime, we can have fun while we are out in the snow, we do, because lots of the time it is very serious. It really is my dream job.
OPM: You mentioned part of the job is Public Outreach. What does that involve?
WW: We do several evening avalanche awareness talks and rescue workshops in the eld. One thing I really like in December or January, before the real season really gets going, is a snowpack to date talk. They are more for the savvy user, and we go through the current snowpack evolution and possible scenarios as the winter progresses. We have a reside chat series in both Anchorage and Girdwood where we cover, companion rescue, human factors, decision making and safe travel protocol. Everything we do is free to the public.
OPM: Last question what is the winter going to bring?
WW: Ahhh, what is winter going to bring. (Laughter)
OPM: C'mon weather geek.
WW: Oh yeah, That's the million dollar question. (more laughter) Well, I'd like to say it's for sure going to bring precipitation. (more laughter) We've had two bad years in Alaska; so, I like to think we are due a few months of good snow conditions. I have not been watching El Nino closely this summer. Being a meteorologist, I should look at what's going on with the oscillations.
OPM: OK, I'll cut you some summer slack, but next time we chat we want details from your crystal ball.
WW: The hardest part up in AK is the weather comes in two to four week cycles. So we can have weeks of storming or weeks of nothing. At the end of the day, whatever comes, we'll deal with it, for better or for worse.
This article originally appeared in the print edition of Off-Piste Magazine, Issue 62, October 2014.