Arcteryx Procline Ski Boot Review
Joshua Cole – Guide and Owner, North Cascades Mountain Guides – AMGA Ski Guide

Notwithstanding the ski industry's "quiver-of-one" marketing hype, most diehard skiers sport a quiver of skis – the rock skis, the powder skis, the spring skimo skis and probably a pair of straight skis you're keeping for posterity. The new Arc'teryx Procline ski boot is a groundbreaking ski / climbing boot that, in my mind at least, makes a convincing argument for a quiver of boots to go with my quiver of skis; more on this later.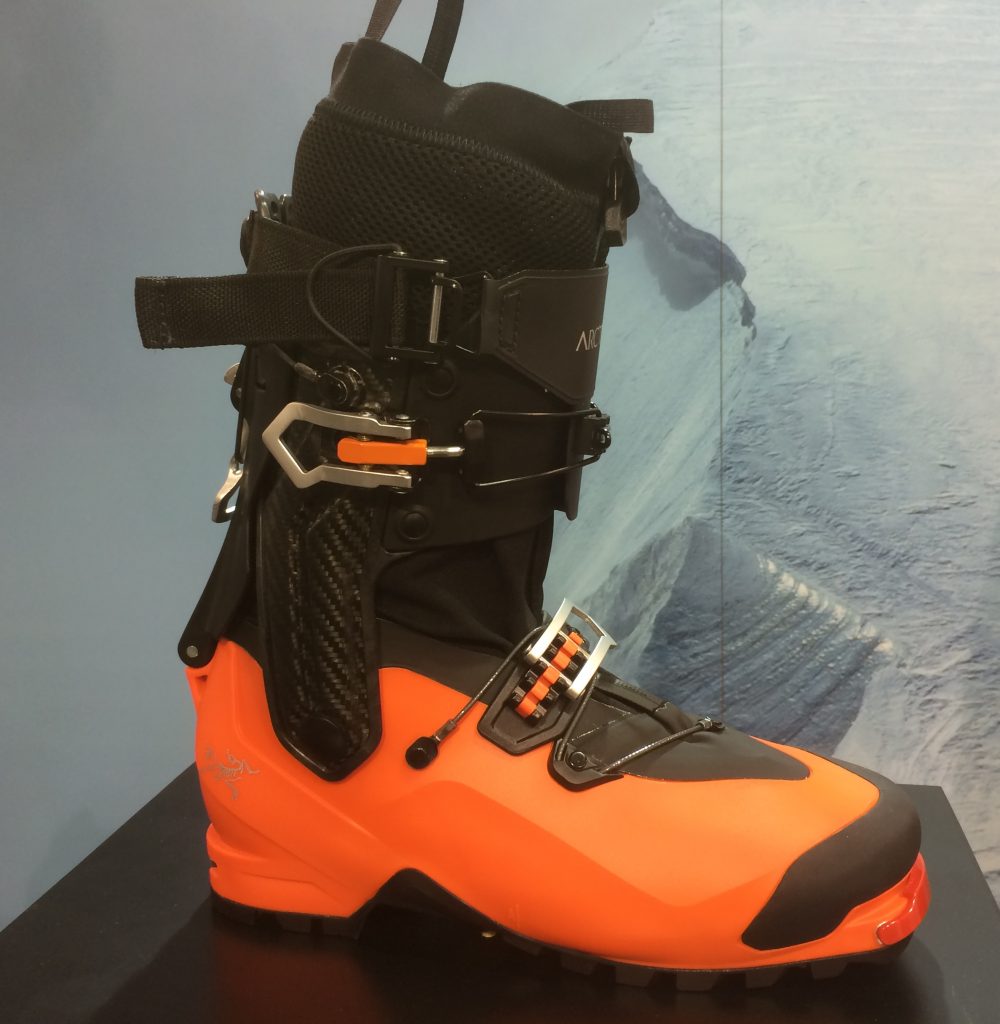 The Arc'teryx Procline is light and remarkably stiff in ski mode, but what sets it apart from other lightweight touring boots on the market is its cuff mobility. Arc'teryx has integrated a three-piece carbon (or Grilamid in the less expensive model) cuff that has the extreme fore/aft mobility (75°) that I've become accustomed to in my Dynafit TLT's and adds lateral cuff mobility (23° / 12°). The combination of cuff mobility and svelte overall design make for a ski boot that is adept at skinning and off ski climbing while maintaining remarkable downhill ski performance.
I skied the Procline during five days this spring on a pair of DPS Cassier 95 Tour 1 skis. It's my spring ski, and one that I really like. On a couple of days, I was able to swap between my (admittedly old and thrashed) Dynafit TLT 6 boots and the new Procline Carbon to compare the two boots. The ski conditions could charitably be described as variable – mank, old debris, frozen chunder . . . but they sure put the boot to a good test.
My initial impression of the Procline was a sense of amazement tempered with recognizing the limitations of such a lightweight boot. Several years ago, when I first donned my TLT 6, it was nothing short of a revelation on the uphill and I had a similar experience with the Procline. It's definitely a step above the TLT6 on the uphill – the fore/aft and lateral flex makes the Procline feel closer to a light hiker than a ski boot.
Long ago, a friend took me ice climbing for the first time and, since I didn't own any appropriate boots, I just slapped some old dull crampons on my duck-billed telemark boots and went for it – luckily, I didn't know any better. Well, contrast that to the Procline, which climbs as well as any plastic mountaineering boot. With the cuff flexibility, crampons felt much more useable than on my TLT 6 boots – most notably when side hilling on firm snow. I added a bit of rock scrambling to the mix and, while the Procline is a far cry from my approach shoes, I was pleasantly surprised how easily these boots moved through rocky terrain. The Procline would be an ideal tool to approach and climb when skis are part of the adventure.
I'll admit that I gravitate more naturally to skiing than climbing, so any ski boot must be able to go downhill. Compared with the general spectrum of ski boots, the Procline definitely skis like the super light and super rigid boot it is – the flex is not progressive, which led to feeling like my skis were being deflected more easily, particularly in tricky snow. Basically, these boots felt even less progressive in flex than the TLT6 (which is by no means a progressive boot), but they were more than stiff enough to drive my skis due to the super rigid carbon cuff. I generally like stiff ski boots, but the Procline's flex resembles my old Lange race boots – a bit like hitting a brick wall. One of our other guides, Kirk, got some time on these boots as well and described the Procline as feeling even stiffer than his Dynafit Vulcans without the tongue inserts, albeit with a much less progressive flex.
The buckle system, camming power strap, and internal gaiter took a bit of time to get used to but, as is common with Arc'teryx designs, they are incredibly well thought out and beautifully built. While there is the convenience of ditching the TLT6's irritating removable tongue, the walk/ski mode transition requires that you flex the shell to exactly the right position to swap. The Procline boots I tested were outfitted with the "support" liner, which was neither supportive nor particularly comfortable … in fact, it felt a lot like the first generation TLT5 liner. Kirk even mentioned that he could feel the shell pushing through the liner while skinning. I swapped in a Dynafit Vulcan liner and that improved the comfort and downhill performance measurably but impacted uphill flex a touch.
I'd describe the fit as shorter than the TLT6, but with quite a bit more volume, particularly in the forefoot. Interestingly, the 27.5 Procline had the same boot sole length as my 27.0 TLT 6 (off by 2mm … but close enough!), which made swapping boots extremely simple! Temps were too warm during testing to speak to the liner warmth, but the integrated gaiter did seem to hold heat and moisture in a bit, which will likely help keep the boot a bit warmer than the paper-thin liner might suggest.
So, back to my rationalization strategy for spending even more money on ski gear. I've always been a proponent of having one pair of ski boots because I believe that I could find a worthwhile compromise between the down and up and I didn't want to keep adjusting bindings and spending money on new boots! The Procline, however, makes a strong argument as a dedicated spring ski mountaineering boot. It's lack of progressive flex makes me wary of using this boot as a quiver of one, especially with a fat, rockered powder ski (although my gut tells me I'd be pleasantly surprised by the Procline's ability even then), but for long tours on light gear (especially anything involving climbing on rock, snow or ice), the Procline has set a new bar.
Arc'teryx Procline Ski Boot in a nutshell:
Pros +
+ Incredible articulation
+ If your skiing involves climbing, or your climbing involves skiing, this is your boot!
+ Well thought-out buckles and powerstrap
+ Rockered sole and enough rubber to survive scrambling
+ Incredible stiffness in ski mode for such a light boot
Cons –
– Very non-progressive flex makes it stiff and less than forgiving
– Expensive and with a fairly specific niche
– Liners aren't particularly comfortable
Procline Carbon Lite: US $1000; Weight: 1.190g in size 27.5
Procline Carbon Support; US $1000; Weight: 1.260g in size 27.5
Procline Lite: US $750; Weight: 1.190g in size 27.5
Procline Support US $750; Weight: 1.260g in size 27.5
More AT ski boot reviews La Sportiva Spectre,  Scarpa Freedom SL,  Fischer Transalp