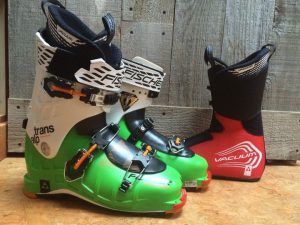 A fresh pair of Fischer Transalp Vacuum TS AT Boots landed in the office this week. The Transalp is a new tech-compatible boot from the Alpine and Nordic giant Fischer and is part of a dedicated jump into the backcountry market by Fischer. They've always made a range of skis, but the new Fischer Transalp line, which includes a handful of skis worthy of testing, shows a new level of commitment to the AT / backcountry market.
At first look, it's obvious the Fischer Transalp Vacuum TS AT Boot is not simply an alpine boot with some backcountry lipstick. It's a unique lightweight design that will go toe to toe with several AT boots from the big players in the field – Scarpa, Sportive, Dynafit and Scott.It's not the lightest or most powerful AT boot around, but it slides nicely right into the middle of the pack.
We have the Transalp Vacuum TS model for testing. It retails for $800. They also have a "TS Light," which runs $50 more and weighs in about 140 grams/pair less. It's not a significant weight difference but for those that count every gram, it adds up. That said, the TS is respectable in the weight department. Our demo measured in right at the listed spec of 1.62 kg or 3.57 lb per boot. For comparison, the La Sportive Spectre (the lightest four-buckle on the market) in the same 26.5 size weighs in 1.39 kg or just over 3.1 lb.
There are a couple distinguishing design features that set this boot apart from others. First and foremost, it features Fischer's Vacuum Fit technology or Vacu-Plast shell. If you're not familiar with this – I wasn't either – it means you can heat mold the liner and the shell. It's about as custom a fit as you're gonna find. You can see the process in action in this Fischer Vacuum fit video, but the short story is that it sounds great for people with fit issues. I'll get them vacuum fit here in the coming week or two and report on the process.
The second detail worth noting is the hybrid alpine wrap/tongue design, what Fischer calls semi-overlap construction. They've got a partial tongue, but the upper finishes with just the cuff as the tongue does not run to the top or actually hinge out of the way like a traditional AT boot.
I haven't had an opportunity to ski 'em yet, so I'll save the full ski opinion 'til I've had them on snow. It's not going to be a powerhouse charger, but it feels like it should fall in the middle-of-the-road category akin to other modest three and four buckle boots with a touring bias. The walk mode feels pretty good, though the best range comes from loosening the upper buckle and power strap.
shop for deals on AT boots at OMCGear and support Off-Piste mag
Shop for deals on AT boot at Backcountry.com and support Off-Piste Mag