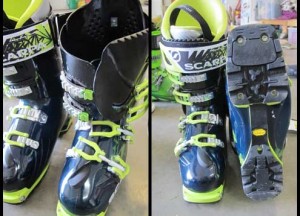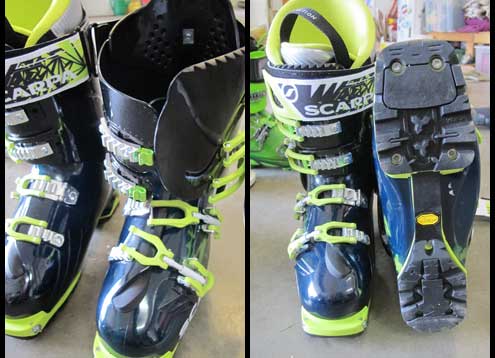 I've run the Scarpa Freedom SL for a full season of testing now, and it continues to live up to its first impressions as an incredibly lightweight and touring friendly alpine ski boot. I do not see it as a dedicated touring boot for a devoted backcountry skier but rather as the best of the crossover boots that provide alpine overlap construction and a walk mode for skiers with a resort bias. It's the boot you use to drive an alpine ski in the backcountry – a boot for skiers who want the power they know from their alpine boots and are looking to spend some time touring in the backcountry.
What really sets the Freedom SL apart from the competition – like the BD Factor or the K2 Pinnacle – is its truly functional walk mode and its impressively light weight. Featuring full alpine wrap construction, the Freedom SL is everything an alpine boot should be: powerful and responsive. And, drawing on Scarpa's long history of designing alpine touring boots, the Freedom SL features unmatched tour mode cuff mobility (27 degrees) for a boot of its caliber. Most impressive, the boot weighs only 3.59 kg (7 lb 10 oz) a pair – literally pounds lighter than much of the competition. The combination delivers hard charging ski control and true touring comfort. It's literally the same weight with a better walk mode and far more power transfer than the old Spirit 4, which was a dedicated touring boot.
The boot owes its light weight to Scarpa's Carbon Core Technology. The design runs through the boot soul to maintain power transfer and reduce shell weight. Its profile is also low in bulk like lighter touring-specific AT boots. The clean, low-profile design translates to smooth strides and efficient boot packing in the mountains.
In true freeride spirit, the Freedom SL's interchangeable sole offers compatibility with all ski bindings, alpine DIN, AT and tech bindings. Add the high-quality, heat-formable Intuition liner, and you've got one boot really can cross the resort / backcountry boundary.