Adventure Bike Gravel Tires Reviewed
So many choices, so little time. Choosing the best gravel tire is a bit like picking the right shoes for the day. It's all about the terrain and surfaces that are on the agenda. When talking adventure riding, maximum volume and width is a key consideration. Tread is important too. But volume is directly related to overall handling (and your comfort) over the long haul on rough terrain. As long as your focus is where the pavement ends, go as wide as your frame allows. Rolling resistance plays a bigger role if you plan on long paved road miles. But the focus here is adventure riding, so let's consider volume and traction primary concerns with rolling resistance as secondary.
With a 100-200-mile-a-week gravel habit, I've put numerous tires to the test. Durability, traction, ideal surface conditions and ease of set-up vary from tire to tire, but after logging tens of thousands of mixed surface miles, there is no substitute for volume and width. Most gravel bikes will run up to a 700 x 40-45mm wide tire, and for adventurous rides I would not recommend a gravel bike that does not fit at least a 40mm tire. Wide tires improve handling, reduce fatigue and enhance the overall ride in rough terrain. Once you ride 40+, you'll never look back.
Our top gravel bike tire picks
The beauty of the Panaracer GravelKing SK is the 43mm width option. For bikes that cannot take the extra width of a 45mm tire, the 43mm option offers a nice compromise that feels big and rides great. The Graveling SK is one of the more widely available and popular gravel tires (at least here in the PNW). It's reasonably light for being as burly as it has proven to be. The GravelKing SK takes a beating and keeps serving up tubeless bliss. Tread durability is average. By 1000 miles their grip is compromised and the wear noticeable. Tubeless set up has proven varied. One tire will go with ease, the next proves finicky. I'll chalk the variability up to temperature differences and recommend making sure the tires are room temp or warmer versus cold garage temp when attempting to seat for the first time.
Price $49 / Weight: 490g
The Teravail Cannonball gravel tires hit a sweet spot for volume, traction and durability. You can find a more aggressive tread, and you can find a wider tire. But you'll be hard-pressed to find a more durable and all-around gravel tire. The Cannonball rolls reasonably fast, grips well and wears as long as any tire I've tested, serving up rideable tread for about 1200 miles. Even though it's considered a light and supple casing, my experience running through four pair of Cannonballs is bomber durability. Tubeless set up has proven about as easy as any tire I have tried, and they have a nice round profile. The biggest issue is simply finding them in stock in the 42mm width.
Price $55 / Weight: 520g
At 45mm, the WTB Riddler gravel tires are the widest tire that my frame allows. And it's probably my top pick for an adventurous front tire. At 45mm, its ability to roll over and absorb rough terrain is noticeably better than a 40mm tire. The tread is equally as capable, offering confidence in loose downhill corners. It measures in right at its advertised width. Tread durability is about average. After 1000 miles, their grip is compromised and the wear noticeable. Tubeless was a little difficult on my rims. They set and held reasonably easily, but were stubborn to get an even seat. I actually had to contact WTB, and they suggested using higher pressure to get a full, even seat. Bingo, they know their tires. They have also proven durable and have stood up to plenty of rough road and trail riding without any unusual damage.
Price $59 / Weight 560g
The WTB Venture gravel tire rolls fast. Its micro tread and center ridge design make it a great choice for luxury gravel and smooth surface riding. Its soft rubber compound really holds its own in the corners and on rough ground, too. The price for the sticky grip is tread life. The Venture wears out fast. My rear tire showed noticeable wear in a matter of weeks and needed replacing by 800 miles. Nonetheless, the sticky compound and smooth rolling design are great combo for all sorts of dirt and gravel riding. It measures in a little under the advertised 40mm width on my rims. Tubeless set up is a breeze.
Price $59 / Weight: 501g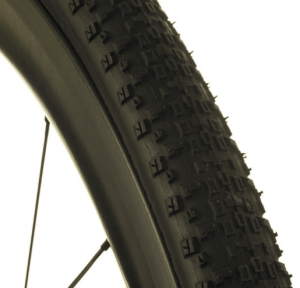 Similar in tread pattern to the Riddler, the Maxis Rambler gravel tires offer confident traction. As a result, it's not the fastest tire, but it serves well on adventure terrain. Its profile is noticeably round and provides good cornering and predictable traction on loose ground. The downside to the Rambler is its width. It measures in closer to 38mm on my rims and feels noticeably narrow on the bike. This makes it a good choice if your frame clearance is suspect for a 40mm tire. And it is now avail in a 45mm, but I have yet to test 'em. Overall, tread durability is average with tire life around 1000 miles. Tubeless set-up was reasonable. It's also the lightest of the tires in this line-up.
Price $57 / Weight: 375g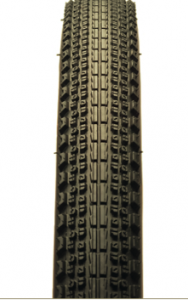 Named after the famed Flint Hills that make up much of the storied DK course, the Kenda FlintridgePro is a rugged gravel tire that works well in loose, rough conditions. It measures in very true to its official 40mm width. It's a good choice for frames that max out at 40mm. Stout sidewalls keep it puncture and tear resistant. Overall rolling ability rates high for a tire with the tread to handle a such wide variety of gravel surfaces. It's avail in 35, 40 and 45mm widths. Tread durability is good. They served up solid traction for about 1200 miles. Tubeless set up was about average in difficulty.
Price $59 / Weight: 515g
Follow the links to buy tires and support offpistemag.com
Read more of our Adventure Ride Essentials Gear Reviews