Designated Radio Channels for Popular Backcountry Zones
It's commonly understood that avalanche safety often hinges on human driven factors. Ideas like familiarity with terrain, the expert halo and group communication (or lack thereof) rise to the top of the list as contributors to avalanche accidents. Broadly speaking, group communication is at the root of many mistakes. Communication alone will not overcome other human factors or hazardous conditions, but it is important to staying safe in avalanche terrain. Communicating with your ski partners, plain and simple, is about sharing questions, opinions, observations, thoughts and staying connected while skiing. The ability to share your position, communicate your next move and stay in touch is important. Multiple avalanche forecast centers in the US are taking communication one step further by encouraging communication protocols between ski groups with designated backcountry radio channels for group-to-group communication in popular backcountry areas.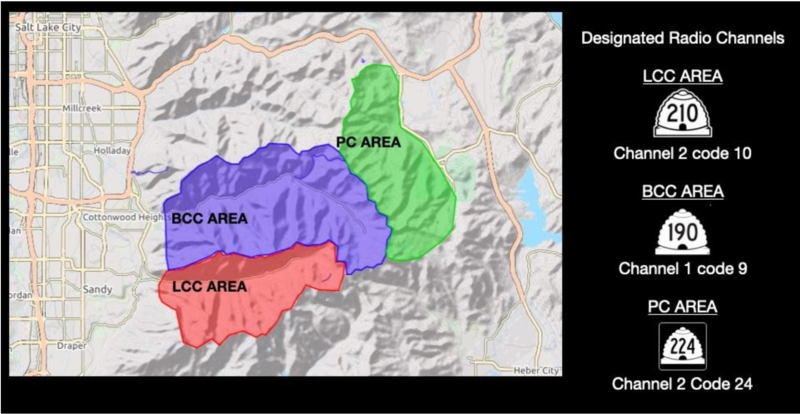 Dropping In
Imagine that you're about to drop into your ski line, but the lower run out is out of site. Before dropping in, you call on the designated radio channel for the drainage where you are skiing. "Party of two dropping into Hidden Bowl. Is it clear?" Another group responds, "Party of three on skin track, all clear." A designated group-to-group radio channel opens communication between groups for an increased level of safety where ski groups often overlap.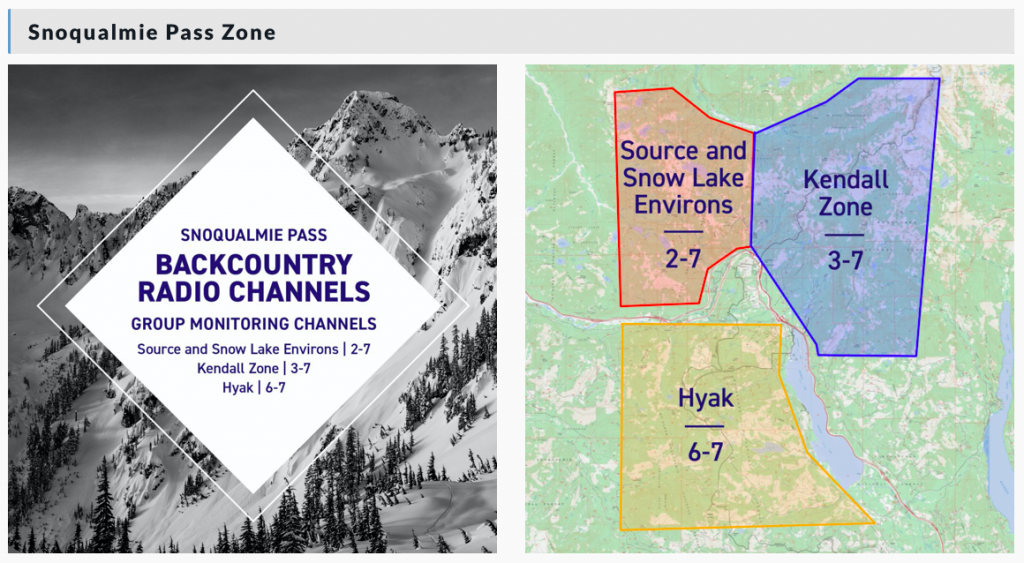 From Colorado to Utah and now Washington, designated radio channels are starting to take shape. Inspired by a program in Telluride, Colorado initiated by the Telluride Mountain Club, the Utah Avalanche Center (UAC) and Northwest Weather and Avalanche Center (NWAC) have initiated region-specific group radio channels to facilitate better communication between groups. The UAC has designated three different radio channels and privacy codes for users of Big Cottonwood Canyon, Little Cottonwood Canyon, and Park City backcountry ski zones. NWAC has set up dedicated channels and privacy codes for the Kendall, Hyak, and Snow/Source Lake zones on Snoqualmie Pass.
Backcountry Radio Protocols
Consider the following protocols when using radios in the backcountry.
Best Practices
Cut the chatter. For designated backcountry radio channel programs to work, all non-essential communication (setting up photos, sharing of stoke, etc.) should happen on a private channel.
Be concise. Communication on group-to-group channels should be clear and concise. Example: "Party of three dropping into Moon Chute on the north side of Prospectors. Is there anyone below?"
When to use a group-to-group radio channel:
When your group is about to enter complex terrain
To relay information regarding potential hazards or critical snow and avalanche beta
When your group is clear of a given line or area, alert other groups of a clear run-out zone
To respond to a call from another group
Send a distress call to another group for assistance in case of an accident
Request another group to call 911 to mount an organized rescue if your own group has no cell service
When to use a private backcountry radio channel:
Communication between ski partners for travel and location details when in complex terrain
Communicate status on a slope or to report unexpected information
Scope terrain features for your partners
Call in the next skier
Set up photos
Read about regional backcountry radio programs:
Wasatch Common-Use Radio Channel Program
Snoqualmie Pass Common-Use Channel Program
Telluride Common-Use Radio Channel Program
More from Off-Piste Mag
Read our BCA BC Link 2.0 radio review
Read about The Morning Meeting – Avalanche Safety Starts Before You Ski
Other Backcountry Radio Reading:
Roger that! Backcountry Two-Way Radio Protocols
ISSW Paper: Utilizing Common-Use Radio Channels in Avalanche Terrain
Check prices and availability for the BCA BC Link 2.0 Radio or check out other two-way FRS radios
purchasing through our affiliate links helps support offpistemag.com