The boom in gravel riding and adventure cycling has brought with it a fresh take on cycling clothing — jerseys and shorts that offer all the performance of technical cycling kit with a clean, simple take on the look and feel. You no longer have to settle for the race team or over-stylized cycling jersey that has dominated riding apparel for decades. Finally, you can find a high-tech jersey with a clean, laid-back feel. I'm talking solid colors and muted tones without bold logos or fanfare. A solid example of the fresh take comes from 7Mesh, a Squamish, British Columbia-based cycling apparel brand. I've been running a couple 7Mesh Horizon cycling jerseys for almost a year now.
Performance Without a Techy Feel
The 7Mesh Horizon Jersey has the snug, performance fit of a classic cycling jersey without the overly techy, spandex feel that we all know too well. The Horizon has a soft feel and refreshingly non-techy appearance. More than once, a riding partner has asked, "Is that jersey wool?" The answer is no, it's just polyester. But hats off to 7Mesh for creating a knit that really looks and feels unlike your average polyester bike jersey. It wicks sweat and regulates temperature very well, too. Overall, I'd rate it as a little thicker and warmer than a classic lycra jersey. While it's not my jersey of choice for hottest days — 90F/32C+, it is for just about any other day including cool days where it pairs well with arm warmers and a vest.
Three-Pocket Design – But Better
It wouldn't be a cycling jersey without the tried and true three-pocket design across the back. 7Mesh didn't try to reinvent the classic three-pocket design, but they definitely improved upon it with their version. The pockets are are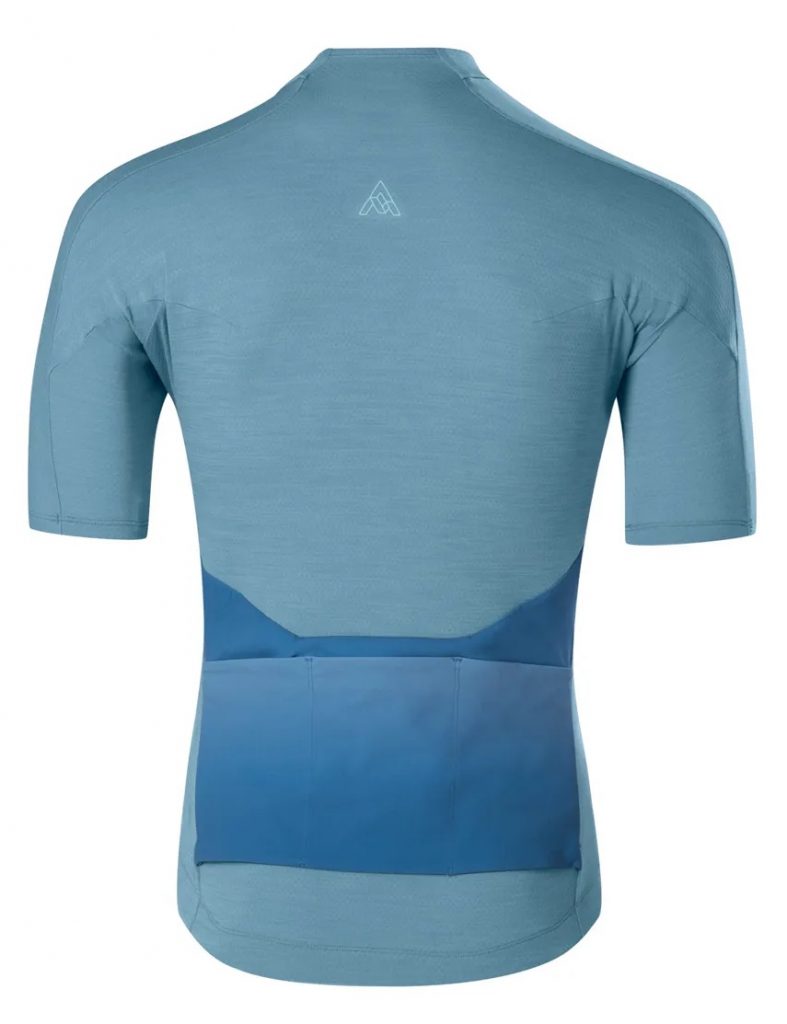 actually part of a separate panel that is attached to the back of the jeresey. They call it a their "7mesh Anything signature pocket panel." And it actually has five pockets in total – three rear and two zippered side pockets – offering just enough extra storage options over a traditional three-pocket design to be super functional. The fabric used for the panel resists vertical stretch and floats off the jersey body just enough to retain a clean form even when packed to capacity.
Low Stink Factor
We've all got a favorite jersey or two that takes on the inevitable synthetic stink factor over time. It just seems hard to escape the funk over time. I'm happy to report that with over a year's worth of rides (which is a lot miles, hours and sweat) on the 7Mesh Horizon jersey, it has yet to take on that classic synthetic body odor. Of course, there's still time, but the Horizon still fits, feels and smells as good as new. 7Mesh mentions an anti-microbial treatment in the product specs. So I'll credit the lack of stink to that and the fact that I wash my riding clothes with DeFunkify detergent.
A Solid Addition to the Rotation
Anyone with a serious riding habit needs a handful of high-rotation cycling jerseys — the ones you grab for those big days and training rides alike. Between its soft non-techy feel, its well-tailored fit, subtle style and true on-bike performance regulating temperature and wicking sweat, the 7Mesh Horizon jersey checks all the boxes to become a high-rotation fave. Add quality stitching and a great pocket configuration, and it's a solid addition to any cycling closet.
7Mesh Horizon Jersey $140
Read more of our adventure cycling gear reviews
Read about the 7Mesh Oro Gore ShakeDry Jacket
Support offpistemag.com when you shop though our links