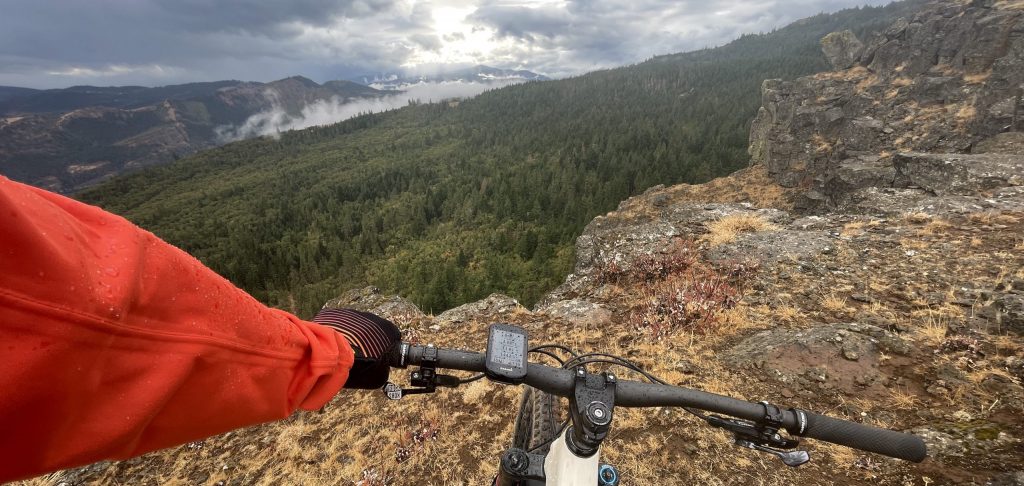 Cloudburst Rain Jacket
We've all heard the phrase; "There's no such thing as bad weather, just bad clothing." And of all the ways to endure bad weather, few avtivities highlight bad clothing as quickly as cycling in the rain. Riding a bike with any real effort puts waterproof, breathable claims to a serious test. It's one thing to throw on a lightweight rain shell to dodge a brief shower, and it's a whole different game when you need to wear a full on waterproof, breathable jacket for an extended wet ride. The Showers Pass Cloudburst jacket is made for the latter — pedaling for extended periods in the rain. It uses a lightweight three-layer waterproof, breathable fabric that's full of stretch and sports a soft, non-rain-jacket-like feel. But what really sets it apart from other rain jackets is just how breathable it is.
Waterproof, Breathable Ratings
Waterproof, breathable fabrics are built as laminates. In most cases, this means three layers: an outer layer (shell), a waterproof and breathable layer (membrane) and a backing (lining) of some sort on the inside. The basic standard for rating a jacket's waterproofing and breathability uses two numbers like 10,000/5,000 (10k/5k) or 20,000/10,000 (20k/10k) to describe the waterproofness and air permeability (breathability) of the membrane. Without getting more technical about how it's all measured, the higher the first number, the more waterproof. The higher the second number, the more breathable. In general, a 10k waterproof rating is considered pretty good for extended rain exposure, and 20k is considered excellent. For breathability, 10k is ok for casual efforts, while being more active requires a rating more along the lines of 15-25k. The Cloudburst has a 43K breathability rating.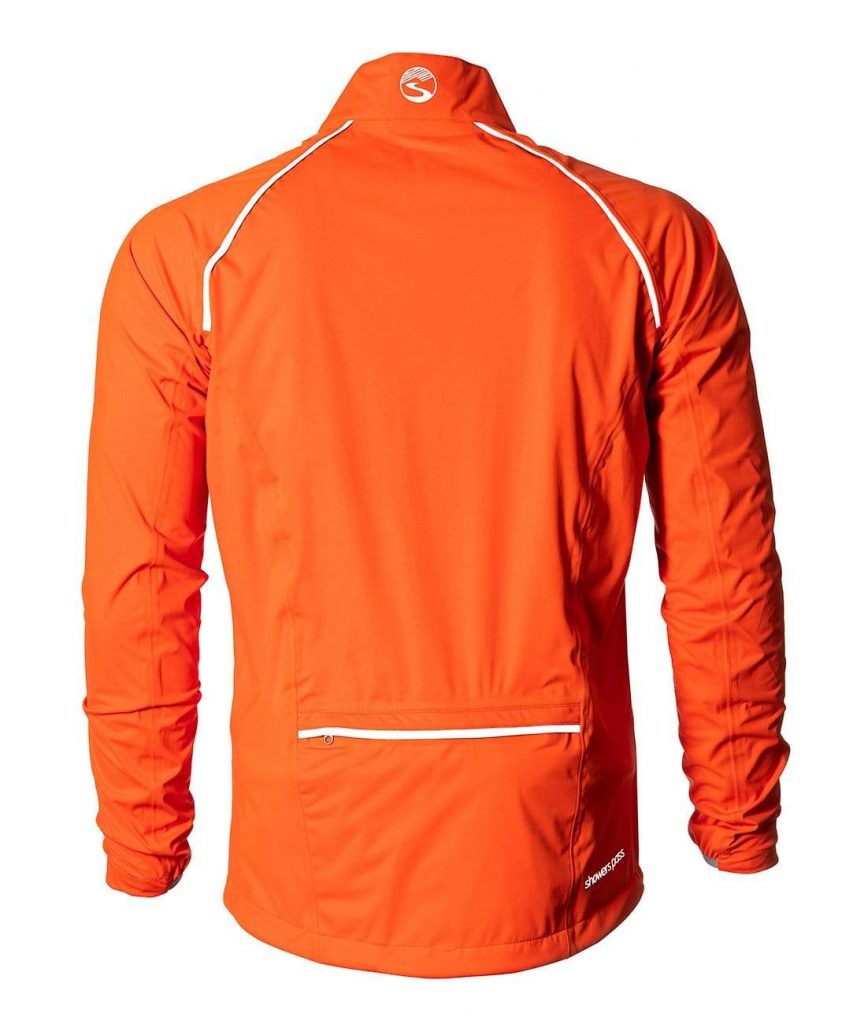 It's rare that a fully seam taped waterproof, breathable jacket doesn't live up to its waterproof claims, and the Cloudburst has proven to be thoroughly waterproof for cycling in the rain. Where most rain jackets fall short is when looking at breathability claims. Waterproof, breathable jackets are far better at sealing out water than they are at allowing the body to breathe, so I was intrigued when I read the high breathability rating of the Showers Pass Cloudburst. Even if it's half as breathable as the 43k number suggests, it's gonna be better than most other rain jackets.
High Marks for Breathable Comfort
On the bike, the Cloudburst rain jacket does indeed get high marks for breathability. Showers Pass calls the fabric 3-layer eliteAIR™ with a rating of 10.2k / 43k. It's hard to validate any technical breathability specs, but I can confirm that it did a solid job of holding off shirt-soaking sweat during multiple 30+minute climbing efforts with temps in the low 50's Fahrenheit (10-12 degrees Celsius). The jacket really shines in rolling terrain where the efforts are less sustained and or you're moving faster and creating better air circulation. Of course, breathability and comfort are dependent on the air temp and also on what other layer(s) you choose to wear. The Cloudburst performed great with a lightweight short sleeve merino jersey at 55F/13C. Colder temps would allow for a wider range of layers. Warmer temps would be pushing the comfort range of the jacket given sustained hard exertion.
It Feels Like a Softshell Jacket
Another notable feature of the Cloudburst is just how soft and stretchy it is. There is no hint of the traditional crinkly hardshell feel associated with most rain gear or GORE-TEX jackets. It's more like a softshell with all the weather-shedding power of a hardshell and four-way stretch, which makes for a nice, unrestricted feel on the bike.
Multi-Sport
Showers Pass has been in the cycling rain jacket biz for long time, so the fit and cut of the Cloudburst Jacket are well suited to the riding position. That said, the jacket has a multi-sport look and an overall minimalist design that make it an easy choice for running and town wear too.
Pockets
The Cloudburst rain jacket has two large hand pockets, one rear pocket and a couple of mesh drop-in style interior pockets. The rear pocket doubles as a storage pouch that lets you stuff the jacket for easy packing. However, it doesn't pack down quite small enough for jersey pocket storage. It's more of a jacket to wear when you expect cold, wet conditions for the full ride or when you have a small pack to stow it away. The hand pockets double as mesh-lined vents. And although they are nice big pockets, they are not the best vents. In fact, the idea of the pockets as vents is really my only negative feedback on the jacket. If I were the design guy, I'd forego the pockets in favor of similarly sized pit zip vents, which would allow for more air flow. You'd still have the rear pocket and the interior drop-in pockets, which are plenty.
A Comfortable Rain Jacket Made For Riding
The bottom line is that the Showers Pass Jacket is a solid choice for all sorts of riding – mountain, gravel, road and commuting. The fit is true to size and the feel is excellent. It lives up to its strong breathability rating as well as sealing out the rain. I'd say it's best suited to temps below 60 degrees Fahrenheit (16C), and it's the jacket you can put on and keep on for a ride where you expect cool showery weather the whole time. It does pack down into a zip pocket should the sun decide to shine, but it's a bit too big to stuff into most jersey pockets should you no longer need to wear it.
Shop for the Showers Pass Cloudburst Rain Jacket $189 direct from Showers Pass
shopping through our links helps support offpistemag.com