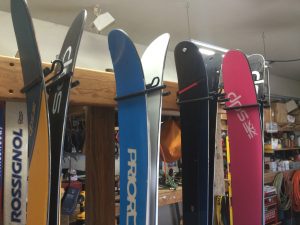 SKI RACKS
Skis have a way of cluttering your garage, hallway, closet or wherever it is you happen to store them, especially if you are like me and have multiple – make that too many – pairs.
We all know what happens when you simply lean your skis against the nearest available wall space – if they don't fall over right away, they will fall over eventually – often taking a few other choice items with them on their way to the ground.
Ski storage is an age old problem and the advent of skis with rocker further complicates the matter. How does one store rockered skis without flattening the rocker or camber? Traditional ski racks either can't fit the tails or they flatten the tips together so much it seems like a bad idea to leave 'em hanging like that for long. There's always the horizontal storage method of resting skis on some foam covered arms of some sort, but this requires some serious wall or ceiling real estate.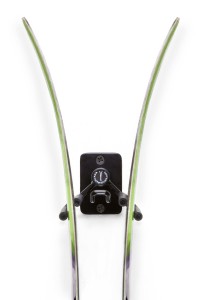 I've reviewed home ski storage racks before and several were nice, but none specifically addressed the needs of rockered skis until I found the aptly named, Rocker Ski Racks. Made specifically to address storing rockered skis and snowboards, the simple yet ingenious design, holds a pair of skis  or two snowboards without any straps and without compressing camber or rocker. They hold traditional skis just great, too.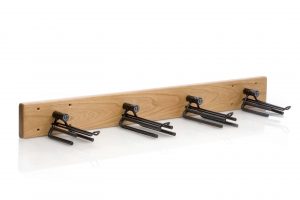 The rack holds a pair of skis or a board simply by hanging it in the provided slot, one ski on each side. The twin slots are each created by parallel rods that pivot. The pivoting action is the key to supporting the ski without compression. Rocker Ski Racks is the best off-the-shelf ski storage solution I have used. It offers a simple solution to a pesky problem and keeps your gear at the ready for your next ski day. To seal the deal, Rocker Ski Racks makes everything in Ashland, Oregon.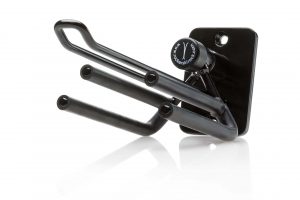 As mentioned above, Rocker Ski Racks come in two sizes, regular ($29) and XL ($39). Unless you are hanging nordic skis, I recommend the XL's as most of today's powder boards need the added width. The racks are sold individually or in sets that come pre-mounted to nicely finished wood headers.
Check out our review of a few other ski storage rack options