Breathability vs Weather Protection
When evaluating waterproof, breathable ski jackets and pants, the question is rarely how waterproof they are, rather it's whether they are actually breathable enough to keep you comfortable while working hard on the skin track.
Breathability, however, is a somewhat relative term. We all heat up and sweat at different rates, and some breathable membranes are simply more breathable than others. My backcountry ski jacket preferences typically lean toward breathability versus weather protetction. But there are days when truly waterproof outerwear is a must. Here in the Pacific Northwest, it's the days when the freezing levels are high and the snow is wet. The best way to stay dry in these conditions is to 'tex up – as in GORE-TEX.
There are lots of GORE-TEX ski jacket alternatives on the market, but few really rise to the same weather and breathability performance that GORE products offer (read our GORE-TEX guide). So I was keen to give Outdoor Research Ascentshell fabric a test. According to Outdoor Research, Ascentshell is designed with breathability as its priority while still maintaining high waterproof standards. Rather than calling it waterproof and breathable, Outdoor Research actually calls it waterproof and air permeable.
In their words. "… air permeability and breathability are two different things. Breathability describes the ability of a jacket to move moisture from the inside out, but it doesn't describe how the moisture moves. This is important because in traditional waterproof jackets, that airflow doesn't even start to work until you've already started to sweat uncomfortably. … Air permeability is when a small amount of airflow allows moisture to move quickly and easily from the inside of the jacket to the outside, before building up to sweat levels that create discomfort and clamminess."
Outdoor Research Skytour Ski Jacket
So what's all the tech talk mean? It means that the Outdoor Research Skytour Jacket (previously named Skyward II) with Ascentshell is designed to keep you comfortable through aggressive skiing and uphill touring. It's a fully-featured ski jacket with a good degree of breathability and plenty of weather protection. It has weathered numerous stormy lift ski days without wavering. And following multiple ski tours, it's is easily on par with GORE membranes for breathability. Specifically, it feels more breathable at low end activity levels and equally as breathable when working hard. It also shines on the waterproof storm protection front. The new Skytour edition also sheds a few ounces over its predecessor, the Skyward II.
Outdoor Research Skyward II Pants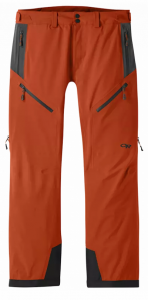 Like the jacket, the Skyward II Pants (available for men and women) are made with Ascentshell. While the jacket feels a bit heavier than necessary, the pants have a lighter, strechier feel lending them a more tour friendly design that easily pulls double duty — resort riding and ski touring.
Strong storm shedding tops their feature list. Zip side vents are well placed for added air flow. Overall, they the design is still more resort biased that touring. For example, the front thigh location of the cargo pocket is chairlift friendly (versus a side cargo pocket that is more walk friendly), and built-in gaiters keep your boots nicely sealed up, while for touring a built-in gaiter simply one more layer between you and your buckles. Nonetheless, they breathe and move well for breaking trail.
Quiver-of-One Ski Jacket and Ski Pants
The Outdoor Research Skytour Jacket jacket and Skyward II pants make for a balanced quiver-of-one combination. They are the jacket and pants you can wear day in and day out at the resort and pack for a backcountry tour, too. They are stout enough to handle stormy lift days and breathable enough to keep you comfortable on the boot pack or skin track when layered right. Vents – top and bottom – let you dump heat during strenuous efforts.
They may not be light-is-right style gear. But they offer durable shell coverage with bomber zippers, fully taped seams and lots of features features. The jacket pit zips extend all the way to the hem creating a unique open, vented feel and combined with a two-way front zip, let you easily access a harness or beacon. The jacket's slightly extended length is nice at the resort, and it weighs in at 22 oz/627 g – similar to other bomber 3L waterproof, breathable shells. The pants include a beacon pocket with a leash (read more about putting your beacon in your pocket here). The face fabric is soft, and both jacket and pants have enough stretch for natural feeling movement.
OR Skyward II Jacket $350 – check prices at backcountry.com and outdoorresearch.com
OR Skyward II Pants $299 – check prices at backcountry.com and outdoorresearch.com
purchasing through our links helps support offpistemag.com